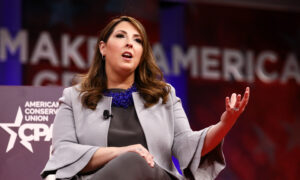 Ronna McDaniel defeated rival Harmeet Dhillon to secure a fourth two-year term as Republican National Committee (RNC) chairwoman after a three-day meeting at a luxury resort in Dana Point, California, on Jan. 27 when RNC committee members cast their votes.
McDaniel won 111 of the 167 votes cast out of a possible 168 RNC committee members in the simple majority race. Dhillon received 51, followed by Mike Lindell with 4, and Lee Zeldin with one.
Upon her victory, McDaniel called for GOP party unity.
"We need all of us. We heard you grassroots. We know. We heard Harmeet. We heard Mike Lindell," she told committee members after the secret ballot votes were counted. "But with us united and all of us going together, the Democrats are going to hear us in 2024 when we take the White House and the Senate."
While former President Donald Trump did not make a public endorsement in the RNC race, he has been loyal to McDaniel, who was elected to the helm of the committee in January 2017, succeeding Reince Priebus, who had held the chair since 2011.
McDaniel had previously served a two-year term as the chair of the Republican Party of Michigan in 2015. She is the niece of U.S. Sen. Mitt Romney (R-Utah), the 2012 Republican presidential nominee.
Dhillon, a Trump attorney and founder of the Center for American Liberty, claimed during her campaign that most Republican voters were ready for a change in RNC leadership following a disappointing midterm ahead of the 2024 presidential race.
Mike Lindell, MyPillow CEO, is also an avid supporter of former President Donald Trump.
The battle for RNC leadership has exposed rifts in the party in the wake of bitter infighting before uniting behind House Speaker Kevin McCarthy earlier this month.
On Jan. 26, Florida Gov. Ron DeSantis weighed in on the RNC chairmanship and expressed support for Dhillon. He said in an interview with Turning Point USA founder Charlie Kirk that the three election cycles haven't gone the way Republicans had hoped.
DeSantis said the GOP needs "fresh thinking" to bolster support among grassroots Republicans.
"We need a change," he said. "We need to get some new blood in the RNC."
In mid-January, the Alabama GOP issued a vote of "no confidence" (pdf) against McDaniel calling for a change in leadership following the midterm elections.
More recently, a group of Republicans in Florida pushed for a "no confidence" vote against her but "fell far short of reaching the quorum needed to hold an official vote," according to the Associated Press. Dozens of anti-McDaniel protesters at the Florida gathering, which drew Rep. Matt Gaetz (R-Florida), waved signs including one that read, "Ronna is the enemy within."