Medicaid Help for Those Who Need Long-Term Care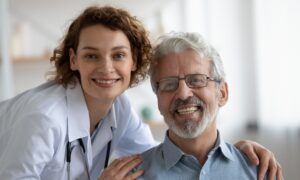 By Elliot Raphaelson
The Center for Retirement Research at Boston College (CRR) regularly reports on the needs of older Americans, including healthcare and long-term care. In this column, I'll discuss some findings of a CRR research brief titled, "Who will have unmet long-term care needs and how does Medicaid help?"
The brief states that 25 percent of 65-year-olds will have severe needs related to long-term care that their assets and income will not meet. The Medicaid program, administered at the state level, can help. But even with Medicaid support, a significant minority will still face a varying degree of unmet needs.
Medicaid coverage requirements for long-term care vary from state to state. Programs generally cover Long-Term Services and Supports (LTSS) in a nursing home setting. But more and more, Medicaid also provides home support for LTSS. Most state programs require individuals to need assistance with two or more Activities of Daily Living (ADLs) in order to qualify for LTSS.
In order to be eligible for Medicaid support, individuals have to meet income and asset benchmarks. State programs vary in their means tests, but most use federal Supplemental Security Income (SSI) standards and set limits at 300 percent of SSI ($2,523 per month for an individual in 2022). Again, it varies by state, so contact your state's Medicaid office.
The asset limits to qualify for LTSS are $2,000 for individuals and $3,000 for a married couple. Many individuals spend down their assets in order to meet eligibility requirements. The value of a primary home is exempt, within limits, as long as it is the main home for the individual, or spouse, or close relatives. For a single person, the home is exempt if there is intent to return to it; the state evaluates this. If a person moves permanently into a nursing facility, the home can be counted as an asset, or the state may require that the equity value be used to pay for health care cost, reimbursement after death. Some states exempt the pension income of a spouse who does not plan on receiving Medicaid support.
There are 11 states with higher asset limits. Connecticut is the only state with a lower asset limit. There are 14 states (including the District of Columbia) with lower income limits. You can contact your state's Medicaid office to determine the asset/income limit for your state.
There is a five-year look-back period that the state reviews to ensure that assets transferred in the last five years were not improperly liquidated.
Trends show that Medicaid programs tend to cover home care for individuals who qualify, and usage of nursing homes is in decline. There is generally a long waiting period for acceptance at a nursing home, even if you meet the asset/income requirements.
If you are accepted at a nursing home, you would generally be eligible for only semi-private facilities, not a private room. The only exception would be if it was medically necessary.
The report did not cover the sources you can use to determine Medicaid eligibility. However, there are many attorneys who specialize in Medicaid. You can contact your local bar association to determine which attorneys in your area specialize in Medicaid support. Such an attorney can help you determine your eligibility and, if necessary, help you with legal steps required for you to meet the eligibility requirement in your state.
(Elliot Raphaelson welcomes your questions and comments at raphelliot@gmail.com.)
©2022 Elliot Raphaelson. Distributed by Tribune Content Agency, LLC.
The Epoch Times Copyright © 2022 The views and opinions expressed are those of the authors. They are meant for general informational purposes only and should not be construed or interpreted as a recommendation or solicitation. The Epoch Times does not provide investment, tax, legal, financial planning, estate planning, or any other personal finance advice. The Epoch Times holds no liability for the accuracy or timeliness of the information provided.