The contract between the Screen Actors Guild-American Federation of Television and Radio Artists (SAG-AFTRA), representing 160,000 actors and personalities, and major television and film studios and streamers represented by the Alliance of Motion Picture and Television Producers (AMPTP) was set to expire at midnight of June 30, but the parties have agreed to an extension.
SAG wrote in a letter to its members that negotiations would continue with a July 12 11:59 p.m. PT deadline.
"No one should mistake this extension for weakness. We see you. We hear you. We are you," the letter read.
Streaming residuals and the use of AI are key issues in this negotiation, as it has been with the Writers Guild of America, representing some 11,500 writers who have been on strike since May, unable to reach an agreement with major studios.
At stake for the studios already is the fall slate of programming, and possibly the cancellation or delay of countless productions.
Actors Ready to Strike
On June 5, an overwhelming majority of voting SAG members voted to strike if an agreement was not reached when the contract expired. SAG, which had agreed to a media blackout during contract renegotiations, released a video on June 24 showing the negotiating team and assured members.
"We are having an extremely productive negotiations that are laser focused on all of the crucial issues you told us are most important to you. We're standing strong and we are going to achieve a seminal deal," said Fran Drescher, president of SAG-AFTRA and its TV/Theatrical Contracts Negotiating Committee.
Three days later, Rolling Stone was the first to report a letter supposedly signed by more than 300 Hollywood actors, including names like Meryl Streep, Jennifer Lawrence, Julia Louis-Dreyfus, David Duchovny, Liam Neeson and Marisa Tomei.
The Hollywood Reporter confirmed key organizers were Amy Schumer, Paul Scheer, and Paul Downs, and the letter began on a shared Google document where numerous anonymous signatories began adding names as the letter was made known among SAG members. Soon, the 300 names burgeoned to 2,000, but it has not been confirmed that the names match the actual signatories.
"We should be able to afford to live a life in a city where the working is taking place," Renée Felice Smith told union media More Perfect Union. Smith was a series regular on NCIS Los Angeles, where she played the character Nell Jones for 11 seasons. "In December 2022, I received a letter from SAG letting me know I no longer qualified for health insurance. What was the work for?"
"We can't be going into every job literally not knowing how much money we're going to make," Andrew Leeds told More Perfect Union.
AI Actors, Writers
The idea of deepfake actors and AI-generated scripts has generated much discussion.
Marvel recently came under fire after it revealed that the opening credits of its Disney+ show "Secret Invasion" was created by artificial intelligence.
"Ever since I've been in the Marvel Universe, every time you change costumes in a Marvel movie, they scan you," Samuel L. Jackson told Rolling Stone. "Ever since I did 'Captain Marvel,' and they did the 'Lola' project where they de-aged me and everything else, it's like, 'Well, I guess they can do this anytime they want to do it if they really want to.'"
"People just started worrying about that? I asked about that a long time ago."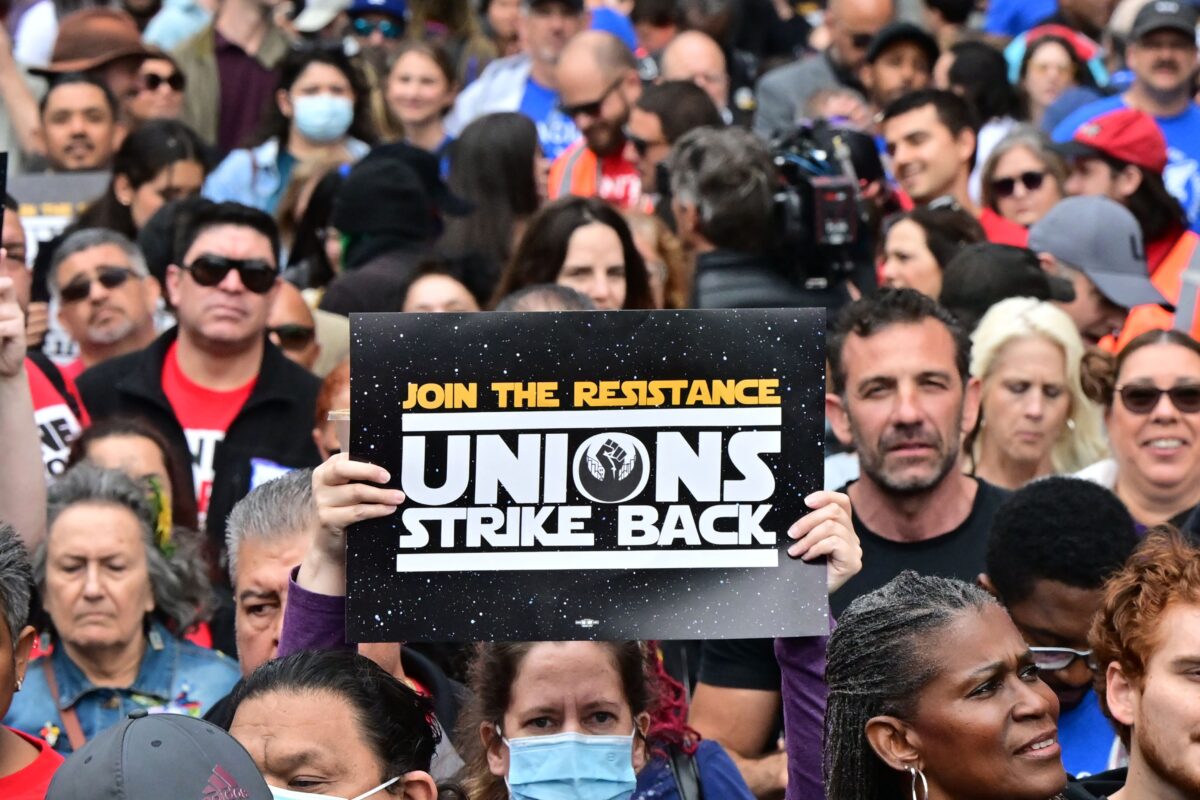 Digital recreations of actors have already been used in high-profile cameos, for example, a younger Carrie Fisher in "Rogue One," which also employed CGI to bring back Peter Cushing as Grand Moff Tarkin, which was still played by an actor, Guy Henry.
Slate recently reported that actors have already been licensing the use of their "digital doubles" to do work they otherwise wouldn't have time for themselves.
"You let the acting profession fall to #AI, and the entire business collapses. If you don't need actors, you don't need a set, you don't need a cameraman, a crew, an editor, none of it," wrote filmmaker Justine Bateman on Twitter.
Director Joe Russo, in an interview with Collider, offered yet another possible use.
"You could walk into your house and save the AI on your streaming platform. 'Hey, I want a movie starring my photoreal avatar and Marilyn Monroe's photoreal avatar. I want it to be a rom-com because I've had a rough day,'" Russo said. "And it renders a very competent story with dialogue that mimics your voice. It mimics your voice, and suddenly now you have a rom-com starring you that's 90 minutes long."
The guild wants writing protections that give actors control over how their likenesses are used. After all, one doesn't have to search far on social media video platforms to find a passable deepfake. Studios have extensive material to work with.
"Artificial intelligence has already proven to be a real and immediate threat to the work of our members and can mimic members' voices, likenesses and performances," SAG outlined in its statement on the strike authorization and bargaining points.
"We must get agreement around acceptable uses, bargain protections against misuse, and ensure consent and fair compensation for the use of your work to train AI systems and create new performances."
Writers have been vocal about AI concerns as well.
WGA wants guarantees that "AI can't be used as source material, to create MBA [minimum basic agreement]-covered writing or rewrite MBA-covered work, and AI-generated text cannot be considered in determining writing credits. Our proposal is that writers may not be assigned AI-generated material to adapt, nor may AI software generate covered literary material."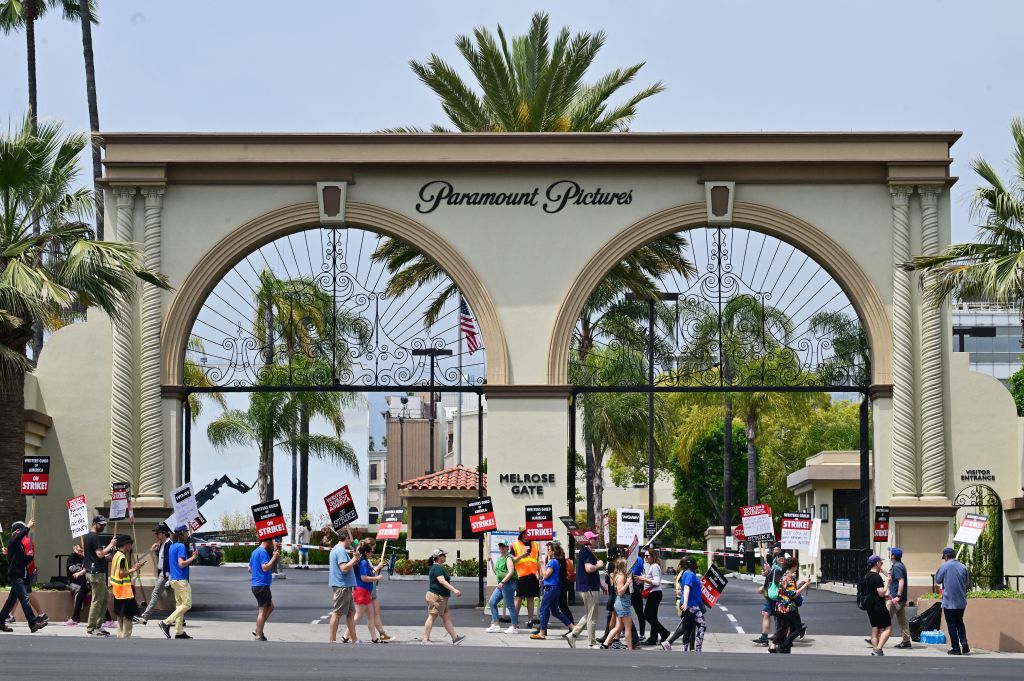 Who Gets to Profit From Streaming?
Traditionally, films were given weeks for theatrical releases before they appeared on streaming platforms. The pandemic changed all of that, narrowing or doing away with the gap entirely. The distribution business had changed.
Residuals are payments made to those who worked on a film or show whenever that work is re-aired, syndicated, or sold to another format, like DVDs—or streaming.
Both actors and writers are arguing that their current contracts don't take into account how much the streaming business has grown, short-changing them in the process.
Prior to the digital boom, studios suffered in the transition to streaming and used that as an excuse to pay less for a show that never hit network television, Adam Conover, who is on the WGA negotiating committee, explained on NPR. But now a show on NBC is not any different from a show on Peacock, NBC's streaming platform, yet his residual from an NBC show could be $25,000 while the Peacock check could be as low as $100, or even $5, he said.
Gina Prince-Bythewood, director and writer, had participated in the last strike in 2007. While in the picket line, she told Variety, "At that time, it was really interesting, because streaming was just on the come up. And we were told, don't worry about it at that time. And now look at where we are. We're out here mostly because of streaming, and not to able to be a part of that success of streaming. We all know it starts with the writers."
Streaming platforms have already been removing content, in part to lower their residuals costs. While digital-only platforms like Netflix had all along licensed content for finite periods of time, viewers have more recently noticed that even shows owned by the platform or studio hosting it are expiring.
"Warner Bros. Discovery was the first one to figure this out, so we have to give credit where it's due. They said they need to get their earnings up, so they started taking shows off the app," Michael Nathanson, an analyst at SVB MoffettNathanson, told NBC. "Disney is now doing that and we should expect Paramount to follow suit. And one day Netflix may even do the same thing."
Similarly, cancelled and underperforming series are being removed so as to not affect the bottom line.
Writers Still on Strike
When AMPTP announced on May 1 that talks with WGA ended without an agreement, it cited "mandatory staffing" and "duration of employment as the main sticking points—items that AMPTP was concerned would require studios to agree to staffing more writers on shows than needed. WGA followed with their own announcement—of a strike.
On Friday, the Los Angeles City Council voted unanimously to approve a resolution supporting the WGA strike while asking the studios to return to the bargaining table.
"Writers are facing the most comprehensive assault on their compensation and working conditions in a generation. Media companies have taken advantage of the industry's transition to global streaming to underpay workers. As a result, writers are doing more work for less pay and with less job security."
"The Los Angeles City Council urges the Alliance of Motion Picture and Television Producers to come to the bargaining table and reach a fair deal with the workers of the WGA."