A cluster of five mountains like ancient trusting friends encompasses Lake Como with tales to tell. They tower to the horizon in a domineering maze of peaks, deep irregular valleys and crusted sheer-sided facings. Deeply sculptured from wind and rain and often cloud-covered, they stand like faithful world-worn sentinels. Tagged the Pre-Alps, the mountains cast long shadows across the lake's glacier-formed deep blue water, creating a textured moment of sun and shade. Residents and visitors alike recognize that in only a few places on the planet are water and mountains in such remarkable intimacy, and the recognition inspires soft expressions of awe and delight.
The mountains of Lake Como, like so much of Italy, refer to the past, where the Romans once roamed, dusty cathedrals with rusty bells abound, and villages and towns such as Como, Bellagio and other hamlets are entrenched on the shores of the lake or carved into the mountains with steep staircases. Tunnels dug through granite and sandstone lead to narrow two-lane roadways originally designed for horse and carriage, all magically sculpted into the base of the mountains with a master chisel.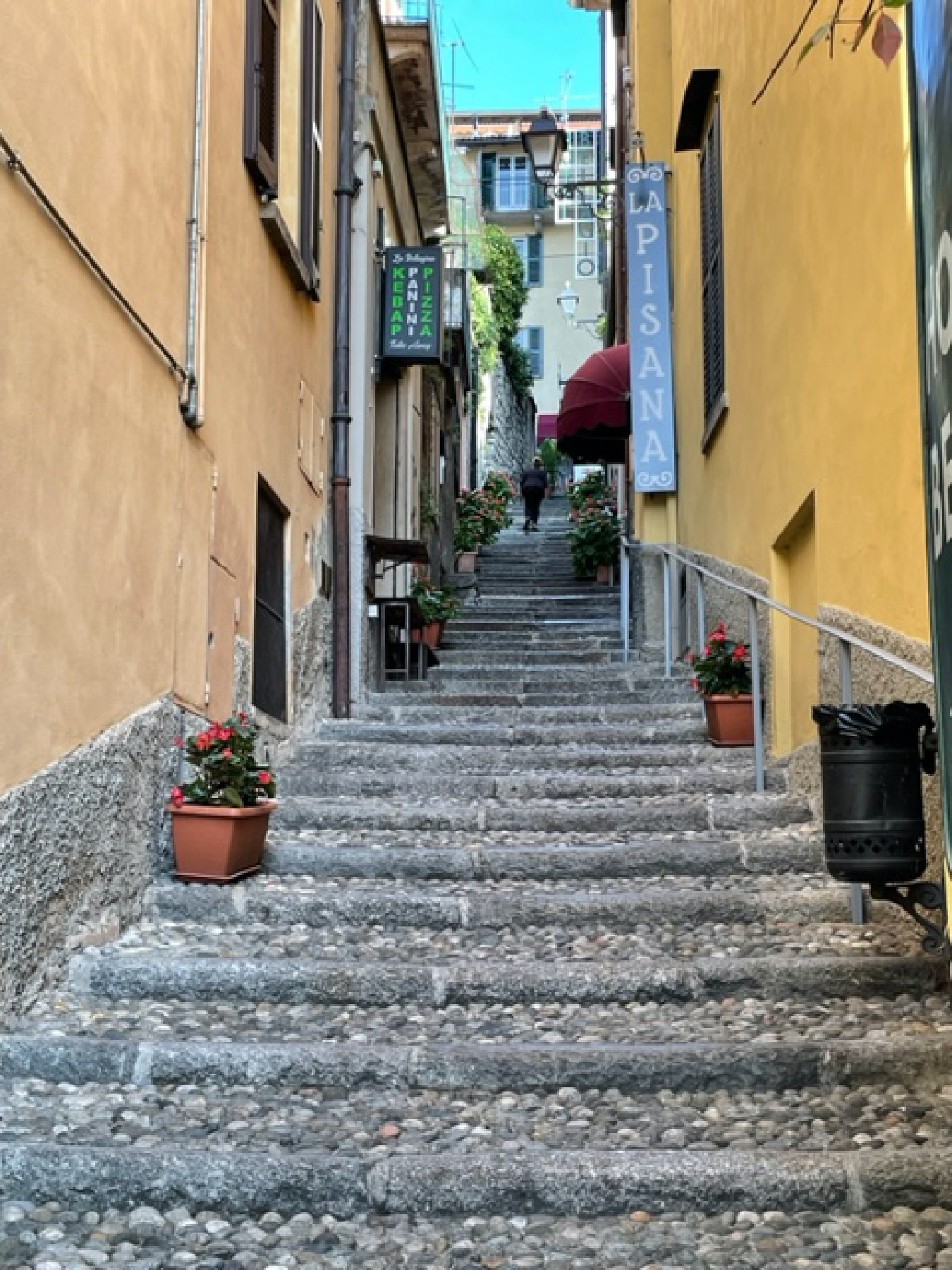 Lake Como is the third-largest lake in Italy and the deepest. A short 40-minute train ride from Milan, it resembles a scrawny, long-legged inverted "Y." Master artists with easels in hand are challenged, writers and poets search for their voices, starry-eyed long-awaited proposals ring true, and many experience a rejuvenation of spirit in the ever-changing and wistful essence of this extraordinary setting.
The magic of Lake Como has exerted its pull for hundreds of years. Aristocrats, royalty and other people with wealth were captivated and built fascinating palaces, mansions and villas overlooking the lake with terraced gardens, sculptures and fountains, some with enough rooms to house a small army while others are only accessible by boat.
Carefully maintained Taxi Boat Varenna motorboats operated by skippers with immense skills slice through the water, leaving a trail of foam and cleverly avoiding the reliable ferry and gleaming white sailboats with sails billowing while they take passengers on a lake tour or to their hotel. Nevertheless, the mountains dominate. As resident and travel consultant Celia Abernethy said, "At any given time there are more hikers in Lake Como than sailors because the mountains offer some of the best hiking in Italy, laced with trails for all levels of fitness and with views forever."
On this day the sun glistens on the ruffled water, and large groups of tourists have found their way to Bellagio and are dining at sidewalk cafes, waiting for a lake tour and crowding the Bellagio shopping passageway. Energetic servers bustle about to meet their customers' needs, and numerous languages collide in the lake air.
To enhance and retain the magic of Lake Como and gently slip away from the tourist trail, the town of Lecco is the perfect setting for a visit. A 30-minute drive from Bellagio on the eastern branch of the lake, where Lake Como narrows to form the Adda River, this is an unspoiled and authentic home base unfamiliar to most Lake Como visitors.
A great strolling town with pedestrian walkways and a riverside promenade, Lecco is the perfect place to meet Lake Como residents and browse family-owned boutiques not found in Milan. Also, here one can take pleasure in two large town squares lined with sidewalk cafes and see the remains of a Roman wall that once encircled the city as well as a striking stone bridge spanning the river that dates to 1386. Hiking and cycling paths that could take weeks to fully explore can be arranged with or without a guide provide a chance to visit farms that produce honey, cheese, and produce. With luck they might even catch a quick glimpse of the elusive Lake Como fox.
Remaining off the beaten path, Mandello del Lario is an alluring port village tucked away between Lecco and Varenna on the eastern leg of the lake. It is also home to Mamma Ciccia Cooking Academy. Mamma Ciccia, aka Silvia Nessi, has been offering the popular four-hour classes in English for 10 years at her restaurant, and she often features Michelin-starred guest chefs. A session called "Cooking Is a Game" pulls children age 4 to 10 into the fun and the art of cooking.
"For visitors to really understand Lake Como and Italy's culture, one has to fully explore the cuisine," Nessi said.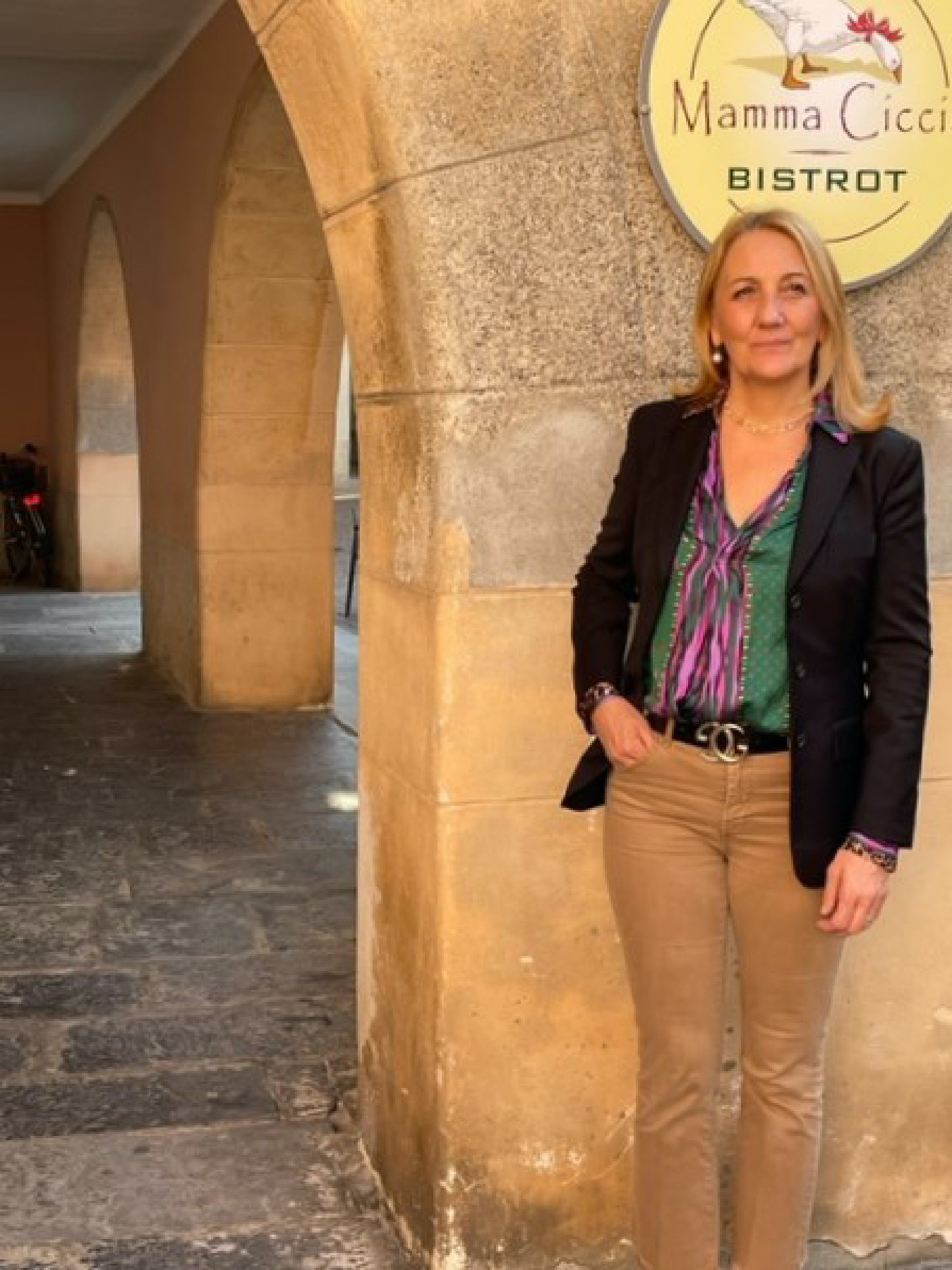 In the hills above Bellagio, the 17-room family-owned Hotel Il Perlo Panorama, circa 1922, offers one of Lake Como's most spectacular dining vistas from a terrace that seems to be floating in the clouds. The meal itself is a romantic lunch or dinner with award-winning Executive Chef Alessandro Redolfi, who sources organic produce from local farms and perch and whitefish from the lake. For hundreds of international travelers, the hotel is a priority that enhances the magic of Lake Como.
When You Go
Contact travel consultant Celia Abernethy for Lake Como and Milano itineraries and travel guidance at editor@milanostyle.com.
Mamma Ciccia's Cooking Academy: www.mammaciccia.it
Full-day lake tour, Taste & Travel, guide, Elena Pettinicchio: www.tasteandtravelitaly.com
Taxi & Boat: www.taxiboatvarenna.com
Hotel II Perlo Panorama: www.ilperlo.com
Richard Carroll is a freelance writer. To read features by other Creators Syndicate writers and cartoonists, visit the Creators Syndicate website at www.creators.com. COPYRIGHT 2023 CREATORS.COM