My Famous Fat Flush Soup: Keto Style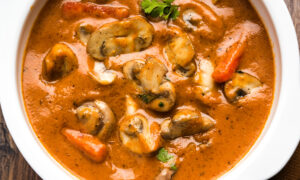 Healthy fats are THE new nutrition superstar.
The ketogenic diet has exploded in popularity, thanks to its powerful weight loss effects. "Keto" is a high fat, low protein, low carb diet that transitions your body into burning fats as its primary fuel instead of carbs. This diet has been used medically for decades to control seizures, but now is becoming widely recognized for its many health benefits.
You may have read my blogs and know I do not recommend Keto for long-term dieting especially for women (I give a full explanation here). However, I do believe Keto may have its place for short term sensational results. Healthy and essential fats DO fuel your brain, burn your belly fat and jumpstart healthy hormone levels, appetite, and blood sugar, while protecting you from stress. What's not to love about all of that?
My New Fat Flush (Keto Style) Detox Soup is made with hearty vegetables, power-packed protein, a tasty blend of warming spices and rich and flavorful full-fat coconut milk, topped with avocado in a perfect combination that makes this soup so satisfying, so successful and so unique.
It's an easy go-to recipe to help jumpstart long term weight control, and best of all, the results speak for themselves. A reader from Woman's World Magazine (where my original Fat Flush Soup recipe was first introduced) lost 11 lbs in one week, and another shed a whopping 10 lbs in just three days! Others dropped 6, 7, even 11 lbs within a week.
With results this good, it's no mystery why this "One Pot Wonder" detox soup is the best kept secret of determined dieters everywhere.
The slimming perfect-for-fall ingredients include:
Warming and earthy flavor-filled spices like coriander, turmeric and cumin (found in the curry powder) help the digestive system by relieving abdominal distention and gas and helps to alleviate migraines and headaches.
Ample amounts of vitamin-rich farm fresh veggies to fulfill your body's nutritional needs, plus antioxidants that will protect your cells and slow the aging process.
Lean ground protein (like beef, turkey or chicken) that is an important building block for bones, muscles, cartilage, skin, and blood.
Fat burning ketogenic coconut milk and healthy avocado to give you the right kind of healthy fats to help your body release stubborn trapped fat for good!