New Gun Control Legislation Passed in House; Armed Man Plotting to Kill Justice Kavanaugh Arrested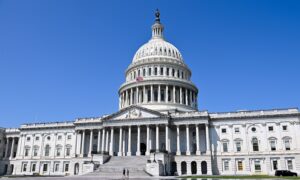 In the wake of recent mass shootings, the House of Representatives passes a wide-ranging package of gun control legislation. The bill raises the legal age to buy a semi-automatic from 18 to 21.
A man plotting to kill Supreme Court Justice Brett Kavanaugh was arrested. The armed man found near the Justices home is being charged with attempted murder.
At the Summit of the Americas—President Joe Biden announces a partnership plan for economic development—despite many Latin American countries declining to attend the event.
Topics in this episode include:
1. Gun Control Legislation Passes in House
2. Man Plotting to Kill Justice Kavanaugh Arrested
3. Protesters Gather Outside Kavanaugh's Home
4. GOP Leader Calls for Enhanced Security for Justices
5. January 6 Panel Hearings Begin
6. U.S. Unveils Economic Partnership Plan at Summit of the Americas
7. Abuse survivors Sue FBI Over Botched Nassar Investigation
8. Trump Agrees to Testify in New York Civil Probe
9. U.S. Army Presents Unmanned Robotic Vehicles
10. U.S. Suspends 3 Firms' Export Privileges to China
11. Freeport LNG Plant to Shut for 3 Weeks After Explosion
12. Twitter Plans Shareholder Vote by August on Sale to Elon Musk
13. Mexico Uncovers Drug Tunnel to U.S.
14. R. Kelly Facing Over 25 Years in Prison
15. NASA Telescope Hit By Meteoroid
16. Shrinkflation: Manufacturers Shrink Package Sizes at Times of Inflation
17. Couple in Their 90s Still in Love After 72 Years
* Click the "Save" button below the video to access it later on "My List."
Follow EpochTV on social media:
Twitter: https://twitter.com/EpochTVus
Rumble: https://rumble.com/c/EpochTV
Truth Social: https://truthsocial.com/@EpochTV
Gettr: https://gettr.com/user/epochtv
Facebook: https://www.facebook.com/EpochTVus
Gab: https://gab.com/EpochTV
Telegram: https://t.me/EpochTV