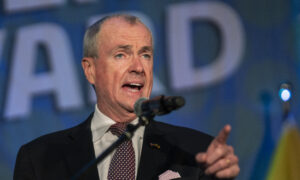 New Jersey Gov. Phil Murphy has quashed rumors that he is planning to run in the 2024 presidential election while voicing his support for fellow President Joe Biden.
Speaking on CBS' "Face the Nation" on March 12, Murphy was asked by host Margaret Brennan if he is considering making a White House bid following a recent New York Times report that claimed he "has an eye on Washington."
"I will say this, I have 1,000 percent, behind President Biden," Murphy, a Democrat, told Brennan. "And I haven't really looked beyond that he certainly is going to run. He deserves to run. He's earned that right. I think he's had a great run here. And I'm gonna be 1,000 percent behind him."
"I'm a former U.S. ambassador, which in my case was the Federal Republic of Germany. And therefore, the international stuff is—continues to be important to us. New Jersey is one of the most international American states. So direct investment relations abroad matter a lot," Murphy added. "So we have a few balls in the air, but New Jersey is job number one."
Brennan also quizzed Murphy as to why Biden has not formally announced his candidacy for 2024.
Up until now, Biden has only said that he "intends" to run and that he has "other things to finish" before officially launching a 2024 presidential campaign.
Manchin to Decide Political Future
"I know, we're all sort of expecting it's next week, next month, whatever it might be. My guess is it's sooner than later," Murphy said of a potential Biden announcement. "But that's something that the president himself will decide."
Murphy's comments come shortly after Sen. Joe Manchin (D-W.Va.) said that he will decide at the end of this year whether or not he runs against Biden in the next presidential election or for reelection.
"There's plenty of time for the elections," Manchin said in an interview with "Face The Nation" on March 5. "I'm not going to make my announcement for anything until the end of the year. I'm not going to make a decision, what my political position is going to be or where I'm going to do for my political future. I won't do it until the end of the year. I got too much work to do now."
Unlike Murphy, Virginia lawmaker Manchin—who has cast himself as a moderate or a centrist and has frequently found himself in opposition with his own Democratic Party on multiple occasions during his career—declined to say whether or not he would support Biden if he were to be the Democratic nominee in 2024.
Instead, Manchin told CBS that he plans to see who is running before endorsing any of the candidates.
So far, only bestselling self-help book author Marianne Williamson has announced that she is challenging Biden for the Democrat nomination in 2024.
Current Presidential Candidates
On the Republican side, former President Donald Trump, former South Carolina Gov. Nikki Haley, Montana's former Secretary of State Corey Stapleton, and entrepreneur businessman Vivek Ramaswamy have formally announced campaigns.
Florida's Republican Gov. Ron DeSantis is also said to be considering a presidential run but has not yet announced his candidacy.
While Biden is yet to announce his candidacy for 2024, polls show that his approval ratings have plummeted among Americans.
According to FiveThirtyEight's polling average, 51.3 percent of Americans disapprove of him while 43.9 percent approve of the job he is doing in office.
A separate poll from The Associated Press-NORC Center for Public Affairs Research shows just 37 percent of Democrats say they want Biden to seek a second term, down from 52 percent in the weeks before last year's midterm elections.
Follow-up interviews with poll respondents conducted by the publication suggested that the president's age—Biden is 80 and would be 86 years old upon leaving office if he is reelected for a second term—played a big factor in their apprehension to see him serve another term.
However, many Democrats, including House Democratic Caucus Chairman Pete Aguilar (D-Calif.) and Rep. Pramila Jayapal (D-Wash.), chair of the Congressional Progressive Caucus, have thrown their support behind Biden, The Guardian reported.
"I think he will win. I think he's our strongest candidate," Aguilar said earlier this month at an event with Punchbowl News. "I think that he can and should run, and he's going to have the support of the House Democratic caucus."