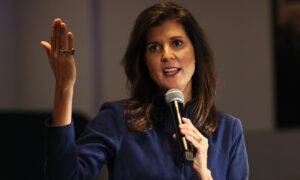 Republican presidential candidate Nikki Haley condemned President Biden on March 13 for what she termed a "bailout" of Silicon Valley Bank, which failed late last week after regulators seized its assets and vowed to repay depositors.
"Joe Biden is pretending this isn't a bailout. It is," Haley said following news of the White House's decision.
"Now depositors at healthy banks are forced to subsidize Silicon Valley Bank's mismanagement. When the Deposit Insurance Fund runs dry, all bank customers are on the hook. That's a public bailout.
"Depositors should be paid by selling off Silicon Valley Bank's assets, not by the public. Taxpayers should not be responsible."
The government acted late on March 12 to employ emergency steps to enable depositors access to their entire cash, drawing from the Deposit Insurance Fund—a fund sponsored by the banking sector—so that taxpayers will pay no losses, according to the president.
"No losses will be—and … this is an important point—no losses will be borne by the taxpayers. Let me repeat that: No losses will be borne by the taxpayers. Instead, the money will come from the fees that banks pay into the Deposit Insurance Fund," Biden said on March 13.
Biden has emphasized that the federal government is not bailing out the bank, reiterating Treasury Secretary Janet Yellen's assurances; the president has emphasized that the U.S. financial system is safe despite the recent concern.
"The bottom line is this: Americans can rest assured that our banking system is safe. Your deposits are safe. Let me also assure you, we will not stop at this. We'll do whatever is needed," the president added.
Another presidential contender and biotech businessman, Vivek Ramaswamy stated that IT companies, which SVB mostly supported, assumed they would be bailed out in the same way that Washington did for Lehman Brothers during the 2008 financial crisis.
"I think more regulations are not the answer because that creates more room for crony capitalism," Ramaswamy told FOX Business.
"I think what we really need here is fostering a culture of greater due diligence by market actors to not have to just rely on the government to do their work for them," Ramaswamy said.
His remarks come only hours after the Treasury Department, Federal Reserve, and Federal Deposit Insurance Corporation said that all Silicon Valley Bank clients would be safeguarded and able to access their funds in an effort to restore trust in the banking system.
They also announced efforts to protect the bank's clients and avoid more bank runs.
Depositors at Silicon Valley Bank and Signature Bank, including those whose balances are above the $250,000 insurance limit, will be allowed to retrieve their funds under the arrangement. Depositors at US institutions are generally covered up to $250,000 in FDIC-guaranteed deposits.
Ramaswamy was not in support of the move.
"I think it's disappointing to see crony capitalism win again in America. We have a $250,000 limit. If you want to change the limit and change the rules, then change the rules. But don't just wing it after the fact, which is exactly what they do here to save their darlings," he said.
"And in the future, what this does is encourages more risk-taking at banks. It tells them that the government is going to be there for their depositors in the end anyway."
The White House did not immediately respond to The Epoch Times's request for comment.