Oath Keepers Tried to Overthrow US Government on Jan. 6, Extremism Analyst Claims in Alaska Trial
Based on "twisted ideas of patriotism" and a desire to keep President Donald Trump in power, the Oath Keepers tried to violently overthrow the United States government on Jan. 6, 2021, an analyst on domestic extremism testified in Alaska Superior Court on Sept. 13 and 14.
Jonathan Lewis, a research fellow at the Program on Extremism at George Washington University in Washington D.C., testified for the plaintiff in a state lawsuit that seeks to throw Alaska state Rep. David Eastman (R-Wasilla) out of office for being a member of the Oath Keepers.
Randall Kowalke of Willow, Alaska, filed suit against Eastman in July, claiming that a Cold War-era amendment to the Alaska Constitution bars him from office because the Oath Keepers is allegedly an organization advocating for the overthrow of the U.S. government.
In more than a day of testimony at a bench trial before Alaska Superior Court Judge Jack McKenna, Lewis said Oath Keepers founder Elmer Stewart Rhodes III ordered subordinates to attack the U.S. Capitol in an attempt to overthrow the government.
"My opinion is that both before and during January 6th, the Oath Keepers called for and attempted to execute a plan that would have resulted in the overthrow of the U.S. government on Jan. 6th," Lewis said.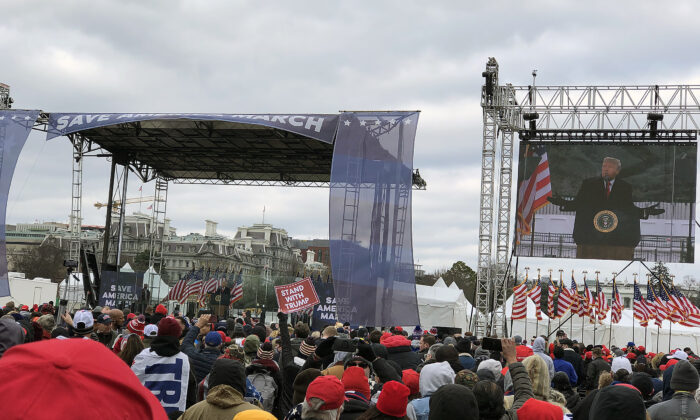 Lewis' testimony was attacked by Eastman attorney Joseph Miller as hearsay with no independent evidentiary value. He asked Judge McKenna to bar the testimony.
Judge McKenna overruled the objection, ruling that Lewis' recitation of evidence from the recent federal criminal trial of Rhodes and four co-defendants would be allowed as information that informed Lewis' opinions as an analyst.
During cross-examination, Lewis told Miller that he did not attend the Oath Keepers criminal trial that ran from Sept. 27 through Nov. 29. Lewis also said he never interviewed an Oath Keeper as part of his research.
Much of Lewis' testimony was a recounting of information filed by federal prosecutors in the Rhodes criminal trial that ended with Rhodes and Oath Keepers leader Kelly Meggs being found guilty of seditious conspiracy in U.S. District Court in Washington D.C.
Lewis' testimony did not include any reference to filings or motions by Oath Keepers defense attorneys.
Lewis went beyond the accusations made in the criminal trial and conclusions drawn by the FBI about Jan. 6. Rhodes and co-defendants were charged with seditious conspiracy and conspiracy to prevent a Jan. 6 joint session of Congress from certifying results of the 2020 election. There was no charge that they attempted to overthrow the U.S. government.
Lewis contended that a "stack" of Oath Keepers walked up the east stairs of the Capitol together and "engaged in a forceful breach" of the giant Columbus Doors. Video from the east side and testimony at trial showed that the breach had already occurred by the time the Oath Keepers reached the entrance.
FBI: No Planned Insurrection
"You're aware that the FBI has found absolutely no evidence of an organized effort to overthrow the United States government on January 6th, right?" Miller asked.
"I am not aware of any such finding," Lewis replied.
In the criminal trial and for months beforehand, U.S. District Judge Amit Mehta repeatedly said that the Oath Keepers organization was not on trial and the case was only about the alleged actions of the five charged individuals.
Lewis said the plot to overthrow the government began in earnest with a Nov. 3 "call to action" email sent by Rhodes to an unknown number of Oath Keepers. However, when pressed by Miller to identify which lines in the email made any reference to overthrowing the government, Lewis admitted there were none. "Not in this letter," he said.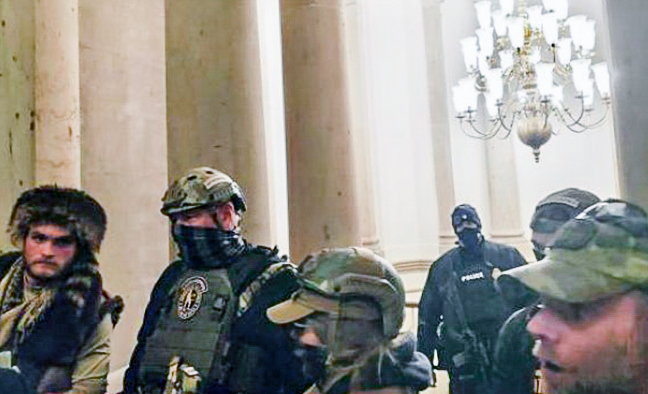 After gaining entry to the Capitol, Lewis said, several Oath Keepers went in search of House Speaker Nancy Pelosi. When pressed on cross-examination to identify who sought out Pelosi, Lewis could not provide names. He said the pursuit of Speaker Pelosi showed the intent of the Oath Keepers to overthrow the government.
"You don't have any evidence that Stewart Rhodes asked anybody to go chase down Speaker Pelosi in the Capitol, right?" Miller asked.
"We have evidence that Stewart Rhodes directed his followers to breach the Capitol," Lewis replied. "He was convicted of seditious conspiracy. He was convicted of directing his followers to breach by force the U.S. Capitol Building in furtherance of his plot that he directed as founder and leader of the Oath Keepers, to prevent the peaceful transfer of presidential power."
Miller later pointed out that in federal court, convictions are entered at the time of sentencing, which has not occurred for Rhodes or his co-defendants. Several defendants are preparing motions asking Mehta to set aside the jury verdicts and order a new trial.
'Stands to Reason'
"As someone who is an expert on the Oath Keepers and their activities on January 6th," Lewis said, "it stands to reason that their goal in breaching the U.S. Capitol was not to find voter fraud or was not to lobby Speaker Pelosi to change her mind or delay the vote, but to engage in a violent overthrow of the U.S. government."
Asked if the Oath Keepers—as part of their security duties on Jan. 6—had the legal right to access portions of the Capitol property according to event permits issued by U.S. Capitol Police, Lewis said no. The USCP Jan. 6 permits entered into evidence in the Eastman trial were "widely discredited in every federal case so far…" Lewis asserted.
Rhodes and other Oath Keepers have said many of the members were in Washington on Jan. 6 to provide event security or act as personal security details for event VIPs. Lewis discounted that role and suggested other events around the Capitol were part of the effort to breach the Capitol.
"Whatever they may or may not have done with Alex Jones or Ali Alexander or any other individuals who had used the Stop the Steal rally as a pretense to bring a mob to the U.S. Capitol with the intent of disrupting the electoral process is neither here nor there in my mind," Lewis said.
Alexander, the founder of Stop the Steal Inc., was issued a permit for a space on Capitol grounds across from the Supreme Court, according to federal court filings. The Jan. 6 rally never took place due to the crush of crowds streaming to the Capitol from the Ellipse.
Alexander told The Epoch Times that Lewis' assertion about his event was false and defamatory.
"I know that's an angle some Blue Anon people [conspiracy theorists] have pushed, but there's no evidence for it," Alexander said in a statement. "…It's too bad the 'experts' have immunity while in court, or I'd sue him for slander."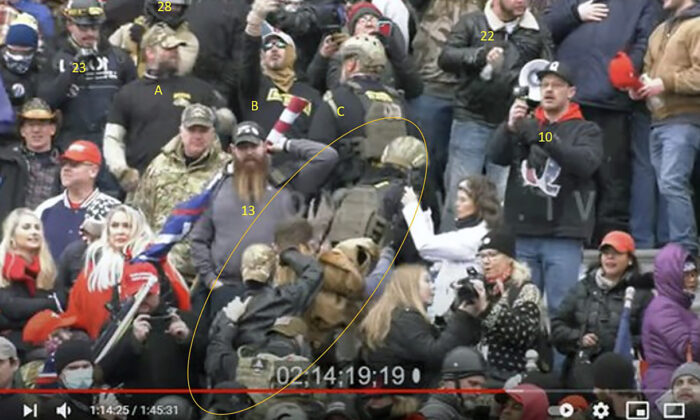 Lewis and Miller tangled over the assertion that some of the Oath Keepers were in Washington to protest fraud in the 2020 presidential election. Lewis described it as "perceived, imagined, attempted fraud" and repeated later, "there was none."
"So you're an expert on voter integrity now, right?" Miller shot back.
"I would not say that," Lewis replied.
Lewis said that Rhodes used emails and letters posted on the Oath Keepers website in an effort to draw members to the Capitol on Jan. 6.
Rhodes was "channeling the power of his organization of 38,000 individuals by posting on the website he thought would be seen," Lewis said. "Obviously, I can't speak to his effectiveness if he could only get a couple dozen individuals there, but certainly the intent is clear he wanted every Oath Keeper he could get his hands on to go to the U.S. Capitol."
Lewis said the Oath Keepers bylaws—which bar membership to anyone who advocates for the overthrow of the government and requires that members commit to defending the U.S. Constitution—don't reflect what the members actually do.
"It certainly is not a nonpartisan association that is designed purely to defend the Constitution," he said. "It uses the idea of an oath of loyalty to the Constitution as cover, as propaganda. Nothing else."
The bylaws "could not be further from the truth in terms of the actual goals of the organization as Stewart Rhodes has envisioned them," Lewis said.
Miller asked Lewis if the more than 400 pages of Jan. 6 indictments and other federal court records introduced by the defense in the Eastman case include allegations the Oath Keepers tried to overthrow the government.
"Does the word overthrow appear in any of those indictments or plea agreements?" Miller asked.
Lewis replied: "I do not believe so."