Officials at NYC Columbus Day Parade Speak About the Vaccine Mandates
MANHATTAN, New York—Several officials participated in the 77th annual Columbus Day parade in New York City, the first large-scale parade since the pandemic started.
The most notable presence was Governor Kathy Hochul, a Democrat, who, after taking some questions from reporters, marched for about two blocks up to St. Patrick's cathedral, where she greeted New York Cardinal Timothy Dolan and then left the scene in a van.
"Our infection rate is incredibly low. It's safe here. Our vaccination rate is well over 85%. We're going to crush it at 90%. Let's enjoy the day. Thank you," Hochul said.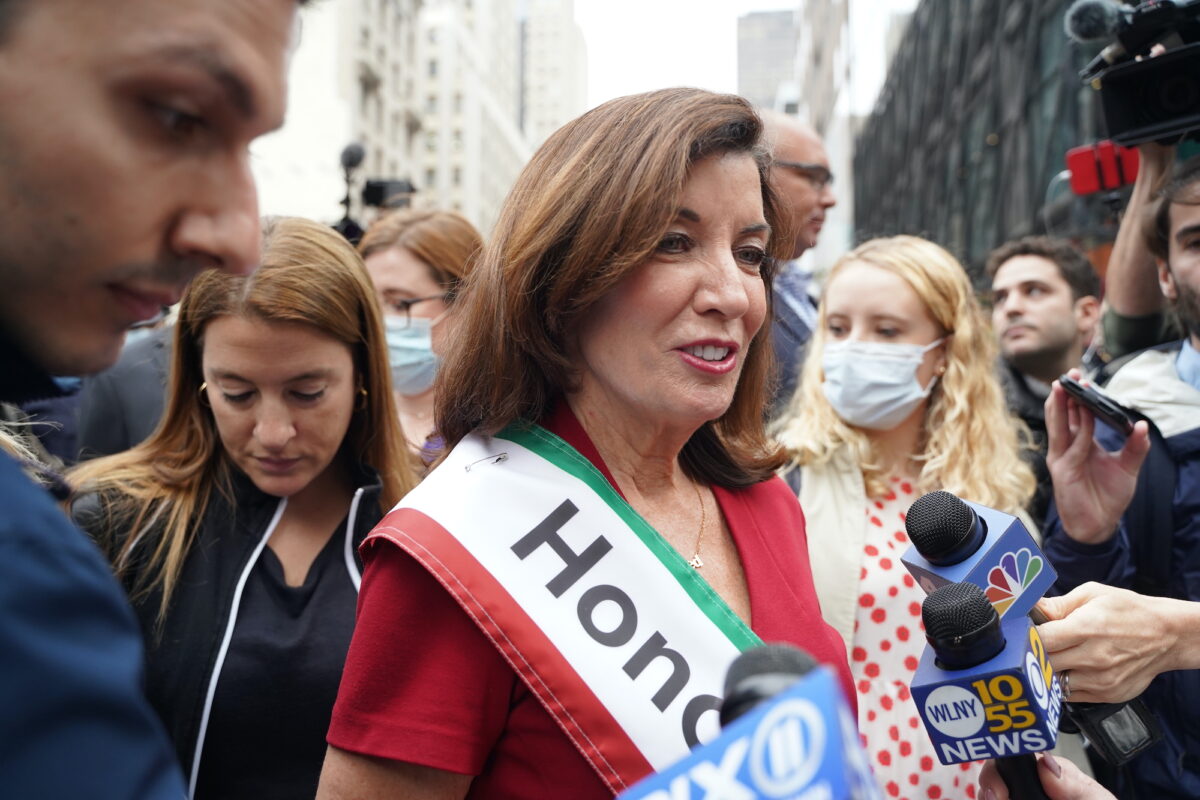 "This is Indigenous Peoples' Day," Hochul said, referring to the counter-celebration held on the same day of the federal holiday of Columbus Day.
"But I also want to celebrate the heritage of the thousands of Italian Americans who came here as immigrants," she added.
Mayoral candidate Curtis Sliwa, a Republican, participated in the parade along with a group of "Guardian Angels," a non-profit organization dedicated to fighting crime.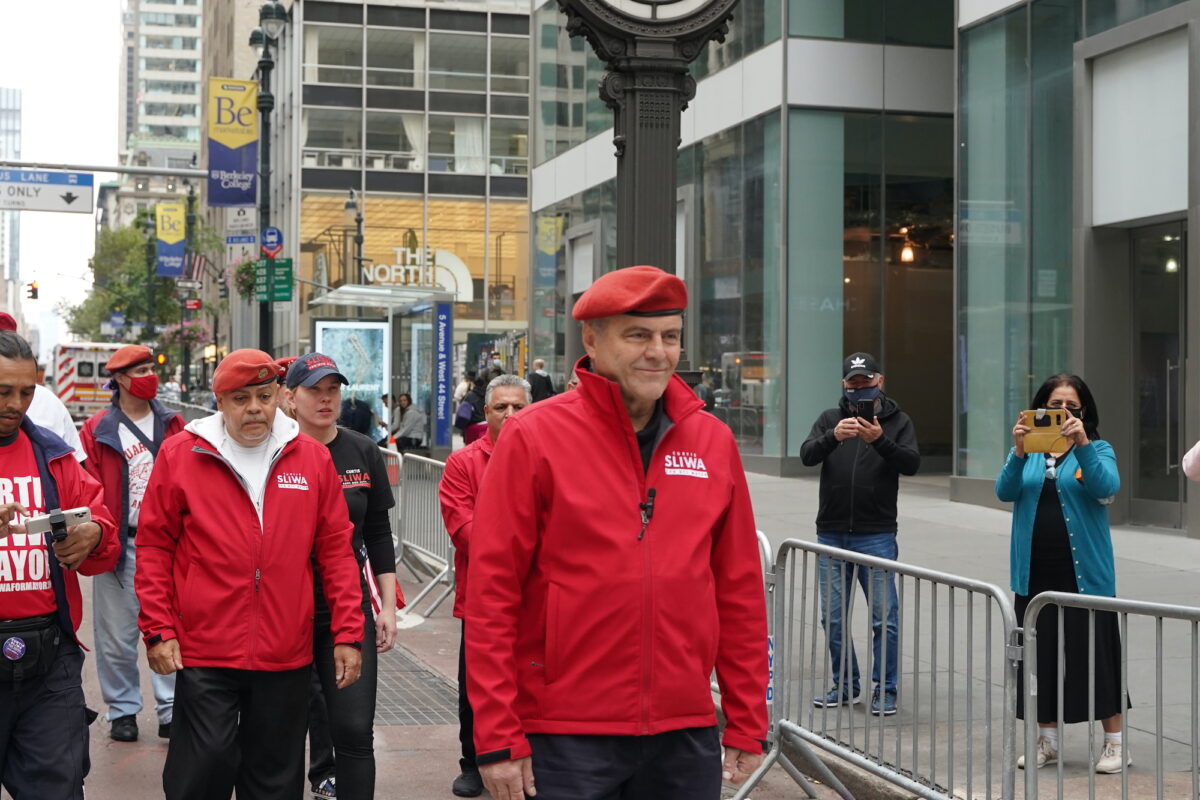 The Epoch Times asked Sliwa about his opinion on the vaccine mandates.
He noted how some civil servants have to be vaccinated and others need to be tested once a week.
"I say the compromise is, if you're not going to be vaccinated or you can't be vaccinated, they need to be tested once a week," Sliwa said.
"I wasn't aware of how many people had medical conditions when I first started the campaign, that prohibits them from getting the vaccine."
Sliwa thinks that people shouldn't need to show a vaccine passport, "unless the business, which they can do, as a private entrepreneur. If they insist on having a vaccine passport, that's their business, but the city shouldn't be forcing it on bars, restaurants, and nightclubs that have already had the life crushed out of them when they started the lockdown and pandemic."
The Epoch Times asked Cardinal Timothy Dolan about his opinion on religious exemptions in relation to the vaccine mandates.
"The pope got it," he answered, referring to the COVID-19 vaccine, "me too."
In regards to the debate over Columbus Day and Indigenous Peoples' Day, he told reporters: "For me, no controversy. Look, [we're] bringing people together. We're proud of our past."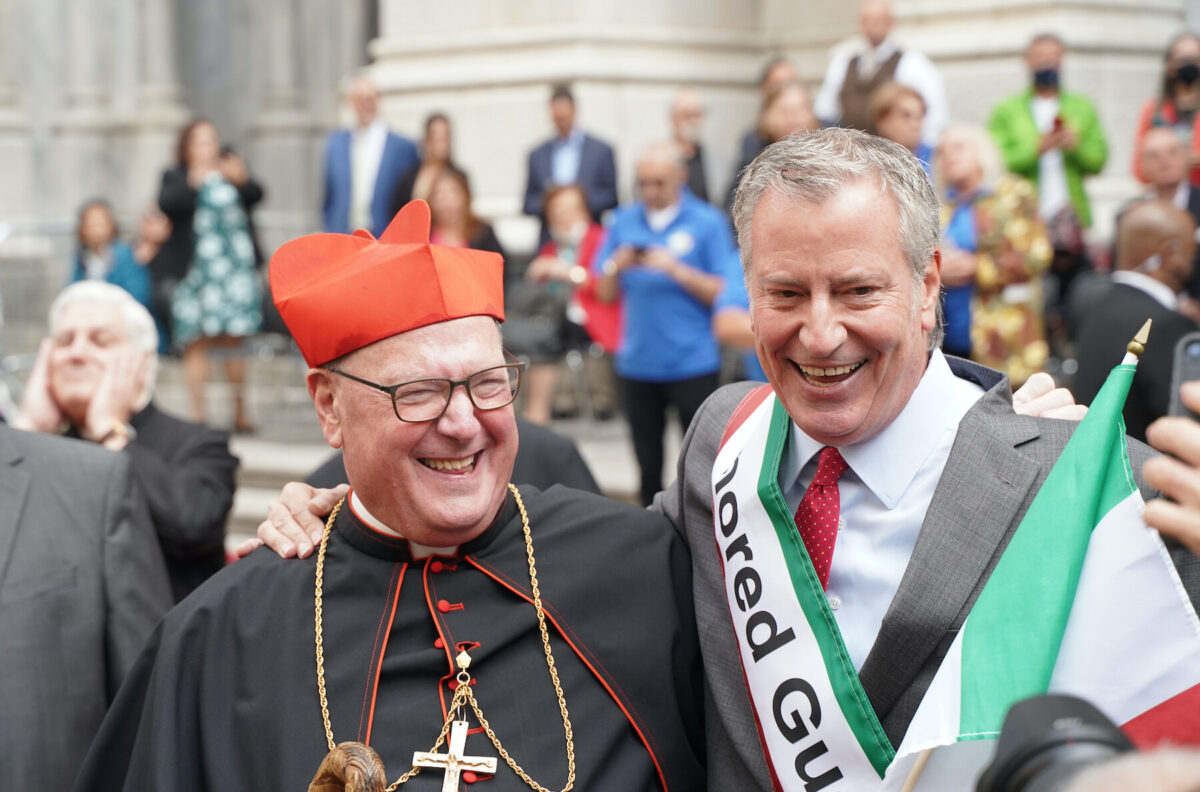 Rep. Thomas Suozzi (D-N.Y.) was also present in the parade.
The Epoch Times asked him if he believes that vaccine passports are the right way to go since some restaurants are not able to check the validity of these and their businesses are down by about half.
"Yes," Suozzi answered.
"We have to do everything we can to bring the restaurants back. And the most important thing to bring the restaurants back, and to bring back catering and bring back all types of businesses is for us to beat back the disease," Suozzi said.
"When the disease is gone, the economy will take off better than ever before, and that'll be very important for restaurants and for bar owners and for catering halls as well."