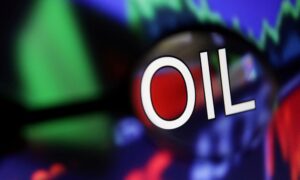 LONDON—Oil prices dropped more than $2 a barrel on Tuesday, extending the previous day's slide, as the collapse of Silicon Valley Bank rattled equities markets and sparked fear about a fresh financial crisis.
Brent crude futures fell $1.64, or 2 percent, to $79.13 a barrel by 1001 GMT. U.S. West Texas Intermediate crude futures (WTI) dropped $1.74, or 2.3 percent, to $73.06 a barrel. On Monday, Brent and WTI fell to their lowest since early January and December, respectively.
Oil prices dropped alongside a continued slide in equities markets.
"We see Monday's developments around the regional U.S. banks as more noise than news for commodity markets, and it should not have any meaningful medium- to longer-term impact," said UBS analyst Carsten Menke.
The sudden shutdown of SVB Financial triggered concerns about risks to other banks resulting from the U.S. Federal Reserve's sharp interest rate hikes over the last year.
Traders now no longer expect a 50-basis points (bps) rate hike next week, with a current projection of a 25 bps rise, even ahead of the release of U.S. consumer price data on Tuesday.
A lower rate rise could mean the dollar weakening which in turn is a bullish signal for oil prices.
Economists surveyed by Reuters forecast consumer prices increased by 0.4 percent in February, which would lower the year-on-year increase in the CPI to 6.0 percent in February and mark the smallest year-on-year rise since September 2021.
A stronger-than-expected U.S. consumer inflation outcome could put further downward pressure on oil prices.
Meanwhile, consumer inflation in China, the world's biggest oil importer, slowed to the lowest rate in a year in February.
The monthly oil market report by the Organization of the Petroleum Exporting Countries (OPEC) is due later on Tuesday ahead of one prepared by the International Energy Agency (IEA) on Wednesday.
On the supply side, the American Petroleum Institute is expected to release industry data on U.S. oil inventories at 1630 ET/2030 GMT.
Six analysts polled by Reuters estimated on average that crude inventories rose by about 600,000 barrels last week.
By Shadia Nasralla