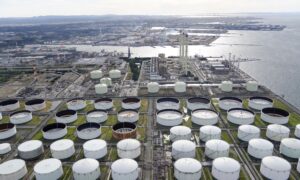 LONDON—Oil extended losses on Wednesday as unease over Credit Suisse spooked world markets, offsetting hopes of a Chinese oil demand recovery.
Early signs of a return to calm and stability faded after Credit Suisse's largest investor said it could not provide the Swiss bank with more financial assistance, sending its shares and broader European stocks sliding.
"The financial sector in Europe is under significant turmoil today," said Naeem Aslam, chief investment officer at Zaye Capital Markets.
Brent crude fell $1.44, or 1.9 percent, to $76.01 a barrel by 1100 GMT. U.S. West Texas Intermediate crude futures (WTI) were down 33 cents, or 0.5 percent, at $71.00.
Oil had rallied earlier on figures showing that China's economic activity picked up in the first two months of 2023 after the end of strict COVID-19 containment measures.
On Tuesday both benchmarks shed more than 4 percent to three-month lows, pressured by fears that the collapse of Silicon Valley Bank (SVB) last week and other U.S. bank failures could spark a financial crisis that would weigh on fuel demand.
Wednedsay's monthly report from the International Energy Agency provided support by flagging an expected boost to oil demand from China a day after OPEC increased its Chinese demand forecast for 2023.
Investors are now awaiting official U.S. oil inventory data later on Wednesday to see if it confirms the 1.2 million barrel rise in crude stocks reported on Tuesday by the American Petroleum Institute.
By Alex Lawler