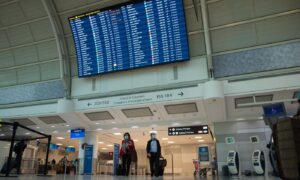 An Ontario family has had six flight experiences with Flair Airlines, and says the experience became progressively worse, with one flight delayed and five completely cancelled without notification.
The most recent return flight for Nick Hardman, his wife, and their 4-year-old son, departing from Palm Springs to Toronto on March 11, was cancelled the same weekend that the small airline had four of its aircraft seized by creditors.
With few options to get his family home, Hardman told The Epoch Times he was lucky to have relatives willing to drive 10 hours round trip—five hours to an airport in Las Vegas and five hours back home again.
"There was nothing flying out of Palm Springs. We were completely stranded. They sent us hotel vouchers, with no hotels available, and meal vouchers not available in our area," he said. The family ultimately purchased a $700 Swoop flight out of Vegas to make it back home.
Hardman says Canadians need stronger consumer protection to force airlines to compensate people for cancelled flights.
The Hardmans' experience illustrates a common problem with the Air Passenger Protection Regulations, administered by the Canadian Transportation Agency (CTA), according to Gábor Lukács, president of Air Passenger Rights, a nonprofit passenger advocacy organization.
The biggest issue, Lukács told The Epoch Times, is that Canada "has not adopted the European Union's gold standard for passenger protection."
"Canada's system has so many loopholes, so many sub-conditions. It's a failure by design," he says. Lukács recalled a small claims court hearing in Halifax two years ago on an airline passenger compensation matter, where the adjudicator was "exasperated" because it took more than 1,000 pages of documents to decide the fate of $400 in compensation to a passenger.
Lukács said the airlines have exclusive control over the information that determines passenger compensation and there are no consequences when airlines refuse to follow the regulations and reimburse passengers. "There is a complete lack of enforcement," he said.
"In Europe, this is public knowledge, as to whether there was an act of terrorism, a major snowstorm, a volcanic eruption. We have seen many cases where the airline claims there is a safety issue, but really there is a pilot shortage. That's not safety, we know that," added Lukács.
"The regulations are disproportionately complex compared to the amount of compensation passengers are entitled to, and airlines are taking advantage of that," he says.
The Hardmans, who live one hour southwest of Toronto, in Ellora, Ontario, are not eligible for a refund for their last cancelled flight under the CTA compensation program because their flight was paid for with a Flair flight credit they received last year.
That flight credit, ironically, was issued by Flair Airlines last summer, after another one of the family's flights, this time from British Columbia to Toronto, was cancelled without notice by the airline, once again leaving the family stranded with a small child.
Flair did not respond to requests for comment by press time.
Statistics from the CTA for the period from April 2022 to December 2022 indicate that Flair Airlines received the highest number of complaints in Canada for a Canadian airline.
In a nine-month period, there were an average of 13.4 complaints per 100 flights operated by Flair Airlines Ltd. Sunwing Airlines received 12.6 complaints year-to-date average, followed closely by Swoop Inc. at 12.2 complaints.
Air Canada had 3.8 complaints, Westjet received 5.2, and Air Transat received 2.9, the lowest number of complaints on average.
It was only in December that the CTA published a dashboard allowing Canadian consumers to track the number of passenger complaints.
The Hardmans, frequent fliers with family across the country, are disappointed there is such a gamble if they do take advantage of the competitive rates offered by a discount airline.
"Economically, we are well over $5,000 in the negative because we purchased tickets from Flair," said Hardman.