Painted Floors Are Having a Moment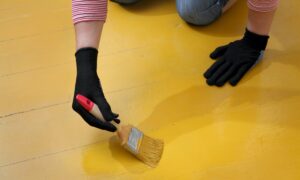 Not just for pretty porches and coastal cottages, painted floors are taking over home interiors. Images of quaint, rustic country homes or sprawling Southern porches may come to mind when you think of painted floors, and for fans of classic design, the trend is nothing new. But the latest looks prove painted floors are for every style and space, and modern applications have put a fresh (and functional) spin on the approach. Kelly DeWitt, the founder of Texas-based design-build firm KKDW Construction, notes the trend is also a budget solution.
"A painted wood floor is an excellent option for someone who has a space that has either an existing wood floor they don't like or no floor and are looking for an affordable, customized option," she explains.
DeWitt points out that painting the floors allows homeowners to use less expensive flooring materials, like off-the-shelf plywood cut to any plank dimension they desire. Concrete is also a popular material for painting. Mike Mundwiller, end user product experience manager for Benjamin Moore, advises that laminate flooring materials can be challenging to paint simply because they can have a glossy finish which may be difficult to sand to the necessary dull finish prior to coating.
DeWitt advises homeowners to keep in mind that one of few downsides to a painted wood floor is the upkeep. "Painted wood floors show signs of wear more quickly than a traditional floor finish," she says. "But the reasons to go with a painted wood floor might make up for that in the right home — it's easier and cheaper to touch up and is a fully DIY-able process."
How to DIY a painted floor
So how do you DIY it, exactly? Mundwiller has a few pointers. First, you'll need to start with proper prep work. Once you've removed all rugs and furniture, here's what you do.
"If your wood floor has previously been painted or stained with a glossy finish coating, you'll need to sand it. Using medium-grit sandpaper (120- to 150-grit) and a sanding sponge, lightly sand the wood floor to dull the surface before painting," Mundwiller advises. "Clean the entire floor by vacuuming debris and mopping the space. Use a damp rag with warm soapy water in a bucket to remove any difficult spots. Thoroughly rinse the floor with fresh water. Allow the floor to dry overnight. Finally, tape off any molding or baseboards."
The product you use will depend on your flooring material, but many of today's options, like Benjamin Moore's Floor & Patio latex floor enamel, are quite versatile for indoor and outdoor use, whether on wood or concrete. Mundwiller advises that whatever you use, to get the most out of floor painting, be sure to follow instructions and not skip any step of the process.
"Reading all primer and paint instructions carefully, dry times (how long to wait before applying a new coat) and cure times (how long to wait before you can return your wood floor to everyday use) are crucial steps," he says.
And simply try to not overapply product, as eager as you may be, as that may significantly delay the floor's ability to dry quickly and properly.
Whew. Once that's done, all that's left to do is admire and maintain. As for upkeep, Mundwiller recommends keeping your wood floor swept and free from debris, which could scratch the painted surface. He adds that a few strategically placed rugs in high-traffic areas can also extend the life of the floor so you can enjoy your masterpiece for years to come.
By Katherine Owen
From SouthernLiving.com
Southern Living is the ultimate insiders' guide to Southern culture, recipes, travel and events. Packed with recipes, decorating tips, entertaining ideas, and travel guides, Southern Living delivers the best of the South right to you. Online at www.southernliving.com.
©2022 Meredith Corporation. Distributed by Tribune Content Agency, LLC.