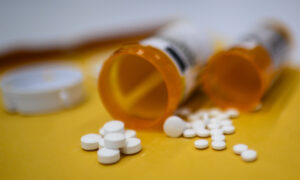 A doctor based in Clarksville, Pennsylvania, was sentenced on Thursday to six months in prison, as well as a year of supervised release after that, and a fine of $5,000, for an opioid scheme.
The 46-year-old also had to surrender his medical license, as well as his Drug Enforcement Administration (DEA) certificate of registration. He also agreed not to re-apply for the certificate to dispense any Schedule II controlled substances.
Gullett was illegally signing multiple oxycodone prescriptions for a customer of HOPE (Hitech Opioid Pharmachovigilance Expertise) Clinic.
It purported to be a pain management clinic that operated in Beckley, Beaver, and Charleston in Pennsylvania, as well as in West Virginia, and Wytheville, Virginia.
The prescriptions Gullett signed were for 120 pills (30 mg each) and 30 pills (15 mg each) for a customer at the clinic's Charleston location, in March 2013.
The customer's medical chart didn't support the prescriptions, and the prescriptions weren't for a legitimate medical purpose, the former doctor admitted.
Gullett also noted he didn't discuss with the customer the possibility of addiction or the potential need for addiction treatment.
"The criminal conduct in this case exploited and worsened an already devastating opioid crisis," U.S. Attorney Will Thompson said in a statement.
"This office and its law enforcement partners are resolved to bring to justice those who allow greed to outweigh their oaths and duties as health care professionals."
According to evidence noted by the U.S. Attorney's Office for the Southern District of West Virginia, evidence showed that Gullett's customer had "multiple failed drug screenings, reported being addicted to pain medication, bought pills on the street, and sold pills from his HOPE Clinic prescriptions to others."
The attorney's office also cited court documents and statements made in court showing that other medical practitioners associated with the HOPE clinic had "prescribed thousands of oxycodone- and morphine-based pills to individual customers" from November 2010 to June 2015.
"Some of these prescriptions provided customers with an average of four to seven pills per day," according to the office. "Several HOPE Clinic locations averaged 65 or more customers a day during a 10-hour workday with only one practitioner working."
Gullett was one among others indicted in 2018. The others include the owners, managers, and other doctors associated with the HOPE Clinic and PPPFD, Inc., the company that managed the daily operations of the HOPE Clinic.
Five other doctors have also pleaded guilty and they are awaiting trial.
"Medical professionals who circumvent the rules for prescribing powerful and potentially addictive pain-killers contribute to the opioids crisis facing our nation," George Scavdis, the special agent in charge at the Food and Drug Administration (FDA) Office of Criminal Investigations Metro Washington Field Office, said in a statement.
"Our office will continue to pursue and bring to justice those who see addiction as an opportunity for profit."
Opioids have been linked to more than 500,000 deaths in the United States over the last two decades. Governments have alleged in legal challenges over decades that the pharmacies have filled prescriptions they should have flagged as inappropriate.
Since the 1990s, the United States has seen increasing waves of opioid abuse. The first wave hit in the 1990s, driven by prescription opioids. The second wave was driven by illicit heroin in 2010. The third wave, starting from 2013, is from illicit synthetic opioids, including fentanyl and tramadol.
The Centers for Disease Control and Prevention (CDC) in February 2022 proposed new opioid prescribing guidelines for doctors, in the hopes it could help improve individualized patient care to reduce instances of untreated pain, serious withdrawal symptoms, and addiction.
Marina Zhang contributed to this report.