Pentagon Denies Reports US Military Dogs Left in Cages Afghanistan
Several animal welfare groups said that U.S. military contract dogs that were allegedly left behind in Afghanistan face "death or worse," although a Pentagon spokesperson denied claims that working dogs were left behind in cages.
Dr. Robin R. Ganzert, president and CEO of American Humane, issued a statement Monday condemning the reported decision to leave the animals behind in Kabul.
"I am devastated by reports that the American government is pulling out of Kabul and leaving behind brave U.S. military contract working dogs to be tortured and killed at the hand of our enemies," Ganzert said. "These brave dogs do the same dangerous, lifesaving work as our military working dogs, and deserved a far better fate than the one to which they have been condemned."
Describing the alleged decision as "senseless," she said that "American Humane stands ready to not only help transport these contract K-9 soldiers to U.S. soil but also to provide for their lifetime medical care."
Ganzert noted that her group "has worked hand in hand with the military for more than 100 years to rescue military animals," adding that it "brings home retired military working dogs and pairs veterans with life-saving service dogs."
"In order to prevent this tragedy from occurring, these K-9's should be loaded into whatever cargo space remains and flown to safety," Ganzert continued. "We call on Congress to take action to classify contract working dogs on the same level as military working dogs. Failure to do anything less, is a failure of humanity and a condemnation of us all," she added.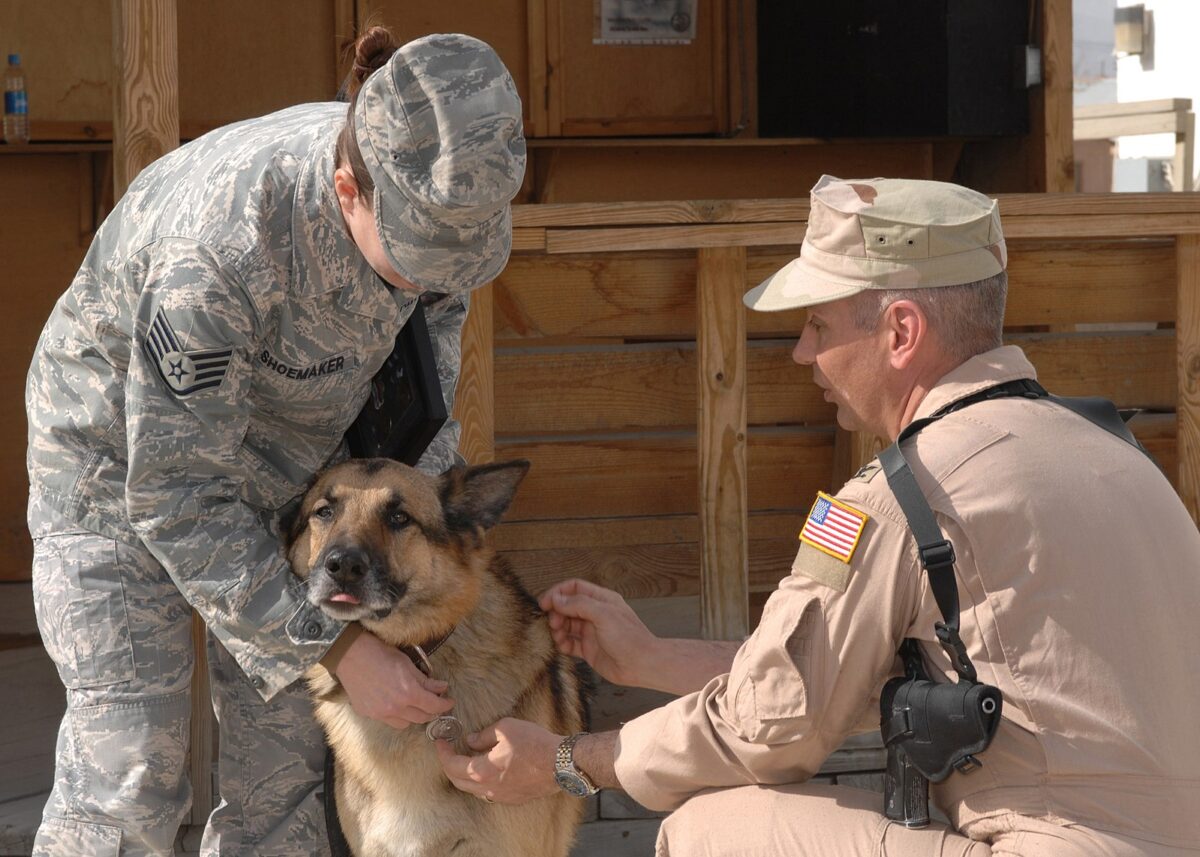 Another working dogs group, the Veteran Sheepdogs of America, said it is also working to extract military dogs from the country, adding in a Twitter post on Aug. 29 that "whatever mess you think Kabul is… it's worse!" The group posted photos of cages that were ostensibly left at the Kabul airport.
A spokesperson for the Department of Defense denied claims that the military left any of its dogs behind inside cages.
"The U.S. priority mission was the evacuation of U.S. citizens, SIV, and vulnerable Afghans. However, to correct erroneous reports, the U.S. military did not leave any dogs in cages at Hamid Karzai International Airport, to include the reported 'military working dogs,'" a Defense Department spokesman told the Washington Examiner. The Epoch Times has contacted the Defense Department and U.S. Central Command for comment.
The spokesman added: "Photos circulating online were animals under the care of the Kabul Small Animal Rescue, not dogs under the care of the U.S. military. Despite an ongoing complicated and dangerous retrograde mission, U.S. forces went to great lengths to assist the Kabul Small Animal Rescue as much as possible."
On Monday, top military commander Gen. Frank McKenzie confirmed that the final U.S. evacuation flight out of Afghanistan was caried out, officially ending the 20-year-long occupation of the country following the Sept. 11, 2001, terrorist attacks. As the United States starting pulling out earlier this month and in late July, the Afghan government and army suffered continual losses to the Taliban before the terrorist group took over Kabul about two weeks ago.
McKenzie expressed regret that a few hundred Americans are still trapped in Afghanistan and said the State Department will now work on evacuating them. While it's not clear on the "exact" number, Pentagon press secretary John Kirby told MSNBC on Tuesday that "several hundred" remain.
"We believe we got the vast, vast majority of American citizens out, something to the tune of 6,000 of them," he said. "And we think it's probably in the low hundreds that are still there. And there were also several hundred others that didn't want to leave."
In the midst of a rushed and chaotic evacuation at the Kabul airport, ISIS terrorists carried out a suicide bomb attack that killed 13 U.S. service members and scores more Afghan citizens last week.
The Epoch Times has contacted U.S. Central Command, or CENTCOM, for comment.