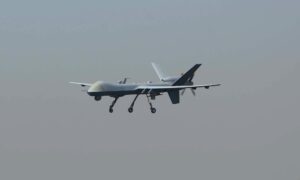 A Russian fighter jet collides with a U.S. military drone over the Black Sea. U.S. forces were forced to crash the drone into the waters. The two sides accuse each other of wrongdoing.
A heavy snow storm across the northeastern U.S. causes power outages, dangerous driving conditions, flight cancellations, and school closures. Some areas have seen over 30 inches of snow.
Credit ratings agency Moody's changes its outlook for the U-S banking system from 'stable' to 'negative'.  And places 6 banks under review for potential downgrades. Find out what the firm has to say about the health of the American Banking sector.
Topics in this episode include:
1. Russian Fighter Jet Collides With US Drone
2. Analyst: Expect 'Clear and Firm' Response
3. Snow Storm Hits Northeastern US
4. Crews Race to Repair Broken Levee in California
5. Conservative Activist Charlie Kirk at UC Davis
6. New York AG to Host 'Drag Story Hour' for Children
7. Arkansas Gov. Signs Trans Malpractice Bill Into Law
8. Moody's Outlook on US Banking System 'Negative'
9. Taiwan's VP Running for President
10. Tyson Foods to Close Two Chicken Plants in May
11. Mental Health: Why Girls Are More Affected
12. Shen Yun 'Uplifting, Enlightening': Canadian Audience