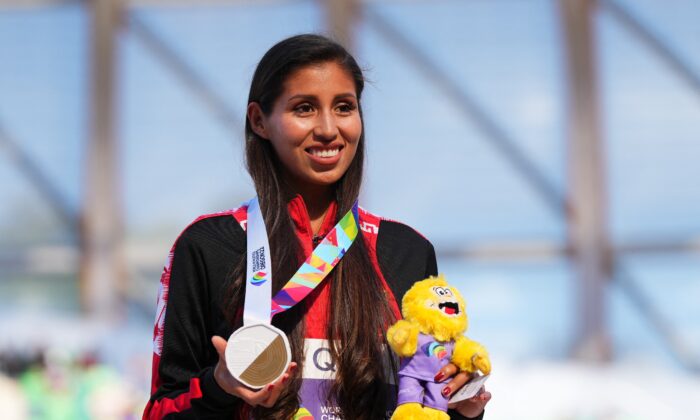 Gold medallist Peru's Kimberly Garcia Leon celebrates on the podium during the medal ceremony after winning the women's 35 kilometers race walk at World Athletics Championships in Eugene, Ore., on July 22, 2022. (Aleksandra Szmigiel/Reuters)
Peru's Kimberly Garcia Leon broke the 35 kilometers race walk world record on Saturday with a time of two hours 37 minutes and 44 seconds in Dudince, Slovakia.
The world champion in both the 20 kilometers and 35 kilometers walk broke the previous record of 2:38:24 set by Russian Klavdiya Afanasyeva in 2019, in a warning to her rivals ahead of the Paris Olympics next year.
China's Liu Hong came in second in an Asian record of 2:40:06 while Magaly Bonilla from Ecuador took third place.
At Paris 2024, there will only be one race of 20km for the women and a 35km mixed team race walk.