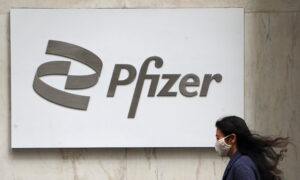 Pharmaceutical giant Pfizer recalled millions of prescription migraine drugs that don't meet packaging requirements, according to the U.S. Consumer Product Safety Commission.
Some 4.2 million Nurtec ODT (rimegepant) orally disintegrating 75 milligram tablets that were in blister packs lack the child-resistant packaging that is required under federal law. The recall notice said that the packing issue could present a child poisoning risk.
"The recalled prescription drugs must be in child resistant packaging as required by the Poison Prevention Packaging Act (PPPA). The packaging of the products is not child resistant, posing a risk of poisoning if the contents are swallowed by young children," said the notice.
The notice said that no injuries or reports of accidental poisonings have been reported in connection to the packaging, which was made by Biohaven Pharmaceuticals Inc. Pfizer acquired Biohaven last October.
Consumers were advised to "immediately secure the recalled product out of the sight and reach of children and contact Pfizer for a free child resistant pouch to store the product" and that "once the product is secured, consumers can continue to use it as directed."
Pharmacies around the United States distributed Nurtec ODT as a prescribed medicine between December 2021 and March 2023. The prices of the drug varied owing to health insurance terms and other reasons, the notice said.
In a statement, Nurtec said that it was Pfizer that "recently determined" the drug's packaging doesn't meet the requirements. Patients who use Nurtec ODT should continue to use the drug as prescribed, according to the company, which added that the recall "does not change the established safety profile of the drug when used as prescribed for its intended uses."
There is also need to return Nurtec ODT packages to the company, it said. Migraine patients will continue to have access to Nurtec ODT via their pharmacy, the statement also said.
"Pfizer is quickly working to create new packaging for Nurtec ODT to comply with the necessary child-resistant packaging requirements," the firm added. "In the meantime, pharmacists will place Nurtec ODT blister packages into vials with child-resistant lids when filling patient prescriptions."
Pfizer's website says that there is "limited clinical experience" with Nurtec ODT overdoses and does not provide examples of possible overdose symptoms. According to the Mayo Clinic, there have been no studies on the drug's effects in children and safety profiles haven't been established.
"Treatment of an overdose of NURTEC ODT should consist of general supportive measures including monitoring of vital signs and observation of the clinical status of the patient," it says. "No specific antidote for the treatment of rimegepant overdose is available. Rimegepant is unlikely to be significantly removed by dialysis because of high serum protein binding."
According to Pfizer, Nurtec ODT is given to adults for treatment of migraine attacks with or without aura. Common side effects include nausea, indigestion, and stomach pain, it says.
For more details, consumers can contact Pfizer at 800-879-3477 Monday through Friday 9 a.m. to 7 p.m. ET. They can also visit Nurtec's website to get more information.
Other Drug Recalls
Last month in an unrelated recall, the U.S. Food and Drug Administration announced the recall of blood pressure medication made by Sun Pharmaceuticals after the agency posted an "enforcement report."
Sun Pharmaceuticals said it was voluntarily recalling diltiazem hydrochloride in a 360-milligram dosage form across the United States, according to the notice. Diltiazem hydrochloride is used to treat chest pain, high blood pressure, and some heart rhythm disorders like atrial fibrillation or rapid heartbeats.
Weeks before that, the agency announced IBSA Pharma Inc. was voluntarily recalling Tirosint-SOL, or levothyroxine sodium, a medication used to treat an underactive thyroid gland. It said that the "voluntary recall has been initiated because these lots may be subpotent," the FDA notice said.