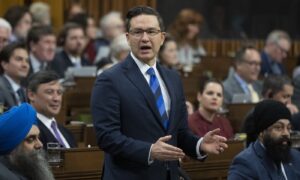 MPs in the House of Commons were debating an amendment to the Liberal government's online regulation bill on March 30 when Conservative Leader Pierre Poilievre was asked to define his use of the word "woke."
Poilievre had said earlier that day in the House during question period that Bill C-11, also known as the Online Streaming Act, would empower the Canadian Radio-television and Telecommunications Commission (CRTC)  to "manipulate social media algorithms in order to shut down voices it does not want people to hear."
Poilievre also called the CRTC a "woke agency."
The controversial Bill C-11 would give the CRTC power to regulate digital streaming giants like Spotify, Netflix, and YouTube on networks within the country and require to contribute to Canadian content standards.
Following question period and during debate on a proposed amendment to the bill, Liberal MP Jenica Atwin asked Poilievre to define what he meant by of the word.
"I'm wondering if he would like to kind of backtrack or apologize on characterizing the CRTC as a small group of privileged insiders closest to the prime minister," Atwin said. "And I would also ask him if he would like to define the word 'woke.'"
Poilievre responded by calling the CRTC a "big sprawling bureaucracy with far too many people working for it."
"There will be less people working for the CRTC when I'm prime minister because they'll have less power and they'll have a hell of a lot less to do when I restore freedom of speech and freedom of expression online and on the internet," he said.
"And as for the definition of woke, well, woke has one purpose, only one purpose. It has plenty of pretext but only one purpose: control. It is designed to divide people by race, by gender, by ethnicity, by religion, by vaccine status, and any other way that they can divide people into groups because then you can justify having a government to control all those groups."
"No more woke," Poilievre added.
House Leader Ends Debate
Earlier in the House on March 30, MPs were debating the Senate's proposed amendments to Bill C-11, many of which the government had already made clear it would reject.
However, as debate continued, Liberal Government House Leader Mark Holland introduced a motion to end debate on the amendments regardless of whether all members were finished speaking on it.
It passed by a vote of 173–145, after which the House began debating a Conservative motion to have the bill scrapped entirely, which was also voted down later in the day.
During question period, Holland said the purpose of Bill C-11 is to ensure that "big tech" pays its "fair share" to Canadian content creators and artists by allowing the CRTC to increase their visibility over American competitors on major streaming platforms.
However, Poilievre said "big tech" platforms will still "monopolize" the Canadian media landscape regardless of whether or not Bill C-11 passes.
"Their platforms will still dominate," he said. "It's just that government bureaucrats will be able to manipulate the algorithms to shut down the voices of individual Canadians."