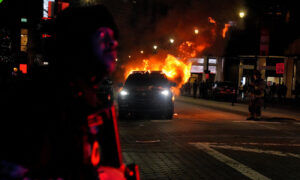 Rioters set a police car on fire and smashed windows of various buildings at a protest in downtown Atlanta, Georgia, that turned violent on Jan. 21, which ultimately led to police arresting six people.
The latest violence comes after police shot at and killed a man on Jan. 18. Police said they did so in self-defense and that the man had fired at them first and injured a state trooper. Prior to his death, the man was protesting at a construction center of a planned police training facility that critics have derided as "Cop City."
The protest that took place on Jan. 21 in downtown Atlanta started peacefully but suddenly escalated to violence, with groups of protesters-turned-rioters wearing masks and dressed in all black seen throwing rocks and lighting fireworks in front of a skyscraper that houses the Atlanta Police Foundation, shattering large glass windows. They also set at least one police car on fire, as well as smashed the windows of more buildings with rocks and hammers, and vandalized walls with anti-police graffiti.
Scenes from WSB-TV showed one police car had been set on fire, as well as broken windows and a damaged ATM in a downtown Atlanta area where tourists often visit. Firetrucks were at the scene along with a heavy police presence.
Six people were arrested, Atlanta Police Chief Darin Schierbaum told reporters at a press conference late on Jan. 21.
"We can tell now, early in this investigation, this was not the focus tonight just to damage the windows of three buildings and set a police car on fire," Schierbaum said. "The intent was to continue to do harm, and that did not happen."
Atlanta Mayor Andre Dickens told reporters that "many of [those arrested] don't even live in Atlanta or in the State of Georgia, and they don't represent the voices of Atlanta."
He added that some of the ones arrested "were found with explosives on them … and that has led to a police officer's car being set on fire, and other destruction has occurred."
"Atlanta is safe and our police officers have resolved the disruption downtown from this evening … order has been restored in a swift manner," Dickens said late on Jan. 21.
There were no reports of any injuries from the riots thus far.
Georgia Gov. Brian Kemp, a Republican, denounced the violence. On Twitter, he wrote: "Violence and unlawful destruction of property are not acts of protest. They are crimes that will not be tolerated in Georgia and will be prosecuted fully."
'Cop City'
According to WSB-TV, the Jan. 21 protest was also being held in opposition to plans to build a police training center in a wooded area of DeKalb County on the city's outskirts.
The latest violence comes amid heightened tensions after the Jan. 18 killing of a man—26-year-old Manuel Teran—by police, who said that Teran had shot and injured a Georgia state trooper that morning, prompting officers to shoot back at Teran in self-defense, killing him. Meanwhile, the state trooper was stable and in hospital as of Jan. 19, according to reports.
Teran, an activist with the group Defend the Atlanta Forest (DAF), had allegedly shot at law enforcement officers, who were clearing out demonstrators from a construction site. Located in a forested area of DeKalb County in the outskirts of Atlanta, the site is planned for a $90 million police department training center—the Atlanta Public Safety Training Center—that protesters have derided as "Cop City."
Activists have questioned officials' version of events, calling it a "murder" and demanding an independent investigation. Flyers notifying of the protest on Jan. 21 read: "Police killed a protester. Stand up. Fight back."
The initial hour of the protest was peaceful, with a few activists sharing their memories of Teran, describing Teran as a loving, caring member of the "Stop Cop City" community. The speakers said Teran took a 20-hour medic course to serve as a medic for fellow activists.
The Georgia Bureau of Investigation (GBI) said the confrontation on Jan. 18 that killed Teran was not recorded on body cameras but noted on Jan. 20 that it determined the trooper was shot in the abdomen by a bullet from a handgun Teran was holding.
DAF and other critics have expressed environmental concerns over the construction site, which would build the new police center on some 85 acres of forested land—the South River Forest. They have also dismissed the initiative as a way to militarize law enforcement.
Activists over the past several months have moved into the forest in protest of the construction. Some have set up camp, while others have built platforms in the surrounding trees.
The GBI said about 25 campsites were located and removed in Wednesday's raid, and mortar-style fireworks, edged weapons, pellet rifles, gas masks, and a blow torch were recovered.
Seven people were arrested and charged with domestic terrorism and criminal trespass, with other charges pending, the GBI said. They range in age from 20 to 34 years, and none are Georgia residents.
Reuters and The Associated Press contributed to this report.