A police chief has vowed to "root out" predators within her force after one of her officers was jailed for taking pictures of a teenager's breasts.
South Yorkshire Police Chief Constable Lauren Poultney said "wrongdoing and poor standards" would not be tolerated within her ranks after the jailing of now-resigned police officer Paul Hinchcliffe on Friday.
The 41-year-old married father-of-four was jailed for eight months after he was found guilty of sexual assault for pulling down an 18-year-old woman's top, photographing her, and making sexual remarks.
The incident happened when Hinchcliffe was off-duty and drinking with other police colleagues at a bar in Wath upon Dearne, South Yorkshire, on Oct. 3, 2020.
Leeds Crown Court heard that the complainant said in an impact statement: "All my trust for the police just went.
"I used to feel safe when I saw police officers. I never think that now.
"He sexually assaulted me when he should've been in a role that protects people," she said.
Hinchcliffe, who resigned from South Yorkshire Police after his conviction, was found guilty of sexual assault earlier this year by a jury.
Twenty Year Career
Judge Robin Mairs said Hinchcliffe pulled open the woman's top and photographed her before sending the image to a colleague.
The woman, who lived with her parents, was at home later when she received WhatsApp messages from Hinchcliffe including her picture.
Katherine Pierpoint, defending, urged the judge to suspend the prison sentence.
She said her client's drunkenness during the event was no excuse, and was an aggravating factor, but it might be an explanation for his "completely out-of-character" behaviour.
She pointed the judge towards a raft of references from colleagues about his service during a 20-year police career.
"He should not have got himself into that state," the barrister told the court.
Pierpoint stressed that, unlike some recent high-profile cases, this was not a case of a police officer using his position to commit an offence.
But she conceded he should've known better.
Judge Mairs rejected the plea to suspend the prison sentence, noting that Hinchcliffe was training student police officers at the time of the offence.
He said Hinchcliffe breached the standards he was tasked with instilling into recruits.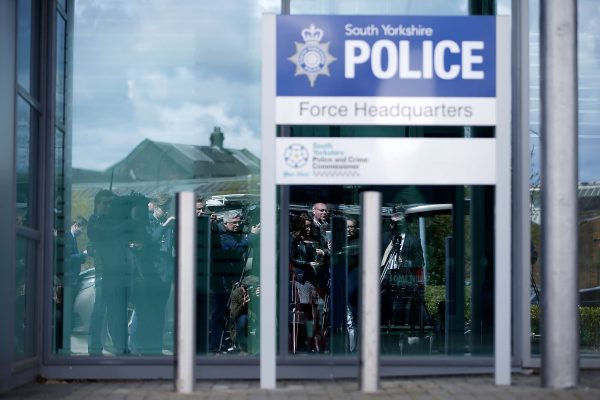 Sex Offenders Register
Referring to the references he had read, the judge said Hinchcliffe's behaviour on that afternoon was "scarcely credible in the light of that background."
He said the behaviour of Hinchcliffe and other officers that night "went far beyond jokes and banter."
Judge Mairs said the complainant's trust in men had been affected by the incident and "her trust in the police is now highly dented because of what you did."
He told Hinchcliffe, "You were in your 40s and she was an 18-year-old girl.
"This was not committed whilst you were on police duties but it was committed in the company of other police officers."
He said offences of this kind "reduce public confidence and reduce public trust in the police force."
"Sexual offences committed by police officers, recorded and disseminated to others, are offences where the only appropriate punishment can be achieved by immediate custody," the judge said.
He said Hinchcliffe, who stood in the glass-fronted dock wearing a light blue suit, white shirt, and blue tie, will be added to the sex offenders register for 10 years.
Following sentencing, South Yorkshire Police Chief Constable Lauren Poultney released a statement to the media.
"Whether our officers and staff are on duty or not, the public rightly expect us to portray the true values of policing at all times and this former officer fell woefully below these expectations," she said.
"I am mindful this hearing follows the release of the Casey report last week and wish to assure our communities that here in South Yorkshire Police we are doing absolutely everything we can to root out those who are not fit to represent your force."
She added, "Force standards and culture continue to be my top priority and when wrongdoing and poor standards are identified, the perpetrators will be dealt with swiftly and robustly."
Her comments come just over a week on from the release of a report which revealed a "boys' club" culture within the Metropolitan Police.
In a year-long review, Baroness Casey found women and children had been failed by the force, with racism, misogyny, and homophobia at its heart.
Baroness Casey says if culture did not improve, the force could be dismantled.
The report condemned systemic failures, painting a picture of a force where rape cases were dropped because a freezer containing key evidence broke.
The Met's Commissioner Sir Mark Rowley admitted "we have let Londoners down."
PA Media contributed to this report.