INDIANAPOLIS, Ind.—Joe Tinsman's family got into the pork business about 10 years ago, more as an avocation than an industry.
"It started with the kids showing pigs in 4-H. We figured we could raise them for less than we could buy them," Tinsman told The Epoch Times.
The Tinsmans, appropriately enough, live in Farmland, Indiana. They're first-generation pork producers and are small by design, between 40 and 50 head at a time.
Like many family farmers, Tinsman works another full-time job in addition to their farm, so the specter of California's Proposition 12 tended to be theoretical, but still unsettling.
"The cost of it would take you out," Tinsman said. "You would need more ground, more space in buildings. There's no way to make that happen. There would be multiple farmers in the same situation."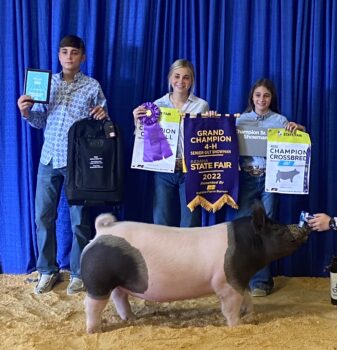 Proposition 12
In 2018, 63 percent of Californians voted to make Proposition 12 a state law. It was an animal welfare initiative that requires pork producers to provide up to 24 square feet for each of their sows.
The law was almost immediately challenged by the pork industry. The U.S. 9th District Court of Appeals in California assigned it to San Diego, which ruled for California in July 2021. The National Pork Producers Council, which represents the pork industry, and the American Farm Bureau Federation argue that the law violates a provision in the U.S. Constitution known as the commerce clause. They appealed the case to the United States Supreme Court, which heard oral arguments last week.
The California measure would be costly to implement and thus drive up pork prices around the country, pork producers say.
Many producers would have to remodel and expand their barns. That could cost upwards of $3,500 per sow, Josh Trenary, head of the Indiana Pork Producers Association, told The Epoch Times.
California is trying to fix a problem that doesn't exist, according to Jeff Petree, director of procurement for Weichman Pigs, a Nebraska-based pork producer.
"It's another example trying to fix a problem that doesn't exist. This just adds cost and makes the industry less productive. These are the same people who tell us to use fewer resources. Proposition 12 would force us to use more resources," Petree told The Epoch Times.
Proposition 12 would force pork producers to "invest more so you can produce less in the same amount of time," Petree observed. California has also said it would send inspectors to producers in other states to make sure its requirements are met, Petree said.
"I've been doing this 36 years, then someone comes along and tells you that everything you've been doing is wrong," he added.
Pork operators trying to adhere to California's standards are seeing more culls, as a result of animals killing each other, Petree said. Sows put together will establish a pecking order, which they establish by fighting. When that happens, some will get hurt.
Earlier this year, Smithfield Foods, America's largest pork producer, did its talking with moving vans. Smithfield said the cost of doing business in California wasn't worth it and closed its Vernon, Calif. plant, shedding 1,800 jobs.
California Overreach?
For Michael Formica, chief legal Strategist for the National Pork Producers Council, the California measure is a bad deal for everyone.
While proposition 12 is framed as a moral issue, Formica countered that animal welfare is already the industry's priority, and said farmers make decisions on how they house their animals based on recommendations of leading veterinary groups.
"California Prop 12 will force more industry consolidation as smaller farms are pushed out. Food costs are already up 12 percent year over year. Any increase is too much for families living paycheck to paycheck," Formica told the Epoch Times.
"California can't reach across its borders and send inspectors to Iowa or Indiana farms. Ninety-nine percent of the economic impact of Prop 12 is outside the state of California and it will hurt animals, farmers, and consumers," he added.
The legal case before the Supreme Court appears to draw familiar battle lines: blue-state Californians vs. red-state Iowans, North Carolinians, and Indiana's Hoosiers. Interestingly, the Biden Administration weighed in with a brief supporting the pork producers. The Justice Department argued that Proposition 12 violates the Constitution's commerce clause, which bans states from imposing "undue burdens on interstate commerce."
Those battle lines rolled right into the Supreme Court for last week's oral arguments.
Chicago attorney Timothy Bishop argued on behalf of the pork producers that Proposition 12 violates the commerce clause by forcing out-of-state farmers to adopt that state's "preferred farming methods, for no valid safety reason."
"No other state makes its farmers house pigs the way that California does. And very few farmers do. An Iowa farmer doesn't know where pork from his sows will be sold," Bishop said, adding that pork is sold around the world in response to demand.
"If Proposition 12 is lawful … Oregon can condition imports on workers being paid the minimum wage. And Texas can condition sales on the producer employing only lawful U.S. residents," Bishop told the Justices. "Iowa has 65,000 sow farms. It has a very great interest in how those sows are housed. And what California is doing is essentially trampling on Iowa's ability to say no."
A few pork producers already meet Proposition 12's standards. That pork is sold in places like Whole Foods for $8 a pound, Bishop said. Consumers can buy those same cuts for $5 a pound in other stores.
California Solicitor General Michael Mongan, arguing for Proposition 12, said Californians are willing to pay that price in exchange for the right to reject products they view as morally objectionable. California consumes 13 percent of the nation's pork products, leaving 87 percent of the national market available. Pork producers servicing that 87 percent remain free to raise their animals in any way they choose, Mongan pointed out.
Arizona and seven other states ban the sale of eggs from hens that don't have enough space, Mongan said.
Markets as a Moral Issue
Jeffrey Lamken, representing the Humane Society and arguing in support of the California measure, said Proposition 12 reflects a moral tradition that has been respected for millennia, arguing that consuming meat that is a product of animal cruelty is itself immoral. With Proposition 12, California chose to rid its markets of some of those immoral products, he said.
Those distinctions are nothing new in the United States, Lamken said.
Americans ban blood diamonds and conflict diamonds, but not ordinary diamonds. Nine states deal with animal testing. Eight states ban eggs from caged hens. Nine states ban aborted fetal tissue, but not fetal tissue that's not from abortions, Lamken said.
Chief Justice John Roberts countered: "People in states that produce a lot of pork, such as Iowa, North Carolina or Indiana, may think there's a moral value in providing a low-cost source of protein to people, maybe particularly at times of rising food prices. But, under your analysis, California's view of morality prevails over the views of people in other states because of the market power that they have."
Justice Amy Coney Barrett also appeared non-plussed.
"Could you have California pass a law that said we're not going to buy any pork from companies that don't require all their employees to be vaccinated, or from corporations that don't fund gender-affirming surgery or that sort of thing?" Barrett asked.
James Bowers, managing director of the Center for Consumer Freedom on Prop 12, an advocacy group opposing the measure, was hopeful that the Supreme Court would ultimately side with the pork producers.
"California's bad policies should stay in California. California has no right to drive up the costs for Americans' breakfasts nationwide. We're confident the Supreme Court will see through this stunt —which was designed by anti-meat animal rights movement—and protect Americans against this anti-democratic attempt to impose California regulations on all 50 states," Bowers told the Epoch Times.
Back in Indiana, the Indiana Pork Producers Association's Trenary said the industry is already improving its animal welfare efforts without burdensome regulations from places like California.
"A pork farmer has the incentive, both from an ethical standpoint and a financial standpoint, to do the right thing. And toward that end, the pork industry has been proactive about putting together science-based production standards," Trenary said.