Port of LA to Open 24/7 to Ease Record Backlog
LOS ANGELES—President Joe Biden announced today the Port of Los Angeles will begin operating around the clock to ease a historic backlog of goods parked offshore—brought on by the pandemic—but cautioned all chinks in the chain of providing goods to U.S. consumers would additionally need to step-up operations.
Along with Biden's announcement, White House officials, including Vice President Kamala Harris, met virtually with local port industry executives today to discuss the need to recruit and retain more long-haul truck drivers, a shortage of which has exacerbated the backlog.
Americans are noticing "how hard it is to buy things and how hard it is to get a range of things from a toaster to sneakers to bicycles to bedroom furniture," Biden said, announcing the changes.
The Port of Los Angeles, which transfers containers from ships to delivery trucks, will now operate 24/7—nearly doubling its operations. A similar plan is already in effect at the Port of Long Beach.
The two ports are responsible for about 40 percent of all imports into the United States.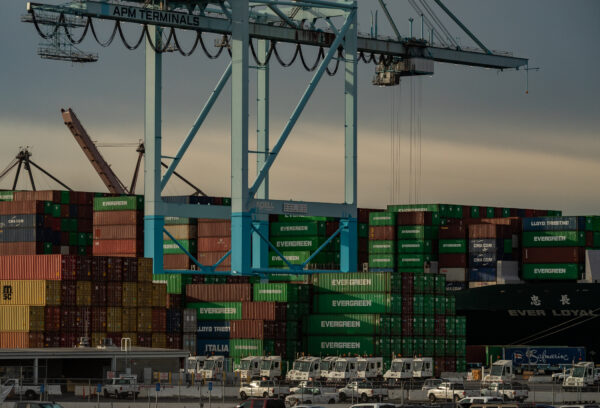 According to Biden, with the additional nightly hours added to port operations, the goal is to process and unload 3,500 more containers each week.
But with the holiday season fast approaching—and some retailers reporting a lack of inventory—some wondered why the action was not taken sooner.
"I think the Biden Administration looked at the low-hanging fruit," and finally took action, said Sal Mercogliano, a professor of maritime industry policy at the U.S. Merchant Marine Academy out of New York. "The move is better late than never … [but] should have been addressed sooner than this."
Reports of backlogged goods at the ports began as COVID-19 took hold in the United States as consumers hunkered down in their homes and increased their online shopping habits.
Mercogliano predicted that even with today's actions, the ports of Southern California would probably not be cleared until the New Year.
But he said, getting all the parties involved in clearing the backlog was a step in the right direction.
"You can't just address one end of the supply chain," he said. "Everything must be done simultaneously," including not only addressing the current shortage of truck drivers, but increasing operations of receiving retailers as well.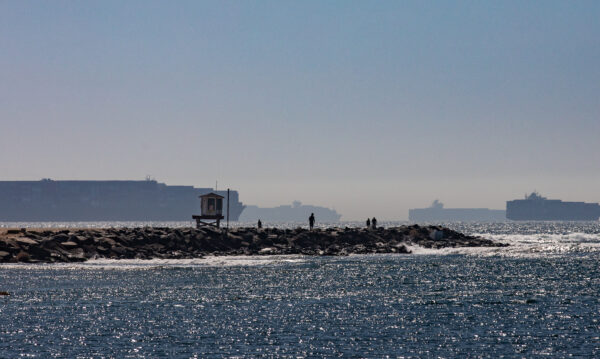 Already, some major shippers and retailers—including Walmart, FedEx, UPS, Samsung, Home Depot, and Target—have agreed to speed up operations which will help clear cargo out of the ports and free up more space on the docks.
The ports are on track to handle a record 20 million container units this year, said Noel Hacegaba, deputy executive director of the Port of Long Beach, up about 15% compared to last year and 25% from 2019.
"If you go to a hardware store and you want to buy an appliance, there is a six-to eight-month delay," Hacegaba told The Epoch Times. "When the supply chain stops, the economy stops."
The backlog is due to an unprecedented buying surge, brought on by the onset of the COVID-19 pandemic, when consumers shifted their purchasing behaviors from the service industry to consumer goods.
"[This is] the busiest year any western hemisphere port has had," Port of Los Angeles spokesperson Phillip Sanfield told The Epoch Times.
Although the pandemic has eased, Sanfield said the buying surge has not.
"This is big and overdue," Los Angeles County Supervisor Janice Hahn wrote on Twitter in response to the announcement. "I've urged the port to operate 24/7 for years so we could move cargo off-peak. The sheer number of cargo ships waiting outside our ports can't be good for our
environment or our economy. This move will relieve the congestion and create jobs."
Los Angeles Mayor Eric Garcetti said the city was happy to do its part in helping clear the unprecedented jam.
"President Biden has called on us to help lead the nation out of this economic crisis, and we are answering that call by committing to operate our port 24 hours a day," he said.