Portland's Professionals See China in New Colors
PORTLAND, Ore.—The Pacific Northwest saw a splash of unexpected color this week. Shen Yun has come to the Keller Auditorium on its annual tour.
Shen Yun is a classical Chinese dance and music company that presents 5,000 years of Chinese history before the era of communism.
After seeing the March 18 matinee, Mike Smith, an asset management company owner, said he went to China about eight years ago and didn't see the vibrant colors there that he had seen in Shen Yun.
"I wonder if in the history of China there were many more colors and vibrancy to the different areas of China than there are today. This is enjoyable," he said.
Software engineer Scott Winn attended the performance with his wife Tammy. They were deeply impressed by the athleticism of the performers, who did mid-air flips as if "gravity doesn't really apply to them," Mr. Winn said.
"The way they can just leap and hang in the air and land is so graceful—it's amazing."
He felt the immense energy of the program and the dedication of the performers.
"Everybody's pumped on a ton of energy. My brothers have been dancers; my family's been in performing arts for a while, so I can tell they're really giving it their all," he said.
"I really appreciated the music; the orchestra's been fantastic," he said of Shen Yun's one-of-kind East-meets-West orchestra. "Orchestra's obviously a Western kind of a thing. I know traditional Eastern music is very different, but  the melodies and everything else are very traditional, so that's nice to hear."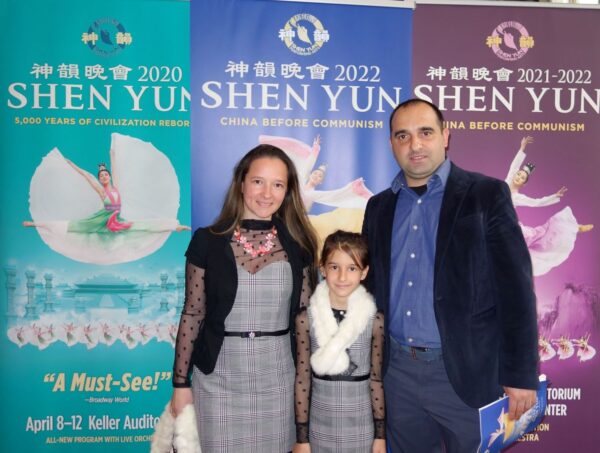 Also in the audience were Alex Chiper, a technician for Intel, and his wife Olga Chiper, a fashion designer and professional seamstress, and their daughter. Mr. Chiper said it was "a dream to actually see this show." It was the family's first time at Shen Yun, after waiting for two years for the pandemic restrictions to abate.
"We're excited and we probably have to make it a tradition for us every year to attend the show," he said.
"I really like the costumes," Mrs. Chiper said. "And I really like how the colors are playing in the dance because they use contrast colors and soft colors. It's amazing."
The couple hail from Europe and emphasized how important it is to maintain one's culture.
"Especially for young generations, they have to be involved, they have to know the culture, they need to know the customs, where everything is coming from," Mr. Chiper said. "It's very easy to lose ethnicity or anything else. So we have to preserve everything we've done."
"I think through the dance and through the showing traditions, we can unite all the world," Mrs. Chiper added.
Reporting by Frank Zhang and Mary Zhang.
The Epoch Times is a proud sponsor of Shen Yun Performing Arts. We have covered audience reactions since Shen Yun's inception in 2006.