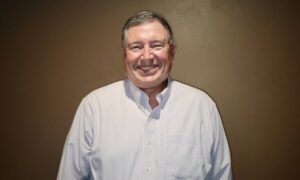 INDIANAPOLIS—Jim O'Bold, president of financial firm Servant Solutions, attended Shen Yun Performing Arts at Clowes Memorial Hall, Butler Arts Center on March 5.
"I thought it was wonderful," Mr. O'Bold said. "It built into a crescendo. I really loved some of the comedy, and the choreography. And the last dance, I love when the men were dancing the Tibetan dance."
Based in New York, Shen Yun was founded in 2006 by leading Chinese artists and quickly became the world's premier classical Chinese dance and music company.
He said this was a new experience. "I'm just so new to that kind of dance, that it's a spectacle and so I really enjoy the uniqueness of the expression I've never seen that before."
Shen Yun's mission is to revive traditional Chinese culture. But Shen Yun cannot be seen in China.
In fact, one of the story-based dances in the program showed the plight of Chinese who hold onto their faith and traditional values under the Chinese Communist Party's regime.
"That hit home as far as how fortunate we are here in America. It makes you feel privileged to live in a free society. [We don't have] the strife and struggle others are experiencing throughout the world. We are secluded from that and don't think about it very much but this reawakens those thoughts," Mr. O'Bold shared.
There was a divine connection that Jim picked up in the Chinese culture before communism.
"I especially appreciated the spiritual, divine connection. You know, right now you don't see that in China. But there is a connection with every human being, a spiritual component in that the culture right now does not emphasize. I really appreciated the ancient recognition of divinity, even in Creation, and a God of gods, and those types of concepts," he said.
The divine Creator is "what brings us all together isn't it? He created all beings to be equal, yet to serve along with him," Mr. O'Bold said. "So l love those parallels to the way I believe, as well."
As for the music and orchestra, Mr. O'Bold said, "I loved the drums and their acoustics really stood out to me. [They] provided a backdrop to the orchestra yet [were] very powerful as they set the stage for some of the flowing elements of the production."
Reporting by Charlie Lu.
The Epoch Times is a proud sponsor of Shen Yun Performing Arts. We have covered audience reactions since Shen Yun's inception in 2006.