Protesters have organized in several U.S. cities on Friday night following the release of body camera footage of the killing of Tyre Nichols by five Memphis police officers.
The five former officers allegedly involved in the killing of Nichols were arrested and charged with second-degree murder on Thursday.
After footage showing a violent struggle between Nichols and the officers was released on Friday night, demonstrators took to the streets in different cities with various messages, some demanding justice and an end to so-called "police terror," others with generic leftist messages about "class struggle" and "revolution."
In some locations, protests were being led by the far-left group known as Antifa, known for being confrontational and violent during protests, according to videos circulating on social media.
Some of the protesters have blocked traffic and caused damage to property.
In Memphis, roughly several dozen individuals obstructed a busy bridge on I-55, which connects Arkansas and Tennessee across the Mississippi River, causing semi-trucks to accumulate behind them.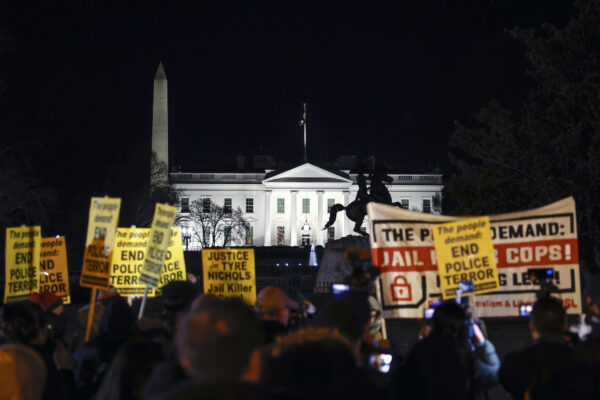 In the District of Columbia, a crowd of protesters congregated in Lafayette Park, located in proximity to Black Lives Matter Plaza and opposite the White House.
In Chicago, approximately a dozen protesters arrived outside a police precinct.
In New York City, protesters started demonstrating in a crowded Times Square around 7:30 p.m. A video on social media shows a man stomping on the front windshield of a police car surrounded by a large crowd in Times Square before he's wrestled to the ground by officers. Grand Central Station was reportedly shut down in anticipation of protests.
A protest in Boston also halted traffic.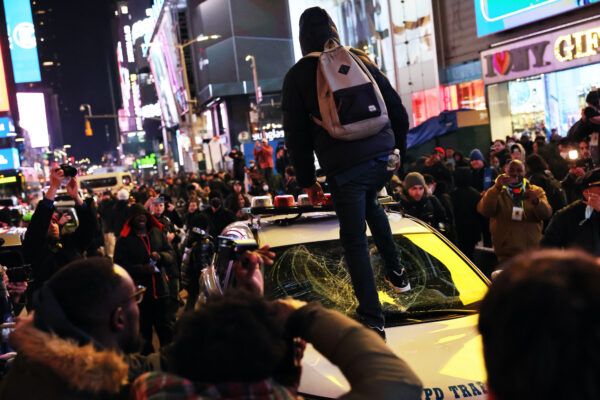 In Seattle, a large group of  Antifa militants marched downtown chanting "black lives matter" and "say his name," Rebel News reported. Another video by independent journalist Jonathon Choe shows an Antifa group blocking traffic near Seattle Center, chanting, "no justice, no peace."
A witness told Choe, "They're doing 'no justice, no peace,' but they're leaving out 'no racist police.' They're not saying that tonight."
His comments were in relation to the officers charged in relation to Nichols's death being black. Nichols was also black.
The officers' names are Tadarrius Bean, Demetrius Haley, Desmond Mills Jr., Emmitt Martin III, and Justin Smith.
They were also each charged with aggravated assault, aggravated kidnapping resulting in bodily injury, aggravated kidnapping involving possession of a weapon, official misconduct through the unauthorized exercise of power, official misconduct through the failure to act upon a lawful duty, and official oppression.
Nichols, a FedEx driver, passed away three days after the police encounter on Jan. 10. The city of Memphis has released footage from police body cameras and a camera on a utility pole, which showed the traffic stop where Nichols was pulled over for reckless driving.
Police and government officials, as well as Nichols's mother, have called for protesters to remain peaceful. Meanwhile, authorities in various cities are making preparations for increased security.
"I don't want us burning up our city, tearing up the streets, because that's not what my son stood for," said Nichols's mother, RowVaughn Wells, on Thursday. "If you guys are here for me and Tyre, then you will protest peacefully."
President Joe Biden said he was "outraged" and "deeply pained" after watching the Memphis video. He joined Wells in appealing for protesters to stay peaceful.