Quebecers Head to the Polls for Province's General Election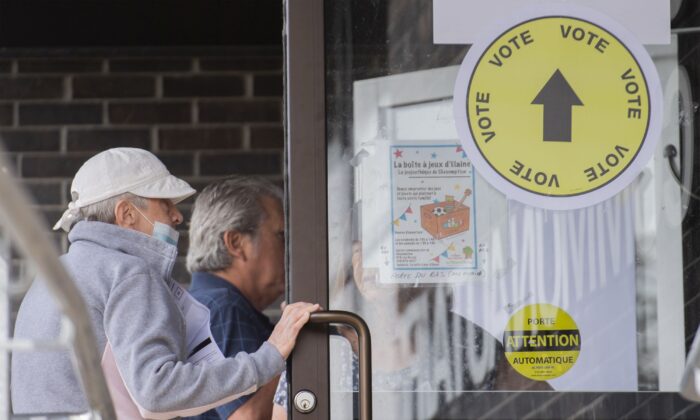 People enter a polling station in L'Assomption, Que., on Sept. 25, 2022, as advanced polling begins ahead of the provincial election on Oct. 3. (The Canadian Press/Graham Hughes)
MONTREAL—Quebecers are heading to the polls today after a five−week provincial election campaign dominated by issues such as immigration, the environment and the rising cost of living.
Polls have suggested Coalition Avenir Québec Leader François Legault is poised to cruise to a second majority, with support more than 20 percentage points higher than that of his closest rival.
Legault is facing off against a crowded field including the Quebec Liberals, Quebec solidaire, the Parti Québécois and the Quebec Conservative Party, all of which are polling in the teens.
The party leaders spent the weekend criss−crossing the province to make a final pitch to undecided voters and ensure their party's supporters make it out to vote in today's general election.
Legault voted in advance polls last week, while the remaining party leaders will cast their ballots and wait for the results to come in after polls close at 8 p.m.
As the legislature broke for the summer, Legault's party had 76 seats, while the Quebec Liberals had 27, Québec solidaire had 10, and the Parti Québécois had seven. The Conservative Party of Quebec held one seat and there were four Independents.