Real Madrid Beats Chelsea in Champions League With Benzema Hat-Trick
In the first leg of the European "Champions League" (UEFA) quarterfinals, Karim Benzema scored another hat-trick in Real Madrid's 3–1 victory over Chelsea F.C., at Stamford Bridge, London on April 6.
Frenchman Benzema, repeated his three-goal performance from Madrid's elimination of Paris Saint Germain in the second leg 3–1 (3–2 aggregate) on March 9.
Benzema has scored 42 goals in his last 42 games, 13 in his last seven, and 10 in his last four; he is the fourth player ever to score back-to-back Champions League hat-tricks.
Benzema sits fourth in all-time goals in Champion's League competition with 82; he trails former teammate Christiano Ronaldo (140), Lionel Messi (125) formerly of Barcelona, and Robert Lewandowski of Bayern Munich (85).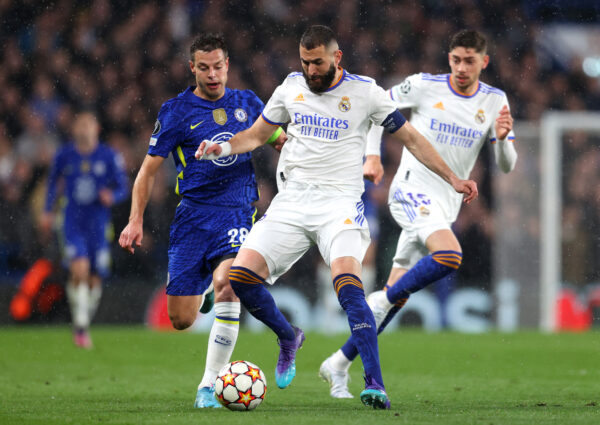 "He (Benzema) gets better every day, like wine," said the Madrid manager (coach) Carlo Ancelotti. "Every day he becomes an even better leader, and feels more how important he is for the team, and for the club."
Ancelotti arrived in London a few hours before kick-off having successfully tested negative for COVID-19.
Benzema's first goal came off of a powerful line-drive header into the top left corner of the goal, assisted by a perfect cross from Vinicius Junior in the 21st-minute beating Chelsea's goalkeeper Edouard Mendy.
Shortly after in the 24th minute, Benzema's second goal was another header, this time assisted by Luka Modric's long bending cross. Benzema had to adjust and backed up to get his head onto the ball. Leaning backwards, Benzema placed a medium lofted shot that dropped into the right side of the goal, over and beyond the reach of Mendy.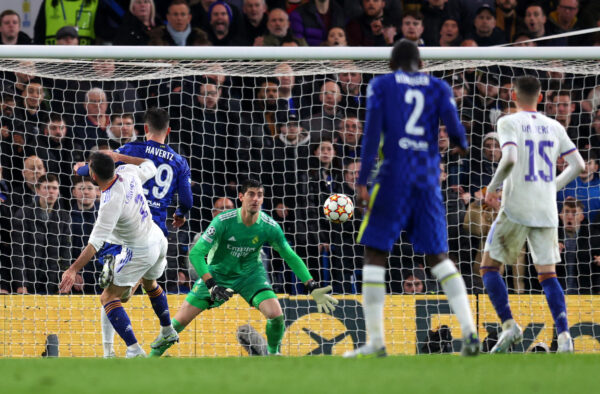 Chelsea responded in the 40th  minute with their own header by Kai Havertz on a run through the center of the box into the top right corner beating Madrid keeper Thibaut Courtois, from a great cross by Jorginho to trail 2–1.
Chelsea was fortunate to not give up another goal to Benzema just before the end of the first half on a defensive mistake that gave Benzema an opening on the left side of the goal, as his left-footed shot pushed the ball wide of the goal.
However, at the opening of the second half, Benzema pressured a back pass to Mendy, forcing Mendy into an error with a weak pass to nearby defender Antonio Rudiger.
Rudiger attempted to push the ball past Benzema, but it deflected ahead of Benzema for an open goal in the 46th minute.
"They're very important goals," said Benzema. "I'm happiest to have scored the third as I missed one in the first half and I was thinking about that chance because it's very important to score goals. Then I got another and I'm very happy,"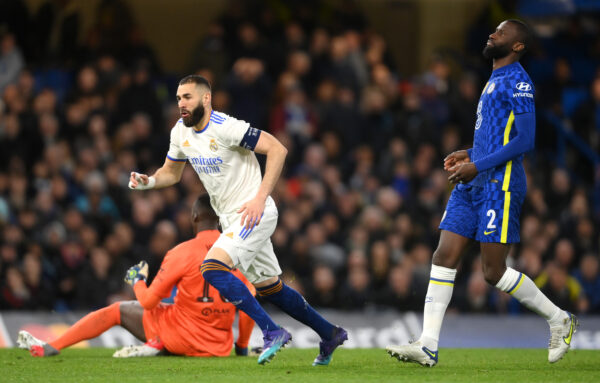 In the 64th minute, Chelsea substituted Romelu Lukaku for American Christian Pulisic in hopes of getting more offense.
Lukaku would have opportunities in the 68th and 69th minute with two headers, one would miss just right of the post. The €115 million transfer from Inter-Milan had four touches in the match and is playing fewer minutes during this slump.
Regarding Lukaku's miss, "It was very important," said Chelsea manager, Thomas Tuchel. "There are no longer away goals so if we have only a one-goal deficit or a draw, then you see the momentum is back when we score. We could have even equalized."
Tuchel led Chelsea to win the most coveted UEFA Cup last season with defensive excellence. In Tuchel's first 50 matches, Chelsea had 31 shut-outs, which is far ahead of all other European clubs.
"It is the moment now to find an end to this period of conceding goals and losing games very quickly because we are in an absolutely crucial time of the season," added Tuchel.
Having given up seven goals in their last two games, Chelsea defender Christensen said it was "not normal."
"It's not just about this game, we did it as well at the weekend," said Christensen. "We have to fix it, and we have to do it quick.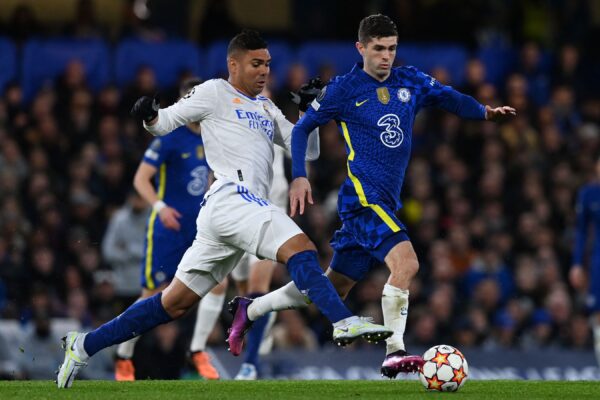 "If we keep playing like this we will lose at Southhampton (in English Premier League), and then we will get hammered at Bernabeu (in the second leg against Madrid)."
Real Madrid takes their 3–1 aggregate lead into the second leg meeting on April 12 in Madrid.
Other UEFA Champions League scores: (1st Leg of Quarterfinals)
Villarreal 1–0 Bayern Munich
Benfica 1–3 Liverpool
Manchester City 1–0 Atletico Madrid
CONCADAF Champions League scores: (1st Leg of Semi-Finals)
Seattle Sounders 3–1 New York City FC
UNAM Pumas 2–1 Cruz Azul
United States Open Cup: (2nd round, 4/5/22)
OCSC 5–2 LA Force
Tampa Bay Rowdies 6–0 The Villages
Detroit City FC 3–0 Michigan Stars 
Indy Eleven 0–2 St. Louis City
Charlotte Independence 2–4 North Carolina Fusion
Pittsburgh Riverhounds SC 2–0 Maryland Bobcats
Central Valley Fuego FC 4–1 El Paso Locomotion
Union Omaha 2–1 Des Moines Menace
FC Tulsa 2–1 Tulsa Athletic
San Antonio FC 3–1 D'Feeters Kicks
New Mexico United 5–0 Las Vegas Legends
Central Valley Fuego 4–1 El Paso Locomotive