Reinhardt Buhr – Us (Official Music Video)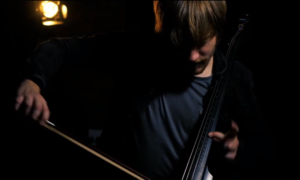 Reinhardt combines the Laser Harp, Spanish Guitar, Electric Guitar, Electric Cello, Australian didgeridoo, Israeli Shofar, Spanish Cajon, Synthesizers and Piano via a live looping system to create an extraordinary symphonic orchestral sound in only a one-man improvisational act.
Credit:
If you like his music, download them on Reinhardt Buhr's website: http://www.reinhardtbuhr.com/
YouTube: ReinhardtBuhr – https://www.youtube.com/c/ReinhardtBuhr/
Reinhardt Buhr was born in Johannesburg, South Africa in 1988 and grew up with no passion for music at all, In fact, as a teenager, he became a computer gamer and began abusing alcohol at a very young age. His first job was at a small liquor store, where he earned 20 cents an hour. After that, he worked as a packer in a supermarket. His plan of becoming an animator failed when he started abusing marijuana and alcohol on a regular basis.
At the age of 19, two of his closest friends began learning the guitar. Reinhardt immediately fell in love with it. With no formal training, the three friends simply taught themselves how to play. A year later, Reinhardt was inspired by a Flamenco guitar player, and began learning Flamenco Rumba Guitar from YouTube videos. One day, he was sitting at a small roadside steak restaurant with his parents, and there was a man playing solo guitar covers. Reinhardt approached him to make small talk and the owner of the restaurant overheard that Reinhardt played a bit of Spanish Guitar music.
So the owner asked Reinhardt "Why don't you come back next week to play, and I will give you a steak and 10 dollars in return?" So Reinhardt Buhr played his first solo Spanish guitar gig that following weekend and hasn't stopped since. Reinhardt Buhr quickly became known around South Africa and formed a duo band called "Wild Lettuce". He and the drummer performed many national tours. They also opened for a lot of great artists. But unfortunately, Reinhardt fell into a dark habit of abusing alcohol, drugs, and cocaine.
This affected him, his career, and everyone around him in a very negative way. The band broke up. Reinhardt Buhr went solo and left his hometown, hoping to escape the drug scene, only to find himself moving in with someone who also had a cocaine problem. The whole cycle started over again.
At the end of 2016, Reinhardt hit an all-time low. He was at the point of death. He fell on his knees and pleaded with God to step into his broken life. When things could not get any worse, God in His full mercy and grace, stepped in and changed his life completely. Reinhardt and his wife, Mandie Buhr, both experienced God's salvation and were baptized together. They left a lifestyle of abusing, marijuana, alcohol, and drugs, and began on a beautiful road of salvation and healing. During the biggest transition of his life, Reinhardt was playing a gig one day. As he was playing for hundreds of people, He experienced a voice telling him to make music for God. When Reinhardt made the shift from playing for fame and fortune to playing for Christ Jesus, everything about his music changed! You can even see the transition from his earlier album called "Organic 432hz", to his latest album entitled "Arise".