Republican Candidates Make Last-Minute Pitches Ahead of Arizona Primary
TEMPE, Ariz.—Listening to their campaign rhetoric, you'd think the race for Arizona governor came down to an epic struggle between "good and evil."
Barbs were flying this past weekend between current front-runner and former Obama Democrat turned Republican Kari Lake and "Establishment RINO" (Republican In Name Only) Karrin Taylor Robson, as both pulled out all the rhetorical stops at final campaign events.
On July 29, Robson held a Town Hall-style press conference at 21st Century Healthcare in Tempe along with former New Jersey Gov. Chris Christie (R).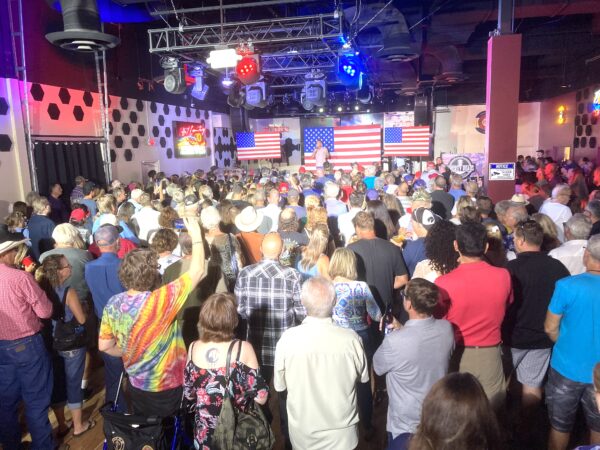 Christie, who chaired then-president Donald Trump's Opioid and Drug Abuse Commission, and Trump's former vice president Mike Pence both have endorsed businesswoman Karrin Robson.
For Arizona's next governor, Trump has thrown his support behind former Fox10 anchor Kari Lake.
"It's only if you've known someone for a decade and truly believe in them that you would get on a plane this morning in New Jersey and fly out here to Arizona," Christie told about 30 people at the gathering.
"Actions are what matters. And what I've seen from Karrin over the 10 years I've known her are actions that tell me she's a leader—first and foremost."
"I'm involved in this primary because there is no comparison in my mind between Karrin and Kari Lake. I've been following this campaign closely for the past few months, and I don't know who [Lake] is—worse, I don't think she does."
Robson, whose husband is billionaire Ed Robson, alluded to eight past and present U.S. state governors who have endorsed her candidacy, saying "they know better than anybody what it takes to be a governor."
"We've got a lot of momentum. My opponent doesn't like where we are right now. I started this race essentially at zero early this year, and now we are tied, and we have all the wind in our sails as we go into next week's election. We fully anticipate victory next week."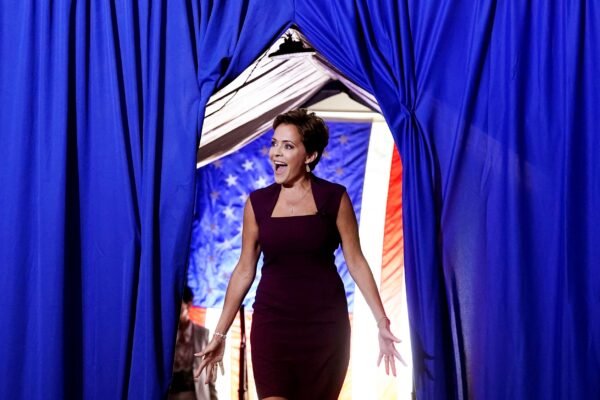 "What you get with me is who I am and I've always been. You don't have to worry about me changing my stripes. It's not going to happen."
On July 31, Lake regaled in a party-like atmosphere at Whiskey Roads in Tucson in the final hours before the Arizona primary on Aug. 2.
Over 200 America First supporters filled the bar and restaurant to hear Lake speak at the campaign event.
"This is a big warning about what's happening on Tuesday Aug. 2, I'll tell you that," Lake said to a cheering audience. "I don't think they had crowds this big back in 1776."
Lake said that if elected, she would hold herself accountable to the voters.
"I'm going to promise you a lot of things, but one thing I'm going to promise you for sure: I will not, as Arizona governor, take any cues from your Socialist-Communist mayor (Regina Otero, a Democrat) in Arizona."
Regarding her candidacy, Lake said, "I'm up against a billionaire—actually, her husband's a billionaire. She's spending more money than ever in a statewide race in the history of this country to try to defeat us."
"We're not going to let her win. Arizona is not for sale and can't be purchased. We're going to send them a message."
Other speakers included Blake Masters, an Arizona GOP candidate for U.S. Senate; Abe Hamadeh, GOP candidate for Arizona secretary of state; former director of National Intelligence Ric Grenell; and Kash Patel, former principal deputy to the director of national intelligence and chief of staff to the Secretary of Defense.
People to Decide
In a recent survey, OH Predictive Insights showed Lake with a sizeable lead in the polls—51-33 percent, according to KTAR.
Though skeptical of polls, Joseph Moreland of Tucson said he's still confident in a clean sweep on Aug. 2.
"You never know, depending on where you hear it. I believe Kari is ahead because she's for the people," Moreland told The Epoch Times while seated with friends at Whiskey Roads.
"I like what Kari is saying right now. As far as her past [as a former Democrat], it doesn't bother me. Some of our greatest presidents have changed parties."
Felix Moreira of Arizona said America First candidates Lake, Masters, Hamadeh, and Mark Finchem, a candidate for Arizona secretary of state, will do a "marvelous job" if elected.
"I think they're going to beat them. The people that Trump endorsed are going to help turn this country around. That's my gut feeling," Moreira said.
Moreira counted himself among the early voters in Arizona's primary election.
"Anybody that Trump endorsed, that's who I voted for," he told The Epoch Times.
After listening to the speakers, Peter Andrews of Tucson waxed philosophical in his belief in an innate yearning for liberty.
"The most precious thing in the world is your freedom and your right to self-determination—everyone in this room has that—and you cannot stop it," Andrews told The Epoch Times.
Does he think the Arizona primary will be fair and honest?
No way, Andrews said.
"I think they're going to cheat their [butts] off. They have to. There's no other way.
"They've locked themselves into an agenda where there's no reasonableness, and any reasonable person cannot vote for it. I think it would be a [GOP sweep] if we walked in there with paper ballots. That's why they must have the mail-in ballot."
Victoria Stephens of Tucson said she's "excited now" after hearing the America First speakers on issues she considers essential in this election.
"Now that I've heard them, I know I'm going to pick the right candidates. They all say the same things. They all have the same goal in mind, which is to save our country," Stephens told The Epoch Times.