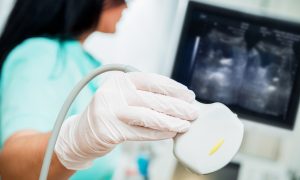 After a group of pro-life doctors was banned by the American College of Obstetricians and Gynecologists (ACOG) from presenting at its annual medical education conference, four Republican congressmen are calling on their colleagues to hold the organization to account.
On Monday, Feb. 27, doctors from the American Association of Pro-Life Obstetricians and Gynecologists (AAPLOG) were stunned when they arrived at ACOG's annual medical conference in National Harbor, Maryland, only to learn that their booth had been canceled by the host due to their pro-life views.
"The reported decision by ACOG—an organization purporting to represent all obstetrician-gynecologists—to exclude qualified health care professionals of maternal and child care from presenting at an annual conference because of their pro-life positions is hypocritical and outrageous," said Reps. Chris Smith (R-N.J.), Virginia Foxx (R-N.C.), Chip Roy (R-Texas), and Diana Harshbarger (R-Tenn.) in a March 3 statement.
According to incoming AAPLOG President Christina Francis, the group had presented at the medical conference for the past 15 years without issue.
"Despite multiple requests for an explanation as to why, the only explanation we've received is a vague explanation that we disagree with ACOG, presumably on the issue of abortion," Francis said in a video posted to Twitter on Monday.
🚨PRO-LIFE DOCTORS SILENCED: AAPLOG was *banned* from attending the annual CREOG OB/GYN medical education conference this morning. Why? @acog_org is upset that we're telling our patients how harmful abortion is. pic.twitter.com/gaImTwfEsm

— AAPLOG (@aaplog) February 27, 2023
"This is very interesting considering the theme of this year's conference, which is 'Building Bridges,'" she added. "However, ACOG is showing yet again that they have no desire to build bridges with those of us who disagree even a little bit with them on their position on abortion."
An ACOG spokesperson confirmed to The Federalist on Tuesday that the ban was instituted due to the fact that Francis's organization did not share ACOG's views on abortion.
According to ACOG's abortion policy, the organization views abortion as "an essential component of comprehensive, evidence-based health care" and is committed to "protecting and increasing access" to the procedure.
"ACOG advocates to improve access to full-spectrum reproductive services, to integrate abortion as a component of mainstream medical care, and to oppose and overturn efforts restricting access to abortion," the policy adds.
Noting the organization's "extreme abortion agenda" in their Friday statement, the congressmen held, "ACOG's push to promote abortion is wildly out of step with basic medical facts and the views of most American health care professionals—including 93 percent of OBGYNs in private practice who do not provide abortion."
"As members of Congress, we call on ACOG to end its discrimination against pro-life doctors, and we will press for immediate changes to this unacceptable behavior—whether that means taking ACOG to task in meetings or refusing meetings until they change course—and encourage other members to do the same," they added.
The Epoch Times has reached out to ACOG for comment.