Rescued Mini Horse and Dog Share an Incredible Bond With Each Other
A mini horse and a dog who both had a really rough start to their lives share an incredible bond with each other.
"They were both rescues that started off life in a bad place," Olivia from Storeybrook Farm Sanctuary told The Epoch Times. "I think that's pretty special."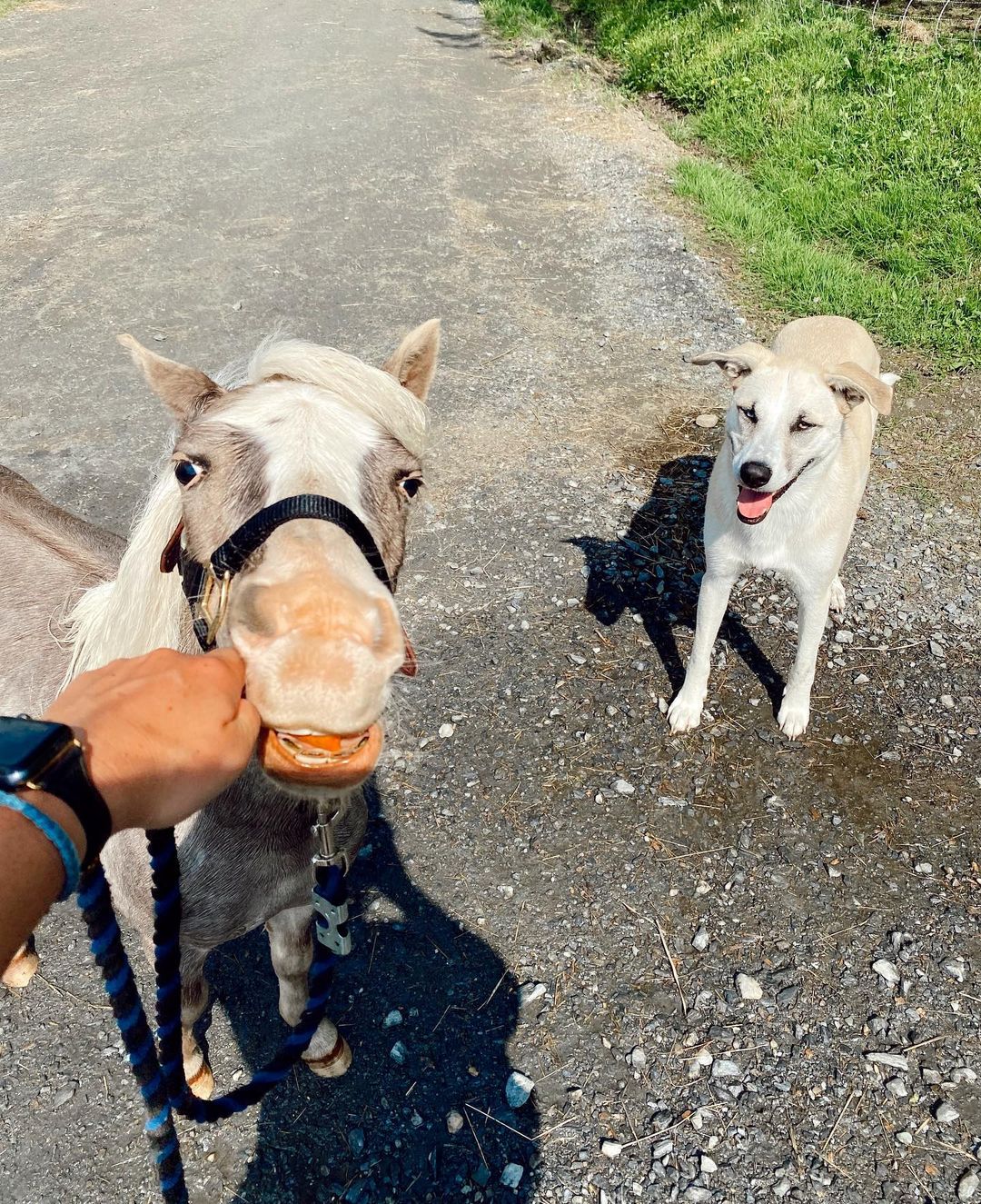 Whidbey, an affectionate dog, was found wandering around with her brother on the streets of Texas after the Houston hurricanes when she was just a few weeks old. The siblings then ended up in a kill shelter. However, in the nick of time, a rescue shelter found them and put them up on Petfinder.
Olivia and her husband, who were staying in Seattle during that time, were looking for another dog. They thus decided to fly Whidbey to Seattle and the friendly dog has since been with them.
Olivia, who runs Storeybrook Farm Sanctuary in Waterbury, Vermont, launched an initiative to save horses that were in kill pens and were going to be slaughtered after her first horse rescue in July 2020. She says that Whidbey, who was initially really scared of balloons owing to her past, began warming up to the animals that were brought to the farm.
"She is like the welcoming committee," Olivia said. "Even if the [animals] don't like dogs, she just kind of forces herself on them in a very loving way."
These include all the horses, the ducklings that are hatched, and the goats that are on the farm.
Dexter, on the other hand, was a mini horse that was rescued from an Oklahoma kill pen shelter by Tess Kiritsy in New Hampshire. Tess, who doesn't own a farm of her own but rescues horses, had met Olivia through the rescue world.
Dexter was among 10 mini stallions that were saved from the kill pen early this year.
"We saw a group photo and he was definitely the smallest one in the group," Tess said.
When Dexter first arrived in New Hampshire, his condition shocked everyone.
"He was way smaller than we were expecting," Tess said. "He was in really, really bad shape."
Describing his condition in detail, Tess added that his eyes were shut and swollen, and were watering pretty profusely. The little horse, whom the veterinarian estimated to be around 6–8 months, was matted with burrs from head to toe, so Tess spent hours clipping his whole body.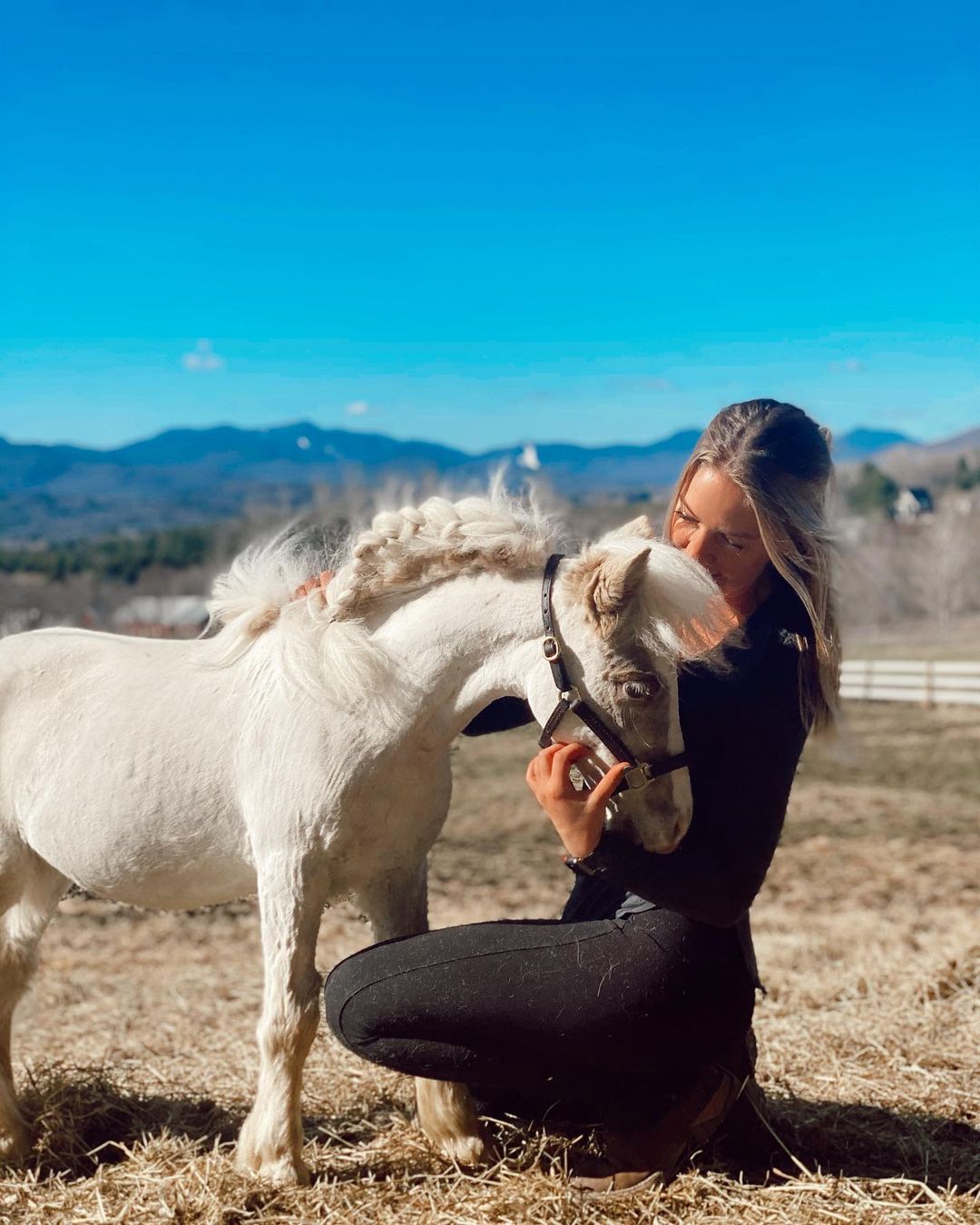 Additionally, at that time, Dexter had no idea what food meant, so Tess would take alfalfa and soften it with warm water; hand feeding it to him. Tess even bought Dexter a huge teddy from Walmart to cuddle, as he was very lonely.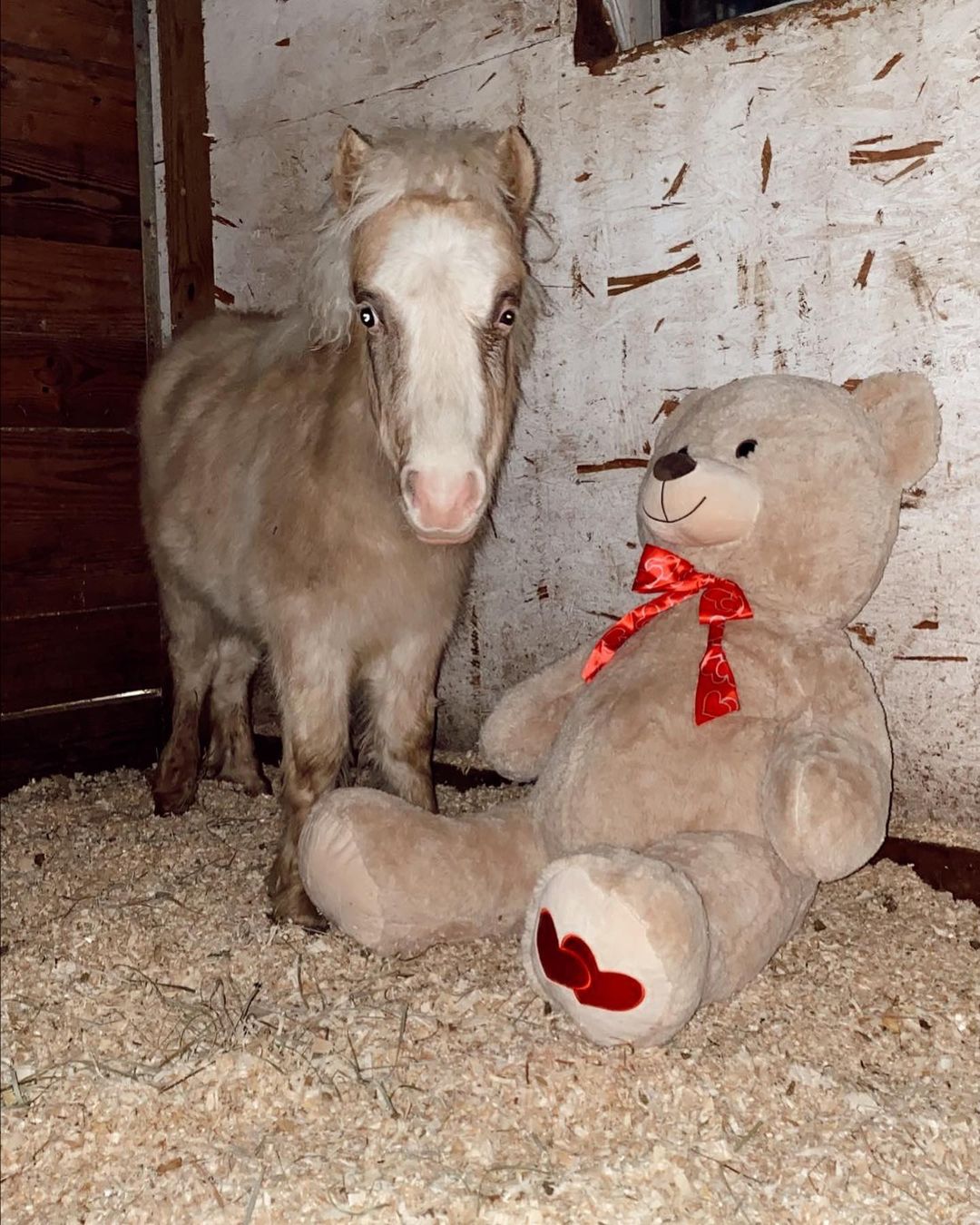 In the next few weeks that followed, Dexter was cleaned up and his eye was treated. However, Tess felt that Dexter was still lonely and maybe needed to be around farm animals like him. She then decided to turn to Olivia for help, who told Tess to get Dexter to her farm.
During the 2-hour trip to Vermont, Dexter was really scared on the trailer.
"He was just such a baby," Tess said. "I bundled up and got in the trailer with him for the two-hour drive."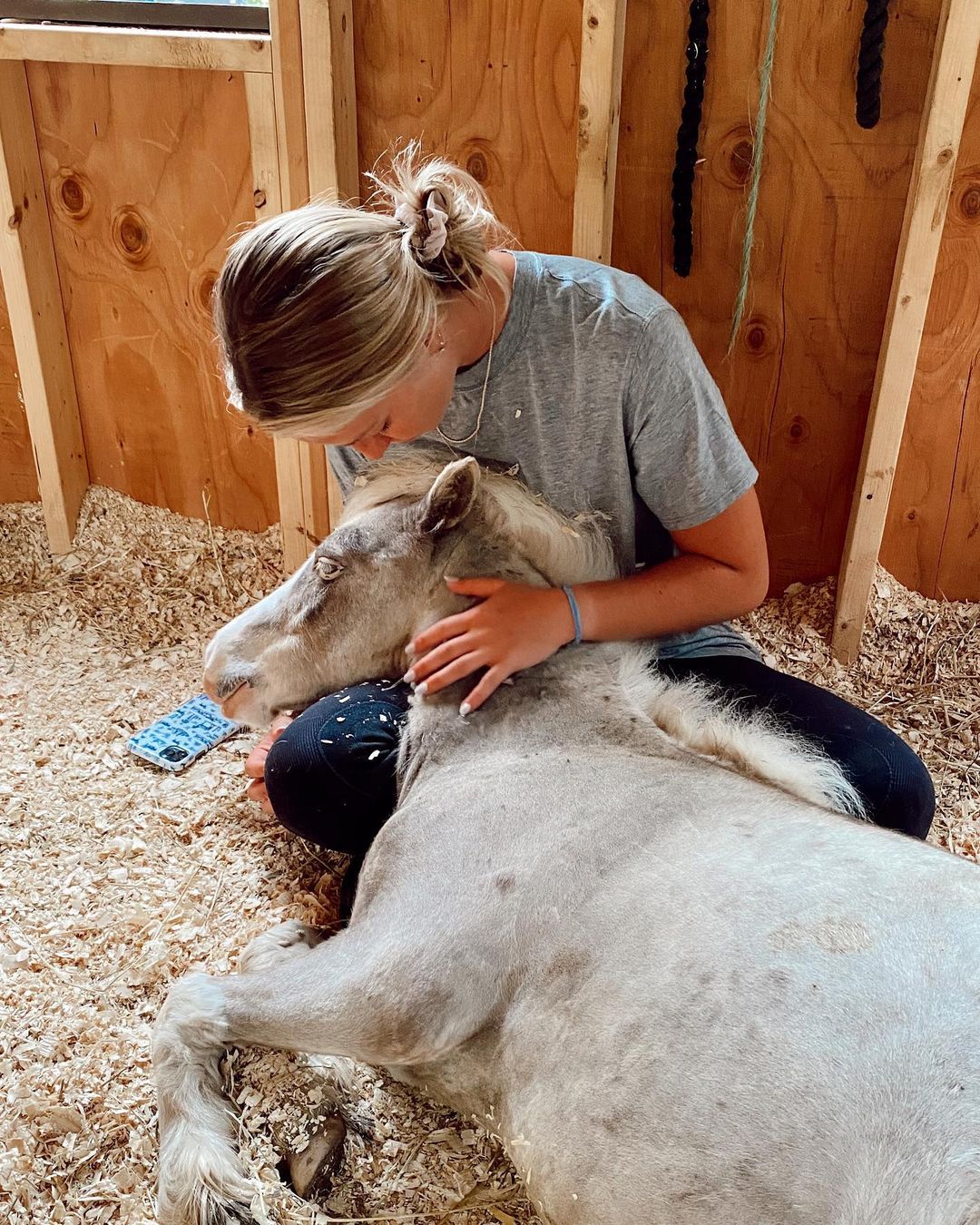 However, little did any of them know that after getting off the trailer, Dexter's life was going to change forever.
As soon as Dexter got off the trailer, Tess said, Whidbey ran toward him. Playing with Whidbey made Dexter feel a lot better and he wasn't scared anymore. Since the very first day, Whidbey has never left Dexter's side.
"I don't think we ever get sick of seeing them run around together," Tess said. "It's really special."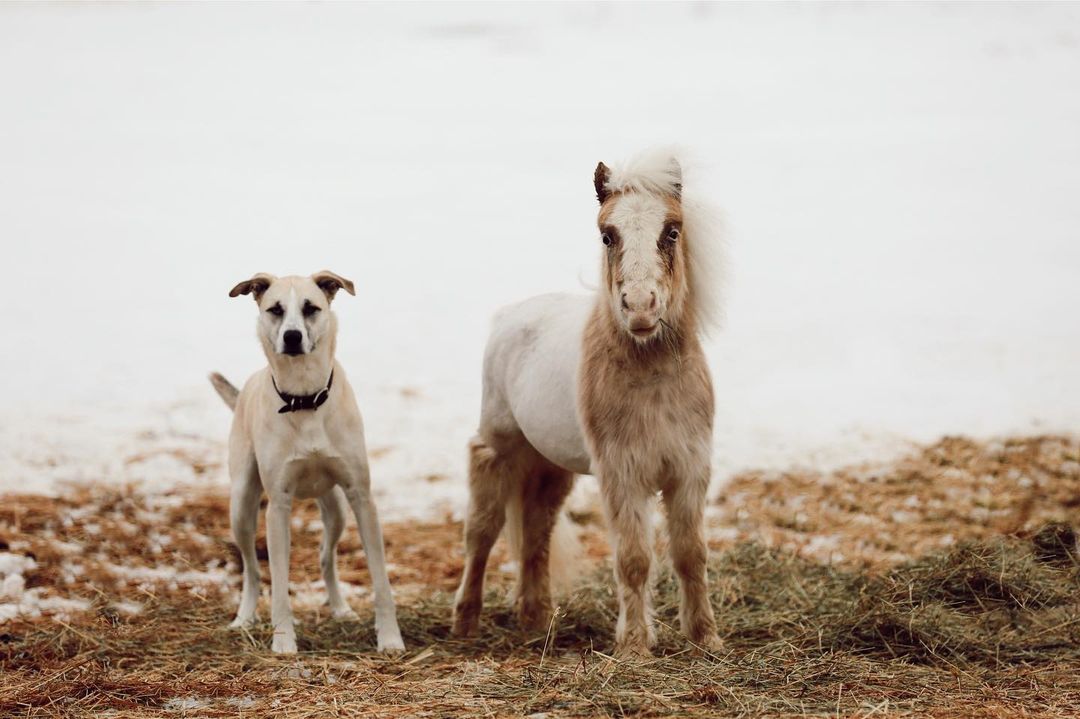 Additionally, Whidbey is always helping Dexter. She will lick his face, shoulder, or stomach. To Olivia, it seems that they have an "unspoken language" between them.
(Courtesy of storeybrookfarm)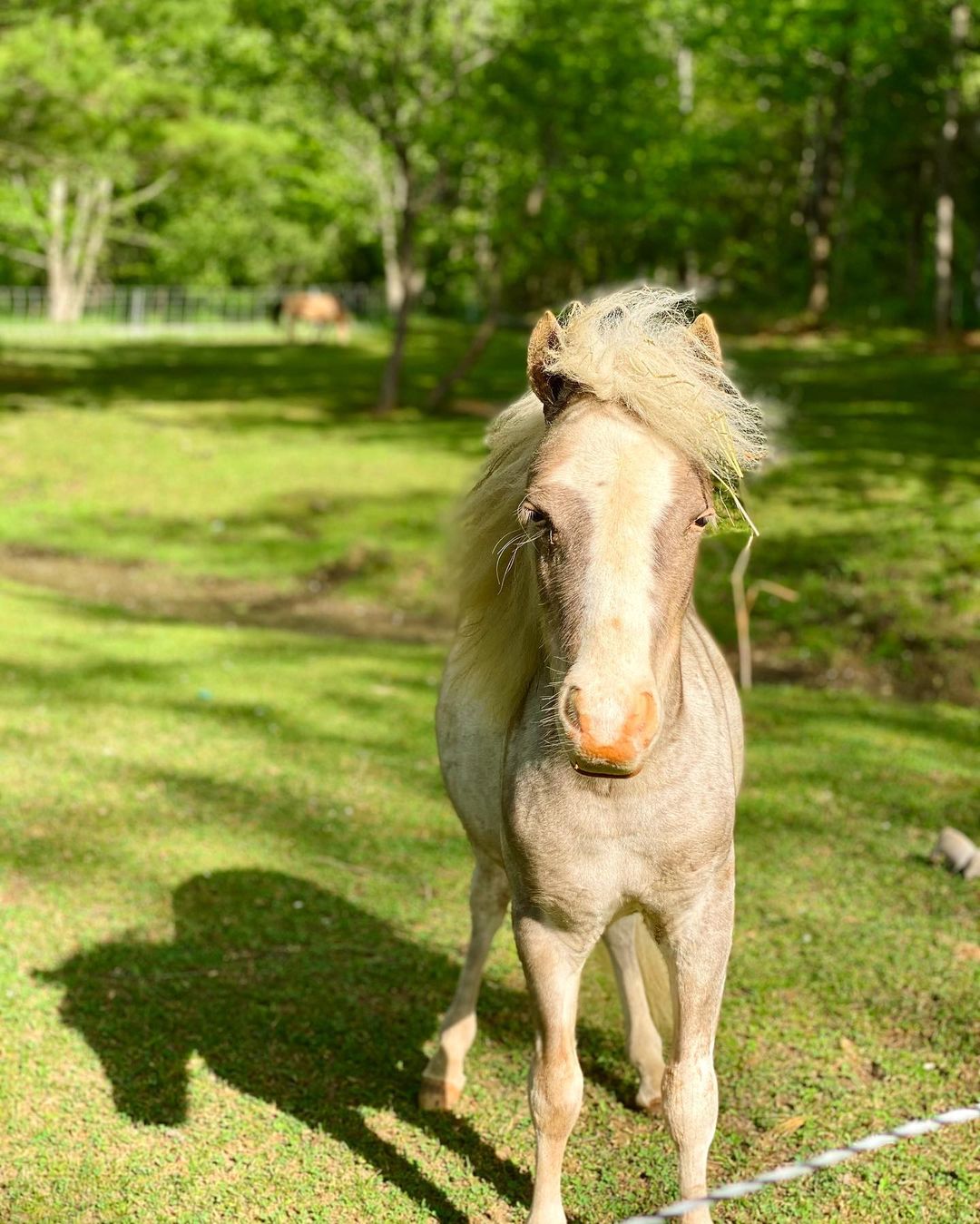 Over the course of a few months, Dexter's personality has shone forth. Tess says that "he just is living his best life."
Witnessing Dexter and Whidbey's friendship, Tess said: "There's just something so cool about two animals that aren't supposed to be together that … are clearly obsessed and in love with each other."
Share your stories with us at emg.inspired@epochtimes.com, and continue to get your daily dose of inspiration by signing up for the Epoch Inspired newsletter at TheEpochTimes.com/newsletter