Retail Diesel Prices Surge to Fresh Record High Amid Tight Supplies
Retail diesel prices hit a fresh record high of $5.557 per gallon on Thursday, according to the American Automobile Association (AAA).
The cost of a gallon of diesel has been up 1.5 percent over the last week. Retail diesel prices are also 10.5 percent higher than a month ago.
Several states are seeing diesel prices north of $6 a gallon, including California ($6.514), Connecticut ($6.349), Massachusetts ($6.313), Maine ($6.286), and New York ($6.452).
The national average gas price hit a new all-time high of $4.418 per gallon.
Diesel is utilized in many industrial processes, such as manufacturing, farming machinery, and freight transportation (semi-trucks, ships, and trains).
Diesel prices had been on the rise before Russia's invasion of Ukraine, driven by supply concerns amid a decline in international refining capacity. This has some market analysts warning that prices could remain elevated due to spot shortages.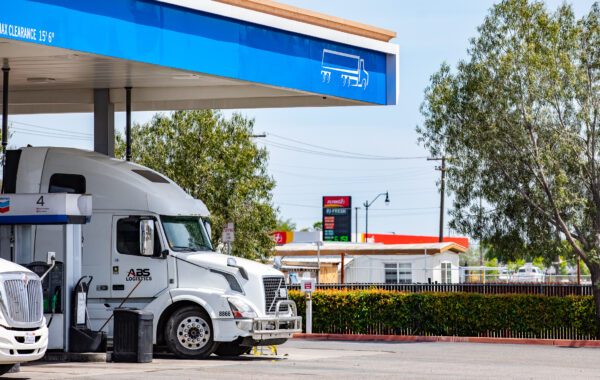 According to the Energy Information Administration (EIA), ultra low sulphur diesel (USLD) supplies on the U.S. East Coast are close to record lows. In the week ending May 6, ULSD inventories in the eastern seaboard tumbled nearly 5 percent to 19.9 million barrels. This is also down about 50 percent year-to-date.
Distillate stocks have been on a steady decline. The EIA's storage report (pdf) highlighted a 913,000-barrel withdrawal, representing the fifth straight week of a drawdown. Production of distillate fuel, a broader classification for petroleum fractions manufactured in traditional distillation operations, like diesel fuels, increased by 163,000 barrels.
Gary Simmons, the Executive Vice President and Chief Commercial Officer at Valero Energy, noted during a first-quarter earnings call late last month that the nation's energy stockpiles are "very, very tight, especially tight for diesel."
Market experts purport that the price gap between motor fuel and diesel fuel is the widest it has ever been.
"Not only are diesel prices at a record high, they are at their largest differential to gasoline on record, surpassing the 98-cent difference in 2008 and currently standing at a $1.20 per gallon premium," wrote Patrick De Haan, head of petroleum analysis at GasBuddy, in a weekly note. "While motorists filling with gasoline have seen a slight rise in prices, diesel's surge will be a double whammy as diesel prices will soon be passed along to retail channels, further pushing up the cost of goods."
In addition, the federal and state taxes applied to diesel add to growing cost pressures. The federal tax on diesel is 24.4 cents per gallon, while the federal levy on gasoline is 18.4 cents a gallon.
Refiners have had a challenging time keeping up with soaring demand, resulting in surging prices. In the United States, refiners pay only about $100 to buy crude oil, but they receive an average of $150 a barrel from the sale of gasoline and diesel at wholesale prices.
Moreover, refiners are scheduled for non-essential maintenance, although industry observers believe that many of these companies will run operations continually into the early fall.
Still, energy analysts concede that any acceleration in diesel production will be unable to refill depleted inventories and resuscitate pre-crisis levels.
"Part of the problem with the diesel shortage in the United States is the fact that we've closed down 7 refineries in large part due to the anti-fossil fuel movement which discourages investment in things like refineries," said Phil Flynn, an energy market analyst, in a daily commentary. "Of course there is also the fact that we have sanctions on Venezuelan oil and the Russian Ukraine war but at the end of the day, the diesel shortage in the U.S. is a product of the green energy movement which led to underinvestment in the U.S. refining space."
While the U.S. diesel market is extremely tight, the situation in Europe could shift into a "full squeeze," says Janiv Shah, a Rystad Energy analyst.
"Banning oil and product flows from Russia to Europe would create a seismic shock, with more than 55% of European imports of diesel and gasoil coming from Russia," Shah wrote in a note.
"European refineries output was already expected to drop in March and April due to the impact of Russian supply shortages. The reduced local supply of finished products and import shortages is expected to keep prices at the pumps high for consumers."
Ultimately, market analysts warn that diesel is playing a significant role in global price inflation.
"The world's businesses run on diesel, and diesel is at record highs and as high as it's ever been relative to motor fuel costs, and that's bleeding into inflation in a meaningful way. That has negative consequences," Mark Zandi, chief economist at Moody's Analytics, told CNBC.
In April, energy prices soared 30.3 percent year-over-year, according to the Bureau of Labor Statistics (BLS). Gasoline advanced 43.6 percent, while fuel oil soared 80.5 percent.
June West Texas Intermediate (WTI) crude oil futures were trading above $106 per barrel on the New York Mercantile Exchange. June natural gas futures tumbled $0.035, or 0.45 percent, to $7.692 per million British thermal units (Btu). June heating oil futures plunged $0.1206, or 3.05 percent, to $3.8307 a gallon.