Russian and Ukrainian Community Leaders Differ Sharply on Reasons Behind War
Ukrainians and Russians share similar language, ancestry, as well as basic religious principles, and although there have been theorizations on the fundamental political and/or religious reasons that triggered the armed conflict, it is—due to its historic, doctrinal, and geo-political convolution—mostly limited speculation.
While many from both sides disfavor warfare, the specific understanding among different members varies to different degrees. The Epoch Times reached out to some ethnic Russian and Ukrainian Americans who hold leadership roles to get their thoughts.
Bukharan Jewish community president Leon Nektalov represents a group of about 50,000 Russian-speakers who emigrated from both the ex-Soviet Union and Central Asia to New York.
"A lot of innocent people have died, a lot of people are on the run from Ukraine and from Russia," Nektalov told The Epoch Times, "The war has to stop no matter what."
He believes that the war started because of Russia's politics related to Ukraine's Donetsk and Luhansk regions.
"Russia was trying to protect Russian citizens in Ukraine [who are located] in Donbas and Luhansk. That has been a problem for the past eight years and nobody was doing anything."
In a speech that Russian President Vladimir Putin gave on March 16, the "real genocide" of people has been in Ukraine's Donbas region, saying it lasted for almost eight years and had subjected the people to the "most barbaric methods," also mentioning the Ukrainian government-imposed blockades and large-scale punitive actions, and their carrying out of constant artillery shelling and "terrorist attacks."
"So Russia decided to move in [but] the way they're doing it—bombing innocent people and not just military complexes, but actual innocent people who are not in the military … that's what makes the problem in Ukraine," 62-year-old Nektalov, a real estate agent, said.
"Ukraine has become like a second Iraq. They're just bombing it out and bombing it out, and the infrastructure has been destroyed in Ukraine. I don't know what it's going to be."
He believes that Ukrainian President Volodymyr Zelenskyy is a "good man, but he's not a politician."
"He's not a diplomat. If he would have been more active while they were shooting and bombing Donbas and Luhansk, I don't think Russia would have gone in to start bombing them. So it's a fault of Zelenskyy that he didn't sit down and talk and discuss what to do with them," Nektalov said. "He should have gone to Putin before to discuss things."
According to Nektalov, NATO and the United States are "trying to do things that they want to do with Ukraine's hands. They don't want to go to war. They're saying 'We're going to give you the arms, you fight yourself.'"
"Zelenskyy was thinking that if anything happens, that [the United States and NATO] would jump in and take the war into their own hands and fight them themselves, and probably Russia would not fight the U.N."
In addition, the Bukharan Jewish community leader believes if the 2018 Orthodox Church schism didn't occur, the war would have been prevented by the religious authorities.
In 2019, a tomos of autocephaly established the Orthodox Church of Ukraine. This document allowed for the creation of a self-governing Ukrainian church no longer controlled by the Russian Orthodox Church's Moscow Patriarchate. By granting this document to Ukrainian bishops, the Ecumenical Patriarch Bartholomew of Constantinople ended a centuries-long relationship between Moscow and Kyiv.
As a result, the Patriarch of Moscow decided not to commemorate Constantinople during his liturgy, and, in addition, commanded Russian Orthodox Christians to steer clear of new Ukrainian Churches and many who recognized them.
Amid these ecclesiastic disagreements, the Ukrainian military reportedly seized Russian Orthodox monasteries and have taken them as property of their new church.
"If the church would have been united as they were before, they wouldn't have gone into Ukraine and bombed them out this way," Nektalov said. "The Russian church would have stopped them."
However, he believes that the political reasons outweigh the religious.
The Russian Orthodox Church released a statement last week asking for unity, love, and tackling some controversial aspects of the conflict.
"In war civilians should be protected to the greatest extent possible. According to the media, this war is being conducted immorally by only one side. This is never the case. We call both sides to cease military actions immediately," Archbishop Peter wrote.
"Our priests report that they are hearing discussions to stop commemorating Patriarch Kyrill. In essence, this is schism, a sin that St. John Chrysostom says is not washed away even by the blood of martyrdom."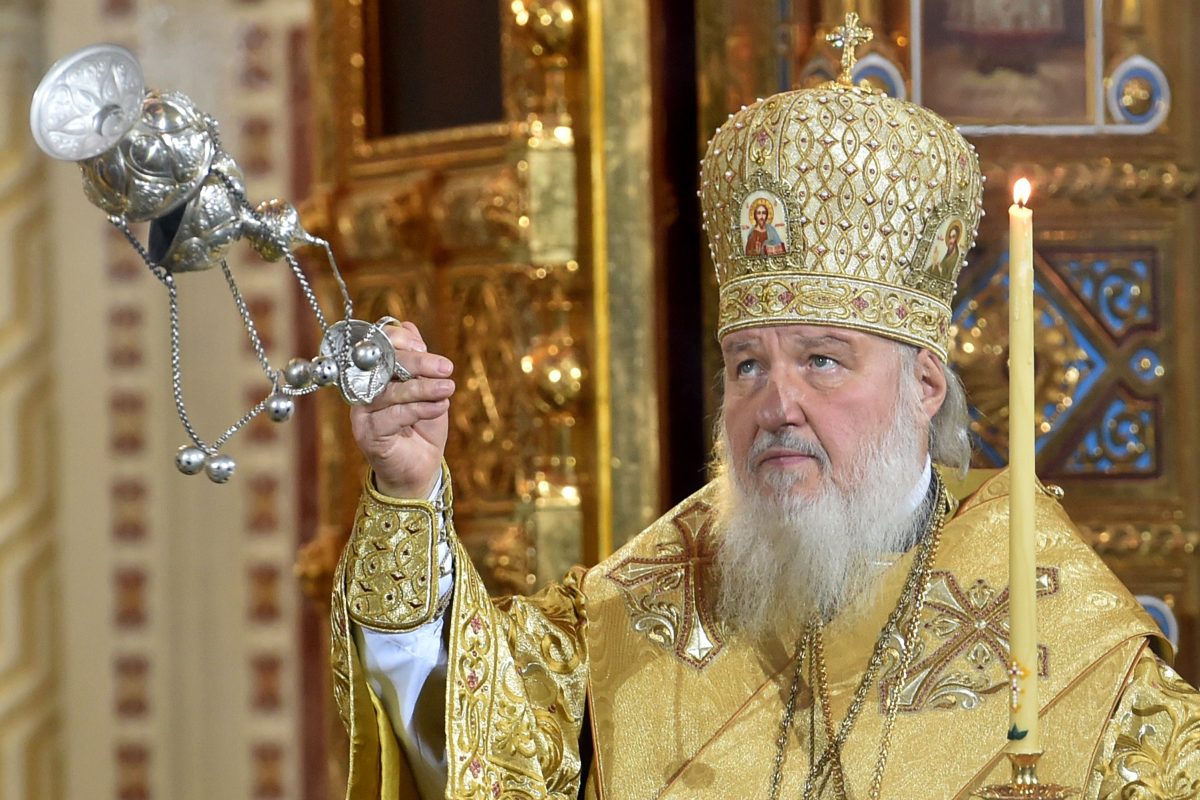 In addition, Archbishop Peter noted that Patriarch Kyrill is in a very problematic situation, since his followers are on both sides of the fighting.
Last week, Ukrainian Orthodox Church deacon Adrian Mazur held a prayer vigil at Elizabeth Garden in New York "to pray for the fallen soldiers, and also for the children, especially [because] they are suffering from traumatic distress," he told The Epoch Times.
"Also we pray that God may shine the light upon the people of Ukraine to protect them from all visible and invisible enemies, and for the leaders of the oppressors of Russia to come to their senses and see that this is a pointless war, that this is killing innocent people."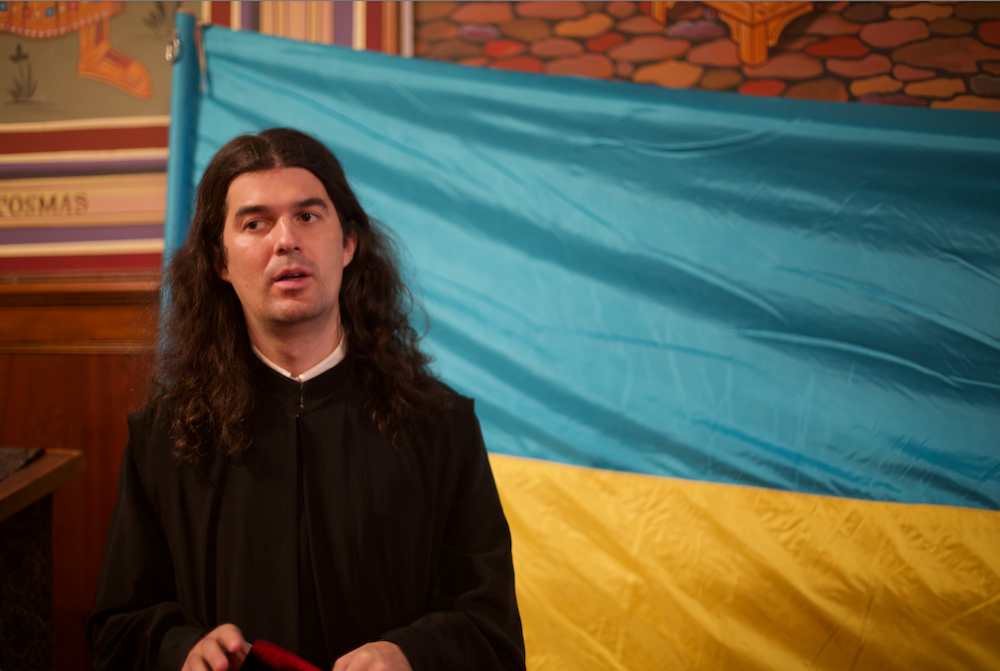 Mazur is a second-generation Ukrainian born in Romania.
"Stalin during the Holodomor when he was starving our people, the whole village flew from and walked over to Romania," Mazur said, pointing to a memorial on the cathedral wall, arranged there to remember all the millions that died during the man-made famine in Ukraine during the early 1930s known as Holodomor, which was caused by the United Socialist Soviet Republic (USSR).
Mazur believes that the current Russian invasion is of "the same mentality in order to wipe out a culture, the Ukrainian culture."
Regarding Zelenskyy, who has a background as an actor, Mazur initially "really saw his weakness in politics." But, "later on, as the war started, I saw his courage to stand up for what he believes in, I saw his Ukrainian roots that—just like my grandfather, and I, myself, I would die for my country, because that's my land, my house, and who are you to come into my house and tell me what to do?"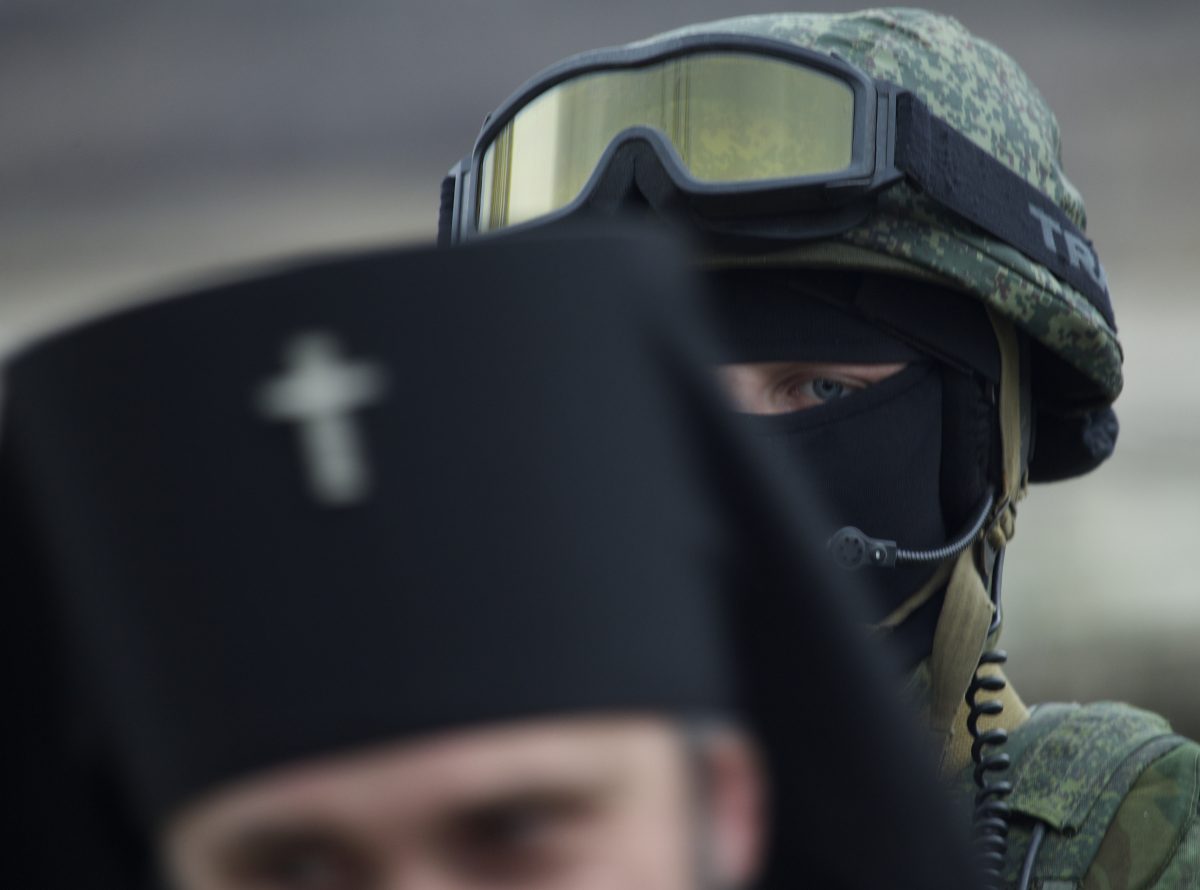 Additionally, Mazur thinks that NATO and the United States are "playing a very good chess game," and even though he would like to see more support, "I think slow and steady wins the race because sooner or later [Putin's] own people are going to turn against him, and I think that's the mentality. And I know that the Ukrainian people are standing strong."
Mazur calls Russia's argument for invading Ukraine—the so-called genocide in the Donbas region—"propaganda" and is just an irrational excuse.
Roman Mashav came to the United States from Russia more than 40 years ago. He is the owner of Mr. Diamonds USA, a jewelry shop in Manhattan.
"Usually I don't give an opinion [on the war.] Politics is a very dirty game. Very, very dirty game," Mashav said.
"Zelenskyy and Putin, they should both sit and talk. Stop fighting now."
"Zelenskyy and Putin are smart men but are fighting over nothing," he added.
"If America was not pushing the nose like they did in different countries—America tried to destroy Russia for over 200 years. First, they tried to destroy Georgia, now they [are trying to] destroy Ukraine. That is my opinion," Mashav said.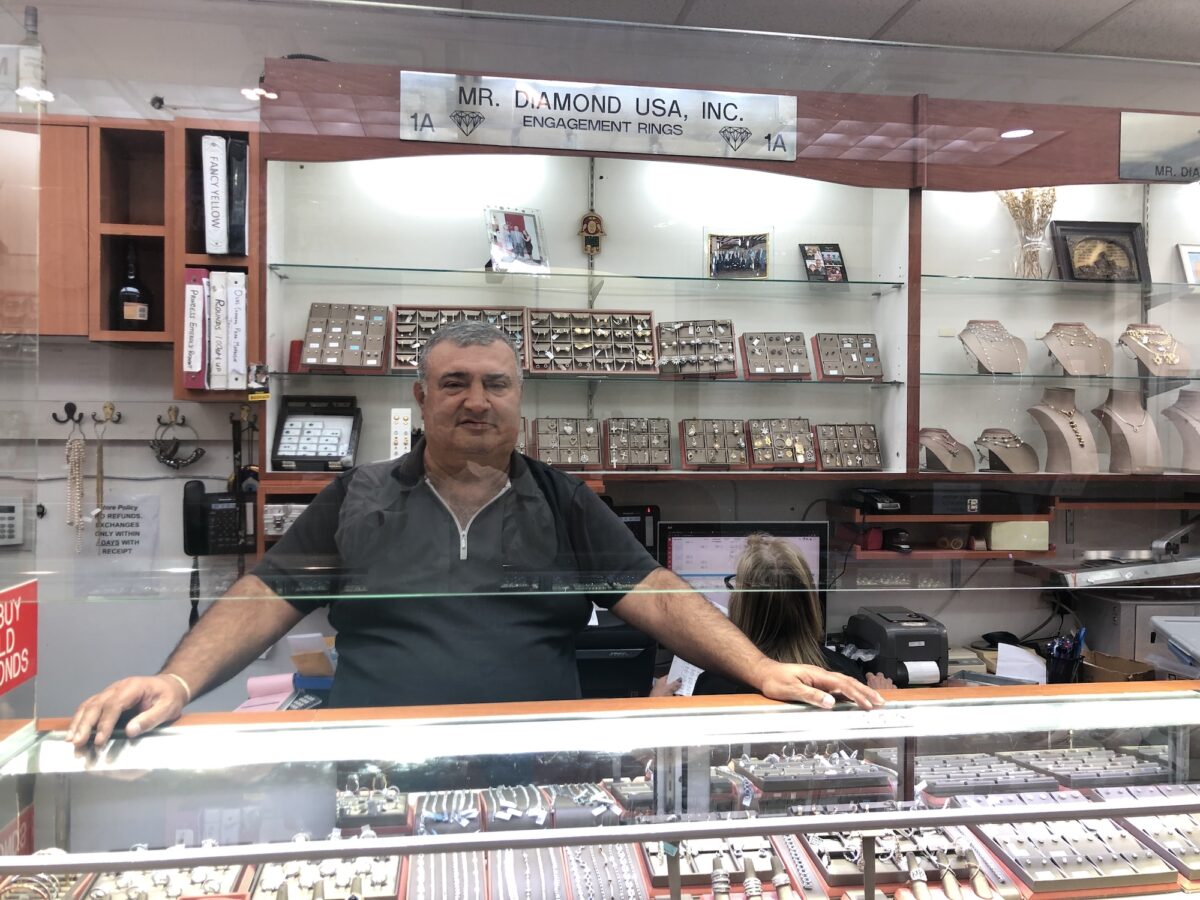 Chris Bob and Naveen Athrappully contributed to this report.