A British defence analyst says the recent damage to an undersea telecommunications cable off the coast of Scotland is unlikely to have been carried out by the Russians, who are more likely to be fitting devices that would extract information.
Extra police officers were sent to the Shetland islands after an undersea telecommunications cable was damaged twice, leaving residents without phone and internet connections until it could be repaired a few days later.
Scotland's First Minister Nicola Sturgeon described the situation as "very serious."
But Tim Ripley, a defence analyst and author of Little Green Men: The Inside Story of Russia's New Military Power, said he doubted the Russians were responsible and said, "pure sabotage can be self-defeating."
He said: "If you cut all these cables what purpose does it serve? It might give you instant gratification but your crimes become public. But tapping them and using the information to give yourself a significant advantage is the way they work."
Ripley said: "There are two schools of thought. One is that you want to cut cables to isolate countries from the internet but there is also a view that it's better to monitor them and gain intelligence so you can work out what they are doing and plant false information and that is a more sophisticated intelligence operation."
He told The Epoch Times, "Going by the behaviour of the Russian and Chinese intelligence agencies that is the way they would operate."
"This is not a new phenomenon. In the First World War the British and Germans were tapping each other's cables. It was easier in those days because they were just copper wires and the messages were a lot simpler," said Ripley.
Five years ago Rishi Sunak—who became Prime Minister this week—authored a report for the Policy Exchange think-tank which referred to undersea cables as "indispensable yet insecure internet infrastructure."
The report said 97 percent of global communications, and an estimated $10 trillion of daily transactions, relied on undersea cables, rather than satellites.
'Existential Threat to Our Security'
Sunak wrote at the time: "A successful attack on the UK's undersea cable infrastructure would be an existential threat to our security. Yet the exact locations of these cables are both isolated and publicly available—jugulars of the world economy which are a singularly attractive target for our enemies."
He added: "As we debate our future defence priorities, protecting the freedom of the seas and all the lanes of communication on and under them is paramount. Britain and our NATO allies must ensure that our maritime capabilities get the investment they need."
Sunak now leads a government that is planning to beef up the way Britain defends the undersea infrastructure from attack from hostile powers, especially Russia.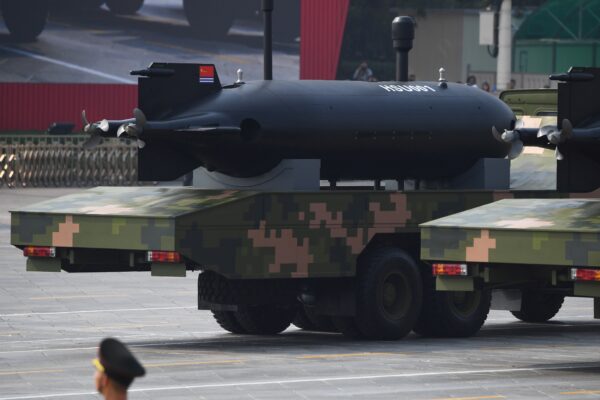 Earlier this month, at the Conservative Party conference in Birmingham, Defence Secretary Ben Wallace announced a commitment to procure "two specialist ships" to patrol and protect undersea cables.
Wallace's speech came days after the Nord Stream 1 and Nord Stream 2 gas pipelines in the Baltic were sabotaged.
Russian President Vladimir Putin's spokesman, Dmitry Peskov, said claims Moscow was to blame for the sabotage was "predictably stupid" but he said, "This looks like some kind of terrorist act, possibly at the state level."
Wallace said by the end of 2022 the Royal Navy would purchase a "multi-role survey ship for seabed warfare" which would be kitted out and fully operational by the end of 2023.
The second ship would be built from scratch at a British shipyard but might not be operational for several years.
Ripley explained: "The first one will be leased from the oil industry, it will be a converted oil industry support ship. The second one could take several years to build, it depends if they want it to have 'bells and whistles.'"
He said the ships would be kitted out with cranes so they could drop underwater drones—known as unmanned underwater vehicles (UUVs)—which could reach the bottom of the North Atlantic and check the cables for damage or tampering.
Ripley said minesweepers were currently doing that job but they are designed to operate only in coastal waters, rather than out in mid-ocean.
Ripley said, "There is a huge need nowadays to monitor the seabed to make sure these cables have not been interfered with or something has not been placed next to them which might detonate at a later date."
Russians Equipped With James Bond-Style Vessels
He said: "The Russians have got ships with James Bond-style moon pools. These are hulls in the bottom of a vessel which allow underwater drones to be launched in secret."
Ripley said: "They have converted two nuclear-powered ballistic submarines into them. They took the missile tubes out and created a launch bay for UUVs. That is why everyone has twitched."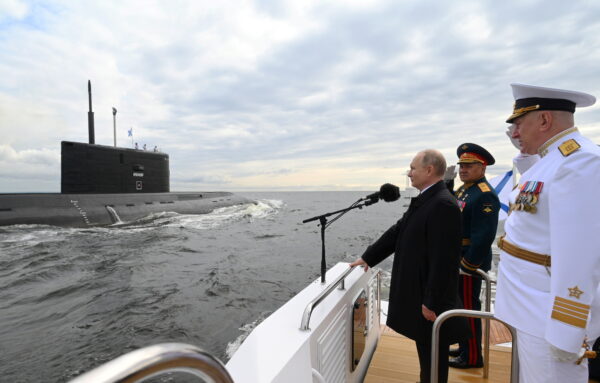 He said the Russians have a number of underwater survey ships which are capable of cutting cables and pipelines, but he said: "If you commit an act of sabotage on a pipeline or a cable you don't want your fingerprints on it. If your underwater survey ships passes over a pipeline and it then leaks or is cut, everybody knows you are responsible. But if you plant a device and two years later it detonates, you're in the clear."
Ripley said Britain and America controlled most of the internet infrastructure on land so they had little need to sabotage it underwater, but he said that does not mean they were entirely innocent.
In 2018 Belgian prosecutors claimed, that between 2011 and 2013, GCHQ had hacked into the telecoms giant Belgacom on the order of British government ministers.
Ripley said: "GCHQ was found with its fingers in the cookie jar. The Belgian authorities accused them of unauthorised interference with the internet infrastructure in Belgium. They were allegedly trying to monitor jihadis in Belgium."