School Board Officials Not in Position to Reinstate Mask Mandates: Ontario Education Minister
Ontario's Education Minister Stephen Lecce says school board officials are not in the position to make public health decisions, and students across the province have the choice if they want to wear a mask or not.
Lecce's comment comes following the decision by the city's largest school board, Ottawa-Carleton District School Board (OCDSB), to reinstate a mask mandate for all staff, students, and visitors effective on April 13.
On April 12, eight trustees with the OCDSB voted in favour of a motion brought forward by trustee Mark Fisher of River/Gloucester-Southgate to bring back mask-wearing inside all schools and buildings under the board's purview. Three others abstained and one opposed.
In a statement to The Epoch Times on April 15, Lecce maintains that public health decisions fall under provincial jurisdiction.
"We believe that medical doctors, not school board officials or teacher unions, should make public health decisions," said the education minister in the email.
"Every student in every school board in Ontario retains the choice to wear a mask, and that policy will be universally respected, as recommended by the Chief Medical Officer of Health."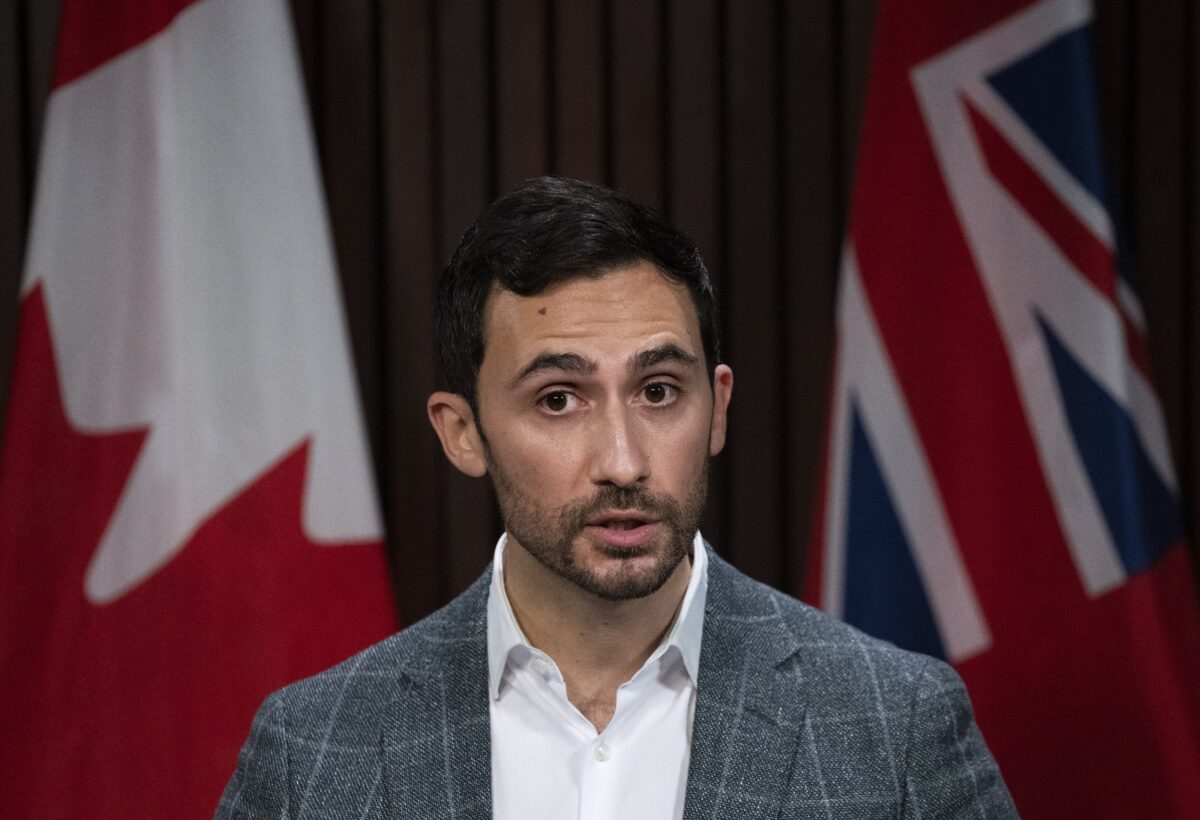 Earlier this week, Dr. Kieran Moore, Ontario's chief medical officer of health, said the province would not be reinstating "a broad mask mandate" at this time but recommended masks be worn in indoor public spaces.
Lecce said the province will provide schools with the necessary support and resources to keep their facilities clean and hygienic.
"We will continue to enhance ventilation with 40,000 additional HEPA units, in addition to the 73,000 in schools, 7 million rapid tests monthly, and maintaining enhanced cleaning to keep students safe and in the classroom learning," he said.
In addition to OCDSB, the call to reinstate mask mandates is coming from other school districts as well, who have voiced their intentions to keep the requirements in place ever since Ontario lifted its provincewide mask mandate on March 31.
On April 12, the Hamilton-Wentworth District School Board sent a letter to Lecce requesting him to reimpose the mask mandate in indoor settings, citing staff shortages and student absences as primary reasons.
The Toronto District School Board has said although it takes its direction from the provincial government, it will ask all staff and students to wear a well-fitting mask when indoors in schools, though it will not be mandatory.
In an email on April 13, the OCDSB told parents they wanted to bring back mask-wearing due to rising COVID-19 cases in the community. The board also cited a statement from Ottawa Public Health on April 11, saying it is "supportive of measures that can be taken to increase mask use."
"Where a student is refusing to comply with the masking requirement, parents/guardians will be called to either assist in helping the student fulfill the masking requirement, or to apply for an exemption to the masking requirement," said Camille Williams-Taylor, director of education at OCDSB, in the email.
Williams-Taylor added that the order is legal, even though the provincial or local health authority had not requested mandatory masking.
"The school district has the legal authority to require the wearing of masks for health and safety reasons," she said.
The board said that students will not be suspended or expelled for refusing to wear a mask.
Grace Lee, a spokesperson for Lecce, said the OCDSB knows they do not have the authority to make students follow the new rules set by the trustees.
"The Ottawa-Carleton school board are aware that they cannot enforce masking on students," Lee said.
"Every child can go to school without a mask, should they choose, and cannot be denied entry, which is in alignment with provincial guidelines."
"We encourage school boards and schools to promote respectful, welcoming and inclusive practices and communications within their school communities," she added.
The Canadian Press contributed to this report.