The Senate Judiciary Committee heard from both sides of the gun control debate in a hearing to preserve public safety in light of the Supreme Court's decision in New York State Rifle and Pistol Association v. Bruen. In that case, the court struck down a New York state law that made it difficult to obtain a concealed weapon permit.
Under Bruen, courts must consider the text of a law and the history of firearms regulation. Before Bruen, courts used a "history and means-end scrutiny" test to consider the law in light of Constitutional principles and the current issues and circumstances.
Committee Chair Sen. Dick Durbin (D-Ill.) said Bruen fails to take into account modern legal, social, and technological issues. The founders were only familiar with muzzle-loading rifles and could not have foreseen modern firearms, he said at the March 15 hearing.
"I don't believe the founders of this nation would want this radical new framework," Durbin said.
Ranking member Sen. Lindsey Graham (R-S.C.) countered that upwards of 1.7 million Americans defend themselves with guns each year. He said the founders felt the most important principles were the ability to speak freely and to defend one's self and property.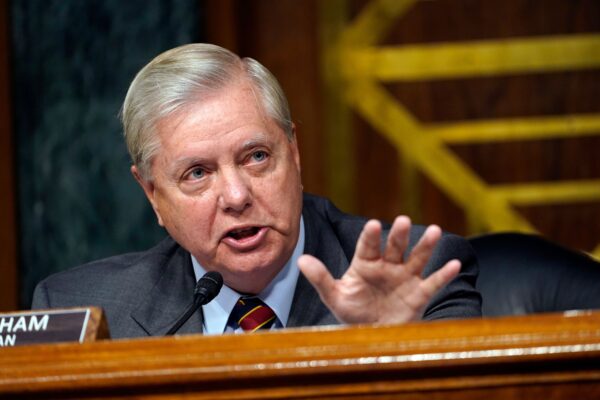 Rather than find ways to restrict lawful gun ownership, Graham said Congress should be working on bipartisan legislation to address violent crime.
"[Republicans] haven't found bipartisan support for pursuing those who commit crime," Graham said.
The committee heard from Ruth M. Glenn, the president for public affairs for the National Coalition Against Domestic Violence; Eric Ruben, assistant professor at the SMU Dedman School of Law in Dallas, Texas; Stephen Lindley, program manager, Combating Crime Guns Initiative for Brady, in Los Angeles; Amy Swearer, senior legal fellow at the Edwin Meese II Center for Legal and Judicial Studies of the Heritage Foundation; and Rafael Mangual, the Nick Ohnell Fellow and head of research for the Policing and Public Safety Initiative of the Manhattan Institute in New York.
Glenn told the committee that, as a survivor of domestic violence, she is very concerned over the impact that Bruen has already had. She pointed out that the United States V. Rahimi, the Fifth Circuit Court of Appeals struck down a federal law barring anyone under a domestic violence protection order from owning a firearm.
She said that when an abusive male partner has access to a firearm, the female partner is five times more likely to be murdered.
In the Fifth Circuit case, Zackey Rahimi had been involved in several altercations in which he fired a gun. He was ultimately arrested and charged with possessing a gun while subject to a civil protection order. Rahimi pleaded guilty to that charge but successfully appealed, based on the Bruen decision.
Swearer said that a review of the Rahimi case shows more issues than just his access to a gun. Swearer told the committee that Rahimi had committed plenty of crimes that would have put him in prison. She said the Rahimi case is a prime example that gun laws don't work against people determined to ignore them.
"It's not Bruen that gets women killed," she told the committee.
"It's terrible criminal justice policies that get women killed."