Senator Allocates $15 Million to Orange County Fire Authority
The Orange County Fire Authority (OCFA) was presented with a $15 million check Aug. 27 by California Sen. Dave Min to fund the second phase of ALERTWildfire, a wildfire prevention program.
ALERTWildfire is a system of currently 850 remote cameras that tilt, pan, and zoom, as well as other tools that provide firefighters with early confirmation of wildfires across the state.
"Phase two of this program, which will be funded by this budget allocation, will provide among other things, an infrared map of fuel concentrations of fire prone areas, which will not only form fuel reduction efforts in our state but will also be critical for deploying first responders trying to put out wildfires, by providing real time assessment of where fires are likely to occur," Min said.
"How we fight fires has to be smarter and especially as we go into drier and drier seasons," Min said.
He said 2021 is projected to be the worst fire season potentially on record.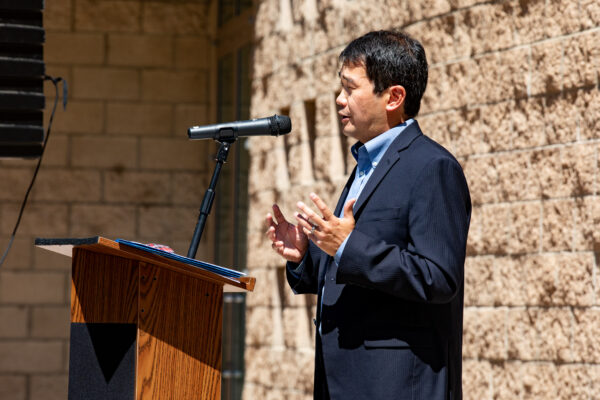 "We've already faced many, many devastating fires including Dixie fire that's currently raging in Northern California, the Silverado fire that took place," he said.
"We're seeing pernicious swings and a fire spread like many had never seen before. And we need to do more to prevent and identify fire risks. Use of technology of this kind is going to be essential going forward."
OCFA Fire Chief Brian Fennessey, who has been in the fire authority for 44 years, said when fire cameras first appeared, he was unsure how well they would work.
"I'm here to tell you that we get tremendous value [from the cameras,]" Fennessey said. He added that they are infrared so they will be better able to see at nighttime and through smoke.
"We get calls and alerts for fires all the time, and I can't say how great it is to quickly go to the screen and actually confirm that we've got a fire."
Neil Driscoll, co-director of ALERTWildfire, said the second phase will also include adding sensors to existing cameras that can tell fire departments all kinds of crucial information.
"With this existing microwave backbone network [of cameras,] we can hang additional sensors, these multi-spectral sensors that tell us fuel loads, low moisture, [and more]. Driscoll said.
"Secondly, we're building a suite of instruments that can rapidly deploy, mostly infrared FLIR cameras as well as the pan/tilt/zoom cameras, so that in smoke conditions and rough topography we can get better constraints on the perimeter of the fire."