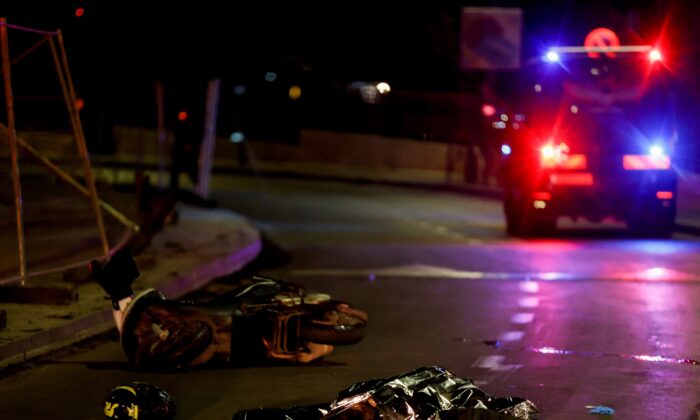 Israeli forces work next to a covered body at the scene of a shooting attack in Neve Yaacov which lies on land that Israel annexed to Jerusalem after the Six-Day War in 1967, on Jan. 27, 2023. (Ammar Awad/Reuters)
JERUSALEM—Seven people were killed and 10 were injured in a synagogue shooting attack on the outskirts of Jerusalem on Friday, Israel's foreign ministry said.
Israel's ambulance service put the death toll at five and said another five people were wounded and transported to hospitals, including a 70-year-old woman.
Israeli police described it as a "terror attack" and said it took place in a synagogue in Neve Ya'akov, considered by Israelis as a neighborhood within Jerusalem. Palestinians consider it occupied land annexed after the Six-Day War in 1967.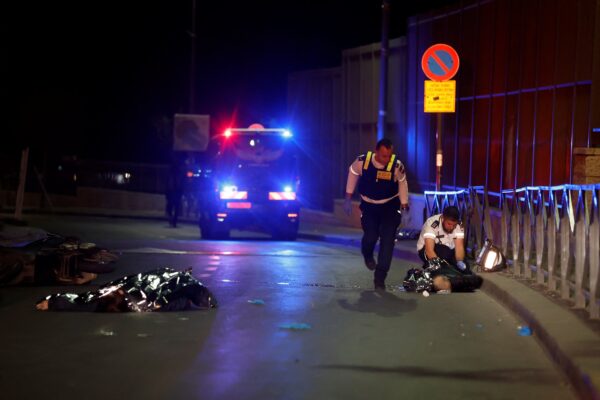 The incident comes a day after the deadliest raid in the West Bank in years and falls on the Jewish Sabbath.
In Gaza, a Hamas spokesperson blamed the violence on the Israelis, though he stopped short of claiming the attack.
The Palestinian Islamic Jihad also praised but did not claim the attack.