BERKELEY, Calif.—Wayne Hankins, a retiree from the seafood business, saw Shen Yun Performing Arts for the first time, with his wife, at the Zellerbach Hall on Jan. 14.
"I've seen it in clips on YouTube, but not in person … I was pleasantly surprised," he said after the matinee performance on the two-show day. "The beauty of their dance, the heart that they've given and their performance really touched me."
New York-based Shen Yun Performing Arts is the world's premier classical Chinese dance company. Through the universal language of music and dance, Shen Yun presents story-based dances depicting heavenly realms, ancient legends, and modern heroic tales spanning 5,000 years of Chinese civilization.
Drawing upon ancient China's Buddhist and Daoist philosophies, Shen Yun presents spiritually uplifting messages. According to the company's website, the presented heroes embody the most exalted virtues of Chinese civilization and convey morals still relevant to the modern day.
"I believe [Shen Yun] are truly a power of goodness," said Mr. Hankins, "they are seeking to change the world through music, through arts … to change the heart and minds of people to the beauty, goodness, and truth that they performed for."
"That is what inspires me … what gives me hope," he added.
Along with myths and legends, Shen Yun presents story-based dances portraying the current persecution of Falun Dafa, a meditation discipline based on the principles of truthfulness, compassion, and tolerance.
In 1999, the Chinese Communist Party (CCP) launched a persecution campaign against the spiritual practice, which is also called Falun Gong, and adherents have since been subjected to unprecedented imprisonment, torture, and abuse.
Mr. Hankins was pleasantly surprised that Shen Yun did not shy away from sensitive issues.
"What the CCP did to Falun Gong in China needs to be told in many different ways," he said, "so, I was so pleased to see that."
"We live at a time that is really almost the crossroads between good and evil … which way are we going to go?"
"[Shen Yun] clearly saw the time of renewal in the world … where people believe in God, believe in goodness, believe in spirituality … and they showed it in their dance and in the images on the screen," he said, "so, they hit on a very important theme."
"They are a source of hope, they are truly ambassadors for peace on a world level," he added.
Addressing the performers, Mr. Hankins said, "you're doing something very wonderful … so keep going!"
'Touched Us Deeply'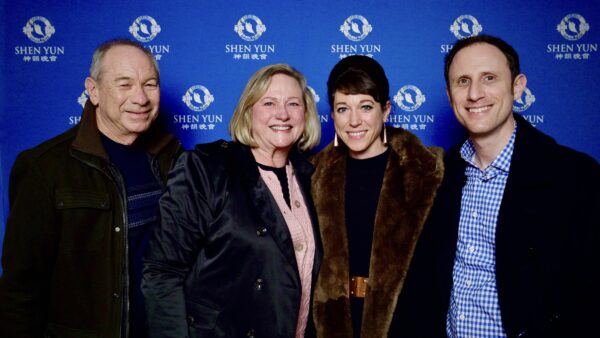 Matt Adler, attorney at Faegre Drinker, and Sarah Adler, painter, also attended the matinee performance at Zellerbach Hall on Jan. 14.
This was the first time that the Adlers attended a Shen Yun performance. They bought tickets as a Christmas gift for Mrs. Adler's parents.
"It was a beautiful day to spend with the family and just really, really moving … it really touched us deeply," said Mrs. Adler.
As a painter, Mrs. Adler was deeply inspired by the depth of colors and movement of the Shen Yun dancers.
"The way that the performance flowed and moved was just so elevating and inspiring," she said.
According to the company's website, Shen Yun's costumes and colors are true to traditional aesthetics and styles, painting each dance piece with the splendor of the past.
"It was just so well done and so well put together," she said. "The time and the effort were so palpable … it was just touching—deeply to my soul and my core—and really inspiring."
Prior to the performance, the Adlers watched some of the Shen Yun rehearsal videos on YouTube and were amazed by the amount of training and the repetitive action that goes into learning all the moves. With its flips and gentle elegance, classical Chinese dance is one of the most athletic and expressive art forms in the world.
"There's nothing like the real thing" said Mr. Adler. "Just to be in the room and to see something right on the stage is one of a kind."
"The combination of the costumes and the sets, and the interaction with the sets, and the beautiful acrobatic dancing … it's really one of a kind."
Mrs. Adler also expressed the importance of attending live performances again post-pandemic.
"It's been really important to bring people back together and to remember our legacies, our stories, and our history."
"I feel like it's really unifying humanity again and bringing people out of their homes and back into community so that we can remember where we came from, where we're headed, and why we're here as human beings—to celebrate life and celebrate beauty."
Reporting by NTD and Jennifer Schneider.
The Epoch Times is a proud sponsor of Shen Yun Performing Arts. We have covered audience reactions since Shen Yun's inception in 2006.