Shen Yun Brings Back Joy After Two Years of COVID and Rules: Piano Teacher
MISSISSAUGA, Canada—Piano teacher Renata Reje-Tebwska went through the ups and downs of the pandemic and the many requirements that were put in place, and they were all very dispiriting, but seeing Shen Yun Performing Arts helped to bring back joy, she said.
"Now we can see something different: joy. There is good energy [in Shen Yun], that is what is important to me," Ms. Reje-Tebwska said following the Shen Yun performance at the Living Arts Centre on March 26.
It is a big contrast from before, when "we were in lockdown. Soon it was no lockdown. Masks, maskless. Upside down. Back and forth. It was very depressing," she said.
Seeing Shen Yun made all the difference. "I will remember it for a long time, and I hope next year—I will come for sure to see it again," said Ms. Reje-Tebwska.
Shen Yun is a classical Chinese dance and music company founded in New York in 2006 with a mission of reviving the traditional culture of China, a rich heritage with a history of 5,000 years that has been suppressed after decades of communist rule.
The performing arts company features story-based dances that convey the beauty and wonder of China before communism, portraying the ancient civilization's exalted virtues and deeply spiritual roots.
Through the dances, Ms. Reje-Tebwska said she perceived a "very clear, very beautiful" message: "Good always wins."
"Specifically, now, where there are a lot of bad things happening, people need this kind of message. It was conveyed through the beautiful dancing, colors of hope, joy, [and] a lot of aspects of traditional Chinese history," she said. "We cannot lose faith and trust in God. That was the message."
Shen Yun, Ms. Reje-Tebwska said, "gives a lot of hope, a lot of life."
"It's wonderful."
'Flawless Technique'
Daria Pugach, a veteran ballet teacher who has taught dance for 20 years, praised Shen Yun's dancers for the perfection of their performance.
"That's a beautiful performance. I really liked it. Everybody's working together [with] flawless technique, and very beautiful costumes," Ms. Pugach said.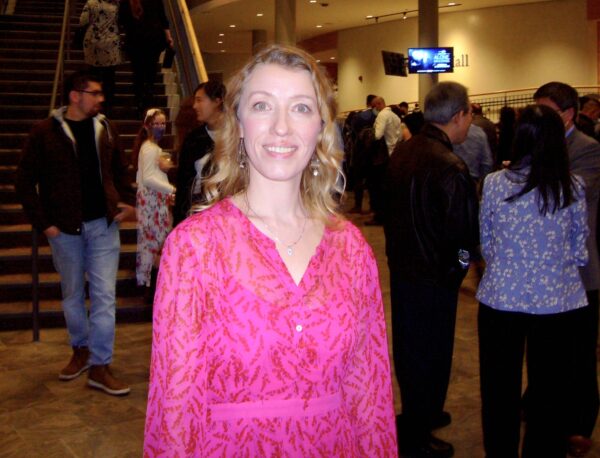 Before becoming a ballet teacher, Ms. Pugach was a professional ballet dancer for over 10 years. She said she found classical Chinese dance presented by Shen Yun to be very unique.
"I love the choreography—very beautiful, very different from any other genre of dancing," she said.
Shen Yun's website explains that Classical Chinese dance is a millennia-old art form that is "built on traditional aesthetics" and has been refined over thousands of years.
"Classical Chinese dance has its own training in basic skills, physical expression and postures, leaps, flips, spins, and other difficult tumbling techniques, forming an extensive and independent dance system," says the website.
Ms. Pugach said she noticed many contrasting elements in the dances—strength along with softness, quick as well as slow movements.
"That was beautiful," she said. "I would definitely recommend the show to anyone who hasn't watched it, and [I] probably will come back next year as well."
Reporting by Teng Dongyu and NTD.
The Epoch Times is a proud sponsor of Shen Yun Performing Arts. We have covered audience reactions since Shen Yun's inception in 2006.