Shen Yun Gives a Transformative Experience in Detroit
DETROIT, Mich.—Pharmacist student Elsie Ramos and dentist Ruben Ramos came to Shen Yun Performing Arts for the first time without knowing what to expect but came away with a deep feeling of recognition. They attended the Jan. 15 evening show at the Detroit Opera House.
"I never experienced anything with Chinese culture so the dances and everything was something very new and it was very nice—unexpected," Mr. Ramos said.
The Ramos couple were born in Cuba, where, like in China, religion has been under attack by the communist regime. Shen Yun brings back the traditional spiritual culture of China for audiences to enjoy. The mission of the New York-based company is to revive 5,000 years of Chinese heritage before communism when faith was the backbone of society.
"We're Catholic ourselves and the show had a big focus on heaven, and like getting people on earth back to heaven and it was refreshing to see that in today's world," said Mr. Ramos. "It makes me feel good. It's a connection between all people around the world, of going back to heaven."
"Especially with religion, that we're not allowed to believe in anything, against, anything that's different than communism. So it was very touching for us," added Ms. Ramos.
Asked how they would describe Shen Yun to their family and friends, Mr. Ramos said:
"We're going to explain to them that not all Chinese people are in support of the government over there, that they have their own culture and they're trying to fight for it, as communism is trying to destroy their traditions. Very similar to ours, our story."
Ms. Ramos added that the experience of seeing Shen Yun gave her a sense of solidarity—"that we are not alone, that other countries are actually experiencing everything," she said.
'A Visual Feast'
Ariana Daglian, a graphic designer, came back to Shen Yun for the second time since she first saw the show in 2009.
"I felt the same thing this time—I felt uplifted," she said. "I feel more clear, less absent-minded, possibly purified. … I feel more like myself."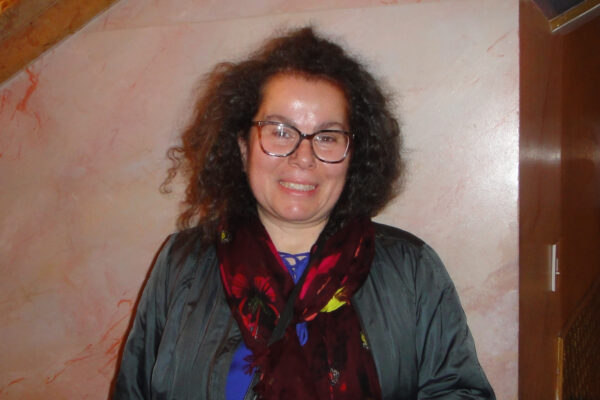 As a graphic designer, she found the use of color in the costuming and set especially inspiring.
"It's a complete visual feast," she said. "And I really liked the way they used very strong accent colors with the muted colors, but it worked together. I feel renewed."
Shen Yun's performers are mostly practitioners of Falun Dafa, a spiritual discipline centered on the principles of truthfulness, compassion, and forbearance. Part of the program sheds light on the persecution of Falun Dafa in China by the communist regime.
"I'm kind of devoted to Shen Yun because I know what Falun Dafa does," said Ms. Daglian. "And I just feel waves of it coming out of the stage, from the performance. … I'm here to bathe in this and so hopefully take it and transfer it to others is my goal. I don't want only to keep to myself."
They had open hearts and they were generously giving of themselves to us.
— Ariana Daglian
Of the performers, she said: "They had open hearts and they were generously giving of themselves to us. I felt that."
Reporting by Julia Song and Teng Dongyu.
The Epoch Times is a proud sponsor of Shen Yun Performing Arts. We have covered audience reactions since Shen Yun's inception in 2006.