KAMAKURA, Japan—Mr. Koto Toshikazu, president of the famous Japanese manned space company JAMSS, said he was energized and full of force after attending Shen Yun Performing Arts at the Kamakura Performing Art Center in Kamakura, Japan, on Jan. 14.
"The female dancers are very elegant. It's fabulous! You won't believe a dancer can dance such difficult moves," said Mr. Koto. "The dancers' bodies are very flexible, and their movements are so agile. I was very moved. I feel very happy after attending the show."
Mr. Koto said he was very touched by a dance that tells a story about divine beings saving humans.
"When I saw it, I was kind of like 'wow—this moment arrived!' I felt huge energy," he said. "I hope I was among them (who were saved by the divine beings)."
Mr. Koto was amazed by Shen Yun's patented dynamic backdrops.
"It surprised me. It's magic. Dancers exchanged their places, then flew up (into the backdrops). It's fantastic! This is a very good design!" he said.
In the beginning, Mr. Koto wasn't aware Shen Yun performed with a live orchestra that has about 40 musicians playing both Western and Chinese instruments for dances.
"The orchestra is superb! When MC introduced it, there were humorous plots. It's very interesting. I like it," he said. "The sound of the erhu (a two-stringed ancient Chinese instrument) is very nice. I will buy its CD. I must buy one."
Mr. Koto said he was uplifted by Shen Yun, and planned to attend next year as well.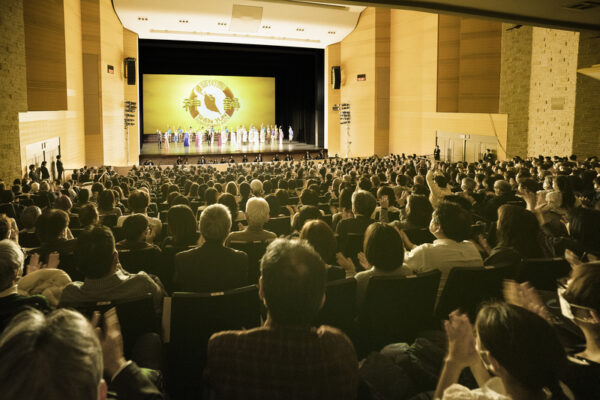 New York-based Shen Yun is the world's top classical Chinese dance company. Its name Shen Yun translates into "the beauty of divine beings dancing." Each Shen Yun performance consists of nearly 20 vignettes, presented through highly-expressive art forms such as classical Chinese dance, original orchestral music performed live, soloists who sing in the bel canto tradition, animated digital backdrops, and more.
Shen Yun Is Amazing, Says Mayor
Mr. Maruyama Itaru, mayor of Sakata, also couldn't hide his joy after attending Shen Yun.
"It's really amazing! I have never thought a human body can be as flexible as Shen Yun dancers. They float in the air, jump very high, and flip freely," said Mr. Maruyama. "The dances are magnificent."
Mr. Maruyama said the most brilliant part of Shen Yun is that the performance integrates the dynamic backdrops, dances, and live orchestra into one body. The backdrops present a living and vivid world where the dance happens, the music creates the atmosphere and explains the dance, and dancers tell the story via dancing on the stage as well as inside the backdrops.
"The backdrops coordinate with the dancer's movements on stage … Then the dancers dance the stories. This made the dance so entertaining and so magical. It represents great artistry," he said.
Mr. Maruyama said the orchestra's music was very powerful and could penetrate people's souls.
"The tunes and melodies are very well composed," he said. "The combination of the music, dance, and stage is very creative. It presents us something really spectacular."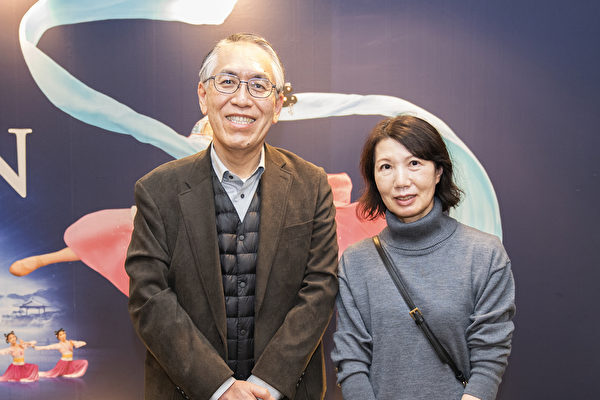 Shen Yun has in recent years set a new bar for classical Chinese dance internationally. The Shen Yun 2023 season will be its biggest yet, with its eight equally sized touring companies set to visit more than 180 cities across five continents.
'I Have Been Full of Happiness'
Mr. Hatake Kenji, president of an IT company, was inspired by Shen Yun.
"When the curtain first opened, my heart was suddenly opened. I have been full of happiness since then," he said. "All dances are so rich. The dancers' movements are like heavenly beings. This show is enchanting … I enjoyed it a lot."
Mr. Hatake said he felt that Shen Yun presents traditional values and culture, which brings happiness and love to all audiences and people in the world.
"I absorbed the energy that Shen Yun spread … I can go home full of energy and use this energy to live for the future," he said, adding that he saw the theatergoers around him seemed to feel the same. "I hope everybody can (attend Shen Yun to) be enriched by Shen Yun's love and happiness. I believe the world will be better then. This is a wish that humanity shares."
Shen Yun has a mission to show the beauty and goodness of "China before communism." For 5,000 years China's civilization was built on values and virtues from the spiritual teachings of Buddhism, Taoism, and Confucianism, virtues like loyalty, propriety, wisdom, justice, and benevolence—values that are universal and shared the world over.
'Shen Yun Saved the Essence of History'
"I have never seen a show as beautiful as Shen Yun," said Mr. Kasei Yasuhito, an architect. "I was shocked when the curtain first opened."
Mr. Kasei enjoyed classical Chinese dances. He said the rhythm of Shen Yun moved his heart, that his mind and soul followed Shen Yun's performance from the beginning to the end.
"Shen Yun saved the essence of history and presents us with these traditional cultures one after another in this short time," he said. "It's very effective … We can feel these historical cultures by attending the show."
Mr. Kasei was amazed by the saturation of Shen Yun's colors, which he said "is very captivating."
Every year, Shen Yun puts on an all-new production, including new choreography, music, costumes, and backdrops. Several audiences told The Epoch Times that they were ready to buy the tickets for next year.
Reporting by Epoch Times Staff in Kamakura, Japan.
The Epoch Times is a proud sponsor of Shen Yun Performing Arts. We have covered audience reactions since Shen Yun's inception in 2006.