Shen Yun Helps Drive Out Fears After Two Years of Pandemic, Says Health and Wellness Coach
MISSISSAUGA, Canada—Coming to see Shen Yun Performing Arts after two years of restrictions was like "a rebirth," said Aggi Kozlowska at the Living Arts Centre on March 25.
"It's freedom to do something again, and freedom to come back [to the show]," said Ms. Kozlowska, a kinesiologist by training who owns a wellness clinic.
Seeing Shen Yun again was always in her plans. The last time Ms. Kozlowska saw the classical Chinese dance production was in 2019, before the pandemic and the lockdowns that ensued.
She had attended the show that year with her daughter, Teagan, and after coming out of the performance, she said Teagan asked that they make it an annual tradition. That wish was something they couldn't fulfill until this year.
So they welcomed Shen Yun's return to the stage, but their own return to the show on March 25 in particular had its own special family significance.
"Today's my birthday, actually," said Ms. Kozlowska. "We made it a special day. So it's meaningful in many different ways, because it's my birthday, and then [Shen Yun] is coming back, they can dance again, so it was just the perfect fit."
Based in New York, Shen Yun was founded by a group of leading Chinese artists with a mission to revive the traditional culture of China. It's a rich heritage with a history of 5,000 years that has been nearly all but destroyed after decades of communist rule.
The company travels the globe every year to bring an all-new production of classical Chinese dance and music to audiences worldwide.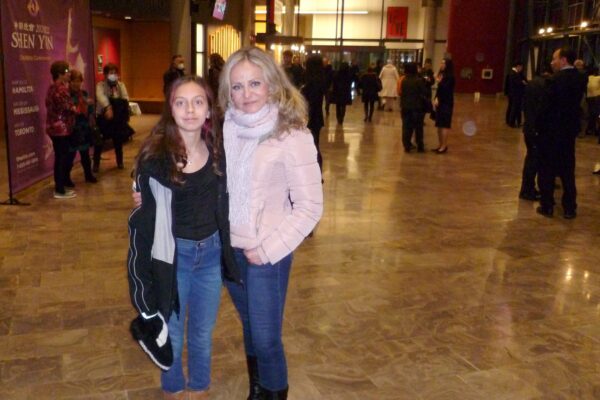 "Weaved into the storylines [in Shen Yun], it's talking about what was before communism [in China], and then during communism, and the restrictions that happened. I grew up in communist Poland, I can [relate to that]," Ms. Kozlowska said.
Reflecting on the themes of faith, courage, and hope for freedom that the dances and stories conveyed, along with the pandemic and the worry and restrictions that it brought about, Ms. Kozlowska said Shen Yun is a performance that can help to drive fears away.
"For me, it is the freedom to go and do things—respecting your own boundaries, respecting your own wishes, respecting your own fears, 100 percent. However, [having] the freedom to do something, doing something you want to do, and deciding for yourself."
Besides the feeling of freedom, Ms. Kozlowska said she experienced a sense of "joy, definitely, [and] beauty" as she watched Shen Yun, and she spoke on how the performance can benefit one's mental health.
"You have an art, you have movement—inspiration to move, inspiration to go do things, taking time for yourself, taking time for you family," she said.
"I hope they keep coming back and bringing new shows, because we will be coming back and I hope that more people get to experience this beautiful show."
Reflecting on her own experience watching Shen Yun, Teagan said that "it felt very relaxing, … it felt calming."
"I could just focus on one subject. I was just thinking, 'Wow, this dance is beautiful,'" she said.
Reviving Traditions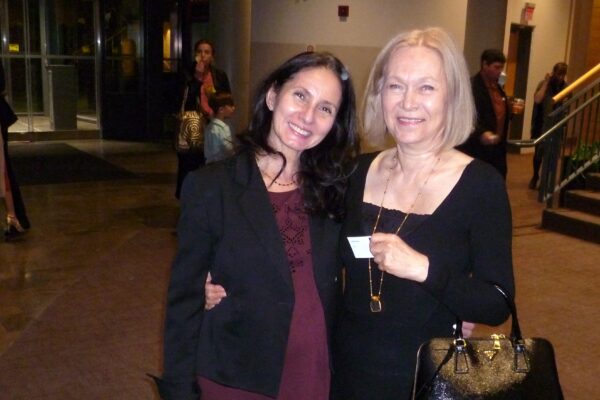 Ewa Garus, a retired federal government employee, said that what she enjoyed about Shen Yun was how it revived traditions and presented deep values.
"I like the … going back to the traditions, and bringing up the ethical and moral messages," said Ms. Garus.
Referring to the lyrics of a song by a tenor in the show, Ms. Garus said she agreed with its theme about the loss of important traditions in the modern world.
"Modern culture is taking us away from the real moral values," she said.
Accompanying Ms. Garus to Shen Yun was Luz Nunes, who works for the federal government. Ms. Nunes said the show conveyed to her the deep meaning that "everything you do on earth reflects what's going to happen in heaven."
Ms. Nunes was also captivated by the beauty of Shen Yun, she said.
"We love the costumes, and just the skills. It's so amazing how they move … how they jump up in the air," she said, praising the dancers for their athleticism and skill in performing the many demanding movements that are part of classical Chinese dance, such as difficult flips, leaps, and tumbling techniques.
The Epoch Times is a proud sponsor of Shen Yun Performing Arts. We have covered audience reactions since Shen Yun's inception in 2006.