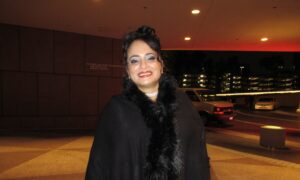 COSTA MESA, Calif.—Project manager Marilyn Magdaleno and her husband attended Shen Yun Performing Arts for the very first time on the evening of March 4.
Sitting in the audience at the Segerstrom Center for the Arts, the couple was stunned by how beautiful and unique the performance was.
"It was breathtaking, beautiful, and engaging. I can't even put into words how beautiful it was," Mrs. Magdaleno exclaimed.
"Even my husband, who is not into the arts, said he cannot wait to come back. Next time, we're bringing our daughters."
Based in New York, Shen Yun is the world's premier classical Chinese dance and music company. The artists' mission is to bring back China's 5,000 years of divinely-inspired culture destroyed by decades of communist rule.
Prior to the regime's spread of atheism, the teachings of Buddhism, Confucianism, and Daoism were indelible parts of Chinese life. Shen Yun's goal is to share with everyone the beauty of China before communism.
You feel like you're seeing heaven on the rise. I felt like I was on stage with them—I felt every movement.
— Marilyn Magdaleno
"I'm blown away. You feel like you're seeing heaven on the rise. I felt like I was on stage with them—I felt every movement," said Mrs. Magdaleno.
Having traveled all throughout Asia, she is familiar with the divine aspect of Chinese culture and was very happy to see that depicted in Shen Yun.
"I have been to Asia and performed alms with monks. It definitely brought me back to that time," she said. The spiritual aspect of Shen Yun "really made sense. It helped tie everything together. It was heavenly."
"We're missing that in today's society. The message was very clear we need to be good and maintain our traditions. That actually resonated with me."
Shen Yun's performance comprises of a series of short pieces that takes its audience on a ride through the dynasties and across the vast regions of China.
Using classical Chinese, folk, and ethnic dances, as well as solo musical performances, Shen Yun tells tales from ancient times to the modern day.
Mrs. Magdaleno especially loved Shen Yun's story-based dances and thought they definitely stood out in the whole performance.
"Most shows don't really have stories behind them. The blending of history and tradition was just beyond. It was really impressive," she said.
"Every aspect of the show was very engaging; I felt like I was part of the plot. It brings you in—I'm still smiling!"
If given a chance, Mrs. Magdaleno would like to tell the performers to continue with what they're doing because "it's life-changing."
"I can't wait to bring my young girls to see this. It was amazing to see how [the performance] worked and how it made people feel. I was mesmerized from the beginning [to the end.] Thank you so much for that."
Reporting by Linda Jiang and Jennifer Tseng.
The Epoch Times is a proud sponsor of Shen Yun Performing Arts. We have covered audience reactions since Shen Yun's inception in 2006.