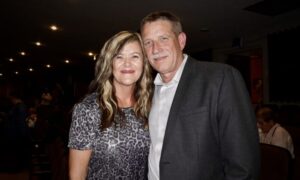 LAKELAND, Fla.—Rebecca Pacatte, a clinical director, and her husband Charlie Pacatte, an automotive technician, watched Shen Yun Performing Arts at the Youkey Theatre, RP Funding Center on March 14.
"I think it's very awesome," said Mr. Pacatte. "The timing, the discipline they had, and the showmanship was really good."
"I loved it," Mrs. Pacatte added. "It's gorgeous. The timing and the coordination of the dancers was very beautiful. Just gorgeous."
Based in New York, Shen Yun was founded in 2006 and is the world's premier classical Chinese dance and music company. Now with eight equally sized companies touring the world simultaneously, Shen Yun is on a mission to revive traditional Chinese culture.
Shen Yun's program is made up of a series of dance vignettes, some of which are story-based dances.
Mrs. Pacatte said she particularly enjoyed "all the different stories and the culture, [and] learning about the history and the culture of the Chinese."
The Divine
According to Shen Yun's website, China was once known as "the Land of the Divine," and its people believed that their culture, deeply rooted in spiritual teachings, was a gift from the Heavens.
Mr. and Mrs. Pacatte were appreciative of the spiritual elements in Shen Yun's performance.
"I loved that they honored God, quite honestly," said Mrs. Pacatte. "That they honored God, and brought their God back into the situation."
Mrs. Pacatte said that she was able to resonate with the belief of a culture being divinely inspired.
"I believe that as well. I believe we are to honor and love one another and I feel that to respect one another's values and culture is a beautiful thing and that's what we all should do."
"It (Shen Yun) is encouraging," Mrs. Pacatte added. "It's inspirational."
"I feel like sometimes we get off path with the value of others in our cultures and our traditions and we veer off path, so coming back to that is a beautiful thing."
Reporting by Nancy Ma and Wandi Zhu.
The Epoch Times is a proud sponsor of Shen Yun Performing Arts. We have covered audience reactions since Shen Yun's inception in 2006.