AUSTIN, Texas—Shen Yun Performing Arts kicked off the first of its four shows in Austin, Texas, at the Long Center for the Performing Arts on Jan. 6. "I think it's spectacular. It's extraordinary—different from anything I've ever seen," said actress and former ballerina Nadia Sahari.
As a professional dancer, Ms. Sahari was impressed by how synchronized the performers' movements were. "They have to have practiced a lot, their timing is perfect," she said.
Accompanying her for the evening was David Shales, a retired carpenter who had looked forward to seeing Shen Yun for a long time. "I've been watching the commercials on TV for the last 10 years and I've wanted to come. I finally got [the opportunity.] I'm excited," he said.
Shen Yun is the world's leading classical Chinese dance and music company. The New York-based performing arts company offers a set of all-new programs every year showcasing classical, ethnic, and folk dances from various regions of China.
Mr. Shale said he loved every element of the performance and will be recommending Shen Yun to his friends and family. "The acrobatics were amazing and the costumes are beautiful. The synchronicity of the dancing is phenomenal. I loved the music. The orchestra is wonderful," he said.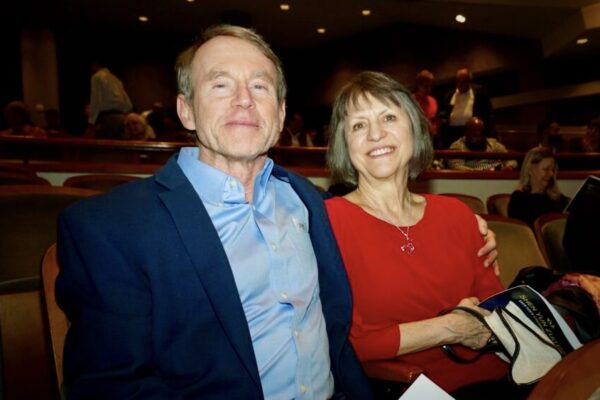 Also in the audience were business owners Mike and Kay Carr, who run the creative company NameStormers. Seeing Shen Yun for the first time, Mr. Carr was wowed by the performers' seamless blend of athleticism with elegance.
"They're doing all these incredible jumps and they make it look so graceful. I don't know how they do it. It was very amazing," he said. "There is something about dance and music—you don't need language."
Shen Yun was founded in 2006 by artists seeking to revive China's authentic culture that was destroyed by the country's decades of communist rule. Prior to the regime's spread of atheism, spirituality and the belief in the divine formed the basis of Chinese life.
To Mr. Carr's dismay, "communism has only been around since 1949. [China's] got 5,000 years of traditions and dynasties—millennia of developing [this culture,] then basically in less than 100 years, it's been shut down."
"The communists are shutting it down because they don't want faith. They want everyone to be faithful to them and not have their own beliefs," Ms. Carr added.
However, Mr. Carr believes that Shen Yun is doing a good job of bringing awareness to the public and keeping traditions alive.
"The human spirit prevails," he said. "I think the dances really exemplify that and bring out the beauty in the history of China."
Reporting by Sonia Wu, Sally Sun, and Jennifer Tseng.
The Epoch Times is a proud sponsor of Shen Yun Performing Arts. We have covered audience reactions since Shen Yun's inception in 2006.