Shen Yun 'Keeps the Beauty of Chinese Culture Alive'
PHILADELPHIA, Pa.—Laws and mandates cannot change the hearts of the people. Shen Yun Performing Arts proves that although China is a communist state and much of China's traditions and culture have been destroyed, there are still people who are striving to revive and present that culture to the world.
I learned that no matter what a state may try to do to its people, the beauty of its culture will survive no matter what, you see this in here.
— Michael Markowitz
"I learned that no matter what a state may try to do to its people, the beauty of its culture will survive no matter what, you see this in here," said Michael Markowitz, provost at a university, who attended the matinee performance with his wife at Merriam Theater on Monday.
Shen Yun is based in New York and is unable to perform in China.
"I was wondering if this was authentically from China or [they're] based in New York. Thank God for that because it really does keep the beauty of the Chinese culture alive," Mr. Markowitz added.
Shen Yun puts on an all-new production every year and with China's 5,000 years of history, the company is able to make every year's programs new and refreshing.
"The plum blossom, it's just magnificent. The colors and the music and the dancing and the storytelling was just beautiful," said Mr. Markowitz.
Despite everything that is going on in the world, Mr. Markowitz found that experiencing Shen Yun allowed him to reflect and see hope.
"This is a world that's a scary place today. I just do see a lot of hope [and] reflecting. This is really beautiful and we will come back and see it again," he said.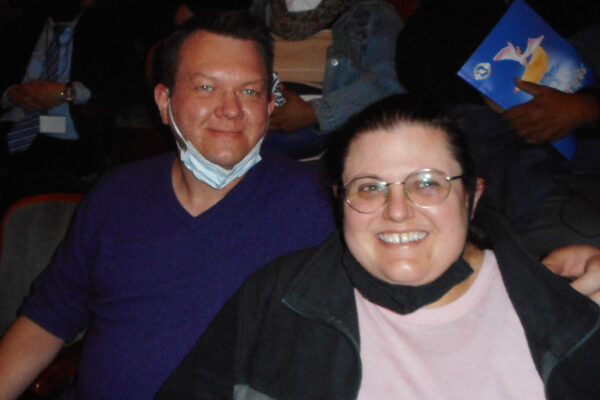 Nikki and Brian Morgan were also in the audience for this performance.
The couple played instruments in college so they had an appreciation for Shen Yun's live orchestra. They were especially pleased to learn that Shen Yun writes original scores for every year's production.
"I think it's really cool that they do all their own composing and they're all trained in the same way. Culturally it's all that style. I think that's really neat, I haven't heard that before. They do their own choreography, they do their own composing; the show—all of it, they do themselves," Ms. Morgan said.
She was also struck by the portrayal of the persecution of Falun Gong practitioners in China. Falun Gong is a peaceful practice that benefits the mind and body. While there are millions of followers around the around, the practice is banned in China.
"I didn't know so much about the persecution and the fact that that was still going on," said Ms. Morgan.
Shen Yun showcases a few of China's different ethnic groups in each year's production.
"I thought it was neat seeing the different dances from the different areas, and that how they're similar but yet each unique," Ms. Morgan said.
The company also highlights the two major belief systems—Buddhism and Taoism—that were in China before communism took over.
Ms. Morgan commented on how she "liked how they incorporated aspects of religion, and different parts of it and not just one. That was interesting to learn and see the differences."
Reporting by Tony Dang and Maria Han.
The Epoch Times is a proud sponsor of Shen Yun Performing Arts. We have covered audience reactions since Shen Yun's inception in 2006.