Shen Yun Lifts Atlanta's Spirits During Pandemic
ATLANTA—For two hours on the evening of Jan. 14, there was no pandemic at Cobb Energy Performing Arts Centre where Shen Yun Performing Arts was performing. That's how the audience said they felt.
Bret Tenny, Vice President in development of Datatrac Corporation, attended with his wife.
"Very well done," he said of New York-based Shen Yun. "Loved it."
Shen Yun is an international phenomenon known for its presentation of classical Chinese dance and live orchestral music. Its program juxtaposes the 5,000 years of traditional Chinese culture before communism with some realities of present-day China. Because Shen Yun is based in outside of China, it's able to point out injustices taking place in China today.
"I think there's a lot of parallels to what might be going on here," Tenny said. "Our freedom is being taken away, and religious freedom—specifically, belief in the good and the scriptures and the Creator—is being taken … I think there's a lot of parallels there to what it was like in China back in 1949 … It's great to be able to support the show that can't be seen in China, that what I think a lot of the Chinese people are missing, and would feel liberated by seeing it perform."
Shen Yun is not allowed to be performed in China, and many of its performers are refugees of religious persecution.
Tenny was grateful to have seen the performance, and to see his fellow theatergoers come out despite the pandemic.
"God has given our bodies an incredible immune system … and it's important for us to see each other," Tenny said. "We were made to interact with each other, and see each others' faces, and smiles … instead of being isolated in our homes.
"I think it promotes a vibrant wellness among us as people," he said.
'Encouraged and Uplifted'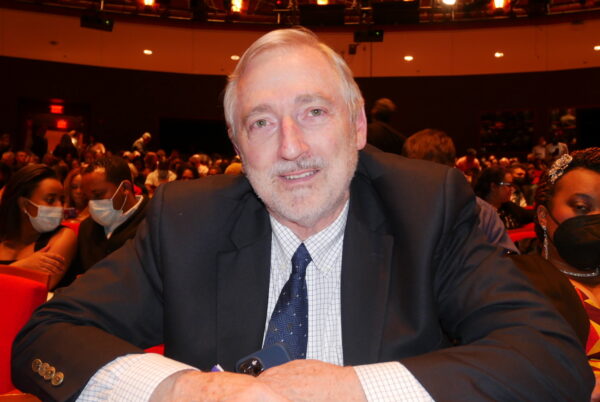 Phillip Lancaster, the owner of a real estate firm, echoed some of Mr. Tenny's sentiments.
"I think our spirit and our attitude is tied to our physical health," Mr. Lancaster said. "So I think this kind of thing is encouraging and healing for people … I think if you come and enjoy a show like this, it's the best thing to overcome a poor health and a sad spirit, and I think that will help you fight the pandemic."
Rather than becoming isolated and depressed, he said, "a program like this teaches you that you're connected to other people and that you need to think about something beyond yourself—something transcendent."
Shen Yun's hallmark is the theme of spirituality, which has been the backbone of Chinese civilization throughout its 5,000 history. Its dances feature stories of divine intervention, redemption, and unbreakable faith.
"When it was over, I told my wife, 'I could sit through this again right now,'" Mr. Lancaster said. "It's the kind of thing you would never get tired of because it's so beautiful. The movement, the color, the background, the story. It's all very impressive.
"Certainly, we'll be back next year for sure," he said.
Reporting by Roland Ree, Sherry Dong, and Frank Xie.
The Epoch Times is a proud sponsor of Shen Yun Performing Arts. We have covered audience reactions since Shen Yun's inception in 2006.